A white puppy named Baxter caught a flight from Beijing to New York City on Friday — though two years ago he was nearly served up to diners at a hot pot restaurant.
Baxter was one of five rescue dogs taken from Beijing to the U.S. this holiday season with the help of a team of "flight volunteers" — people who bring animals to their adoption destinations as they travel home. Maria Sand, Baxter's escort for the trip, said she met the fluffy mutt for the first time at the airport.
"He was quiet, scared, and shy," Sand told Sixth Tone. "When the plane started, he slept under the seat." After the 14-hour journey, Sand delivered Baxter to a dog rescue center in New York, where he will hopefully find an adoptive family.
"We can help the shelter; we can help the dogs," said Sand, who works for the U.S. embassy in Beijing and has been volunteering at the Little Adoption Shop, a dog rescue and adoption organization in the capital. "It's Christmas, so we decided it's a good thing to do," Sand added.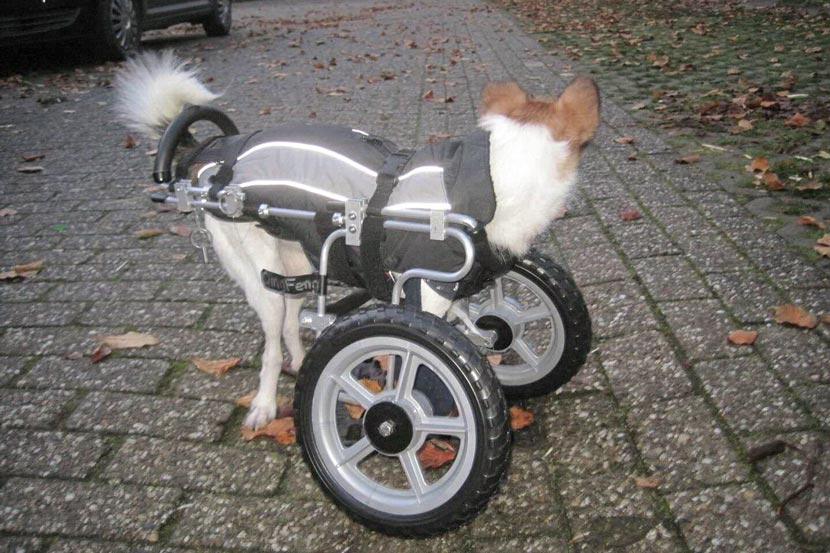 Qingfeng, whose three legs and bottom jaw are missing from an accident, now lives in Germany with his adoptive family. Courtesy of Lisa Perry
Lisa Perry, a volunteer responsible for international adoption at Little Adoption Shop, told Sixth Tone that this year, around 35 dogs were rehomed internationally, mostly in the U.S. and Germany.
"In this season, it is definitely easier to find people who are flying home and want to help," said Perry. While some of the dogs already have adoptive families lined up for them abroad, others are transferred to overseas rescue centers that can generally find the dogs new homes within a month.
Perry said there are around 700 dogs at Little Adoption Shop shelters, some rescued from the dog meat trade. Baxter, for example, was saved in 2015 along with 200 other dogs that were on their way to a restaurant where they would be cooked and passed off as lamb in lamb spine hot pot, a popular dish in northern China.
Although dog meat is legal in China, events like the annual dog meat festival in Yulin, in southern China's Guangxi Zhuang Autonomous Region, are highly controversial among animal welfare groups.
"Pet adoption is a new concept in China," Perry said. "We want to take advantage of every opportunity we have." Embracing this ethos, Little Adoption Shop started pursuing international adoptions in 2016.
Mary Peng is the CEO and founder of the International Center for Veterinary Services, an animal hospital in Beijing that provides welfare services to rescued pets. "[In China] we don't have the custom of adoption," Peng said. Her organization offers free pet adoption counseling services to some 2,000 families all over the country, and 35 percent of her clients are Chinese.
According to Peng, sending a dog abroad takes time. Rabies is endemic in China, where 2,000 people die of the disease every year, and pets must wait up to six months after being vaccinated before they can leave the country.
With the help of Shanghai's expat community, Auntie Zhou has placed nearly 70 dogs in new homes in China and overseas. Compared with Chinese pet lovers, Zhou says, foreign adopters are more likely to open their arms and homes to unattractive or disabled dogs. By Lü Xiao and Ji Yunlin/Sixth Tone
Dog rescue centers in other cities are also turning to flight volunteers. In Shanghai's suburban Jiading District, for example, there's "Auntie Zhou," a dog rescuer whom the city's foreign animal lovers know by her English name, Kathleen. "I can't keep you all because there are too many dogs that need rescuing," Auntie Zhou said affectionately to one of her dogs bound for a home abroad. "The reason I saved you is because I want you to have a better life."
Before her departure, Sand posted a photo to her Facebook page of herself cuddling Baxter. In the accompanying caption, she suggested that her canine companion was fulfilling an important diplomatic mission.
"Baxter is an ambassador for good relations between China and the U.S.," she explained. "Dogs are so sweet, so loving, and give so much happiness."
Editor: David Paulk.
This article has been updated to clarify that the restaurant that bought the 200 dogs in 2015 had intended to serve the animals as lamb.
(Header image: An animal seller stands beside caged dogs at a market in Yulin, Guangxi Zhuang Autonomous Region, June 21, 2015. The annual Yulin dog meat festival is a source of escalating tension between activists and dog sellers in China. Kim Kyung-Hoon/Reuters/VCG)