With her ultra-short light-up miniskirt and 3-D-printed bikini top, 23-year-old Naomi Wu doesn't look like your average tech guru.
And that's part of her plan.
"Everyone wants a little bit of attention," says Wu — also known as "SexyCyborg" — from her studio in the southern city of Shenzhen, China's tech hub. "For girls in tech, it's very difficult for us to stand out. [My style is] a way of expressing my gender and a way to express what I'm doing."
Wu is a maker — a catch-all term for tech-focused tinkerers — who posts YouTube videos of herself tackling projects ranging from glowing LED eyelashes to a "blinkini" top with LCD screens that can turn transparent for a more NSFW look. She has over 44,000 followers on Twitter; her videos — some of which have over a million views — attract numerous comments on her appearance; and she's been labeled the "goddess of geeks" and the "world's sexiest hacker" by international media. In the future, she hopes to turn herself into a real cyborg by replacing some of her body parts with robotic limbs. "I don't want to live a boring life," she tells Sixth Tone.
Naomi Wu works on a project at her studio in Shenzhen, Guangdong province, 2016. Courtesy of Naomi Wu
But not everyone's a fan of her style. Netizens have shared a conspiracy theory that there's a man behind her magic — and last month, Dale Dougherty, founder of Make:, an influential magazine for the maker community, added his voice to the mix.
"I am questioning who she really is. Naomi is a persona, not a real person. She is several or many people," he wrote in a since-deleted tweet to his almost 26,000 followers.
Soon, techies from both sides were weighing in, mostly in support of Wu. "How amazing that we have Naomi Wu Truthers [because] she can't possibly be capable of what she's shown herself doing," wrote one coder on Twitter. "Naomi Wu still facing pretty much endless garbage over being a woman doing tech stuff not conforming to male demands," read another comment.
The online controversy prompted Dougherty to apologize in an open letter on the Make: website, admitting he had failed to create an open and supportive community.
But Wu is still angry. "His slander is that I must have a white male helping me with stuff," Wu says. "That sentence does not only denigrate my identity but also my country, China. It means China has no creativity at all; I must have help from some random white person."
His comments stemmed from "bigotry," she says, adding that they initially made people wary of working with her on projects.
To Wu, Dougherty's remarks aren't just a storm in a tea cup: They reflect serious gender issues in the maker community, which is still heavily male-dominated. Although in some ways, China's tech field is ahead of the U.S.'s in terms of gender equality — with women holding 40 percent of the country's science, technology, engineering, and math jobs compared with 25 percent in the U.S. — there is still progress to be made. According to the World Economic Forum, 85 percent of female Chinese science, engineering, and tech workers aspire to top management positions, but 47 percent feel a woman would never get promoted to such a role within their company, no matter how able or skilled she was.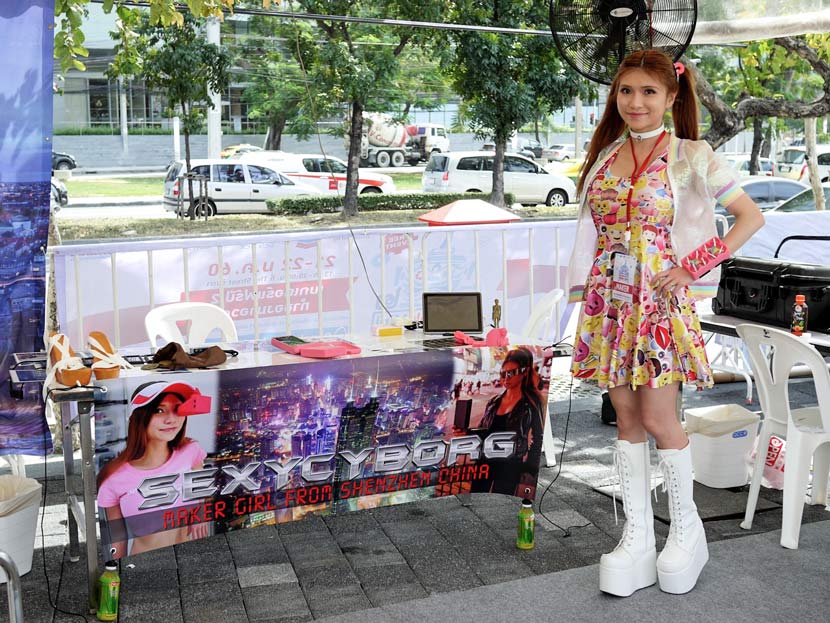 Naomi Wu poses for a photo during the Bangkok Mini Maker Faire in Thailand, January 2017. Courtesy of Naomi Wu
Wu says there's still a widely held belief that women are not as competent as men at tech. Her look is her brand in the maker community, but when it comes to her primary source of income — coding — Wu conceals her identity.
"Holy shit, think about it," she exclaims, explaining why she's not willing to risk revealing her gender when coding. "My appearance in the maker community already gets me in this position," she says, referring to the controversy involving Dougherty. "I don't want those things happening [to my coding business]. That's how I pay rent, how I pay for electricity, how I pay bills."
Even in the maker community, her visibility is a double-edged sword: It has gained her a lot of attention but has also made people question her abilities. "A Chinese person would think that if you're attractive, you can be lazy," Wu says. "A foreigner thinks if you're attractive, you are incompetent."
Fellow Shenzhen maker Lit Liao  — who like Wu, prefers not to use her given Chinese name  — founded a makerspace and now runs tech education business Litchee Lab. She's also witnessed firsthand the hostility directed at women in the community. She has seen men being verbally aggressive toward women and says that many makers don't take Chinese or female peers seriously — so being in both categories is especially challenging.
"I don't feel I get enough respect compared to an international maker," she tells Sixth Tone. "It's the most difficult thing to be female and Chinese."
One solution, says Liao, is to bring more women into the tech community; she tries to encourage girls to enter the field through her project-based maker classes, which she holds in cooperation with local schools. But it's often difficult to convince the 8- to 18-year-old girls who participate that tech doesn't have to be a "cold robotics project."
"They think tech is a scary thing, and that's a total misunderstanding," she says. "You can use it to create a lot of beautiful things. I don't want [this misconception] to stop talented girls from knowing about tech and feeling the power that tech brings to everyone."
In its first few years, her makerspace had an unusually high proportion of female paying members — three out of a total of 10 to 15 — which Liao attributes to the space being run by a woman. Once it was taken over by male management, the number of female members quickly dropped to zero. "I think more girls in these communities can make a change, can make it more diverse," she says. "I don't want any more stories like me and Naomi."
But not every female maker believes the community is rife with gender discrimination. Maker Faire Shenzhen operations director Monica Shen believes that while people should be more conscious of female makers in the city, her own festival has done a good job of representing women — even though the Shenzhen arm of the international makers festival copped criticism from Wu in regard to female representation. "I don't really feel like gender is an issue," Shen tells Sixth Tone. "I think making is really about sharing and collaborating."
Fellow Shenzhen-based maker Guan Chunlin — who also goes by the name "Dolphin" — thinks male makers aren't as bad as they have been made out to be. "Men and women are interested in different things," the 27-year-old says when asked why women are underrepresented in the tech industry. "You have the option to choose what you're interested in."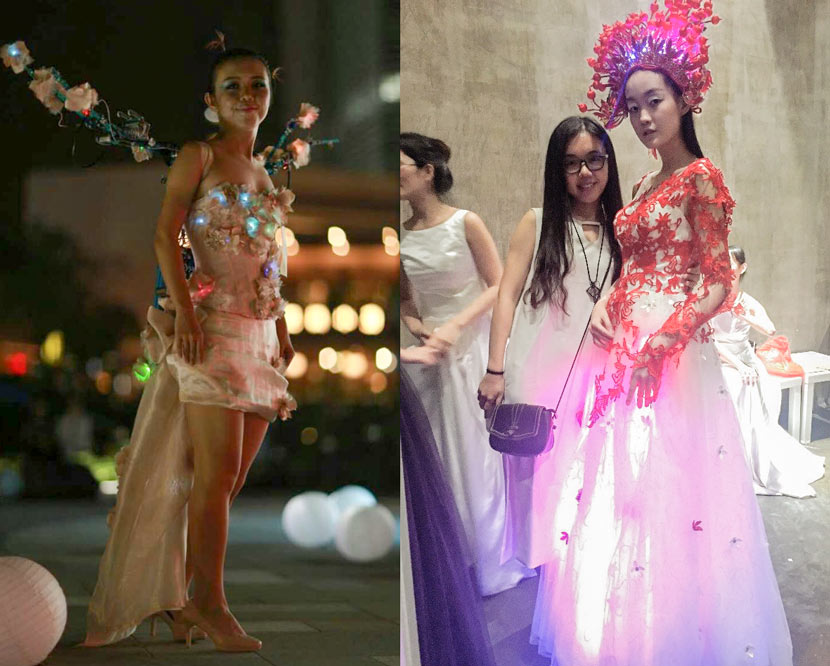 Left: Guan Chunlin models a pair of wings she designed at Make Fashion in Shenzhen, October 2016; right: Guan (left) poses for a photo with a model wearing the electric skirt Guan designed at a Shenzhen fashion show, Guangdong province, June 2017. Courtesy of Guan Chunlin
Yet Guan, too, is keen to see more women enter the field. She recently took part in an event called Make Fashion — where she modeled a pair of spindly, light-up wings she had designed — and says she found it interesting how the fashion element attracted people who wouldn't typically be interested in technology.
"If we do more fashion events as demonstrations, we can get more girls to join the hardware world," Guan says. "Girls have a lot of talent for inventing; they have a different perspective [from men]."
Though she may be a polarizing figure, Wu has become a rallying point for women in tech. She's now offering to use her social media presence to promote talented female makers, particularly those who haven't had their voices heard.
"For most people, if [something] bothers them, it's very hard for them to stand up. Those are the people I need to speak up for," Wu says. "Emotionally, some people are not as strong as me. Come at me; I will not back down. If you hit me, you must hit me until your fists break."
Additional reporting: Joyce Siu; editor: Denise Hruby.
(Header image: Naomi Wu wears one of her own creations in Hong Kong, December 2016. Courtesy of Naomi Wu)