Following recent high-profile exposés of abuse at early childhood centers in Beijing and Shanghai, China's Ministry of Education stated on its Weibo microblog on Thursday evening that any staff found responsible would be severely punished according to juvenile protection laws and regulations on teachers and kindergarten administration.
"They should be held criminally liable according to the law to protect children's physical and mental health," the ministry stressed. Parents have alleged that their children attending the Beijing center were drugged, given injections, and undressed by staff and exposed to strangers.
Investigations into the Beijing case are ongoing, with no public statement from police as of Friday evening. Meanwhile, allegations of abuse have surfaced at a kindergarten in Zhenjiang, in eastern China's Jiangsu province. Two short videos have spread online: One shows a female teacher hitting a young girl repeatedly as the toddler begs her to stop, while another shows the same teacher dragging a little boy by his neck and slapping him.
Sixth Tone's sister publication, The Paper, reported on another case Thursday, in which a teacher in central China's Henan province was detained after a video leaked showing her physically assaulting children. The kindergarten in question, however, was still in operation as of Thursday.
According to Ding Jinkun, a Shanghai-based criminal lawyer, national legislation is needed to standardize supervision of preschool education for children up to age 6. "There is a legal gap when it comes to [supervision of facilities for] those aged from 0 to 3," he told Sixth Tone on Friday. "And for those from 3 to 6, there is a kindergarten management ordinance instead of a law."
Ding added that while China's criminal law applies in cases like these — Article 260 stipulates that guardians or professionals with a duty of care can be imprisoned for up to three years for abusing their charges — the judiciary lacks clear standards for evaluating such cases and sentencing those found responsible.
"It's hard to measure the children's trauma," Ding said, "and some people will argue that imprisonment of up to three years is light." However, if staff are found guilty of more serious additional charges such as physical or sexual assault, the penalties are heavier.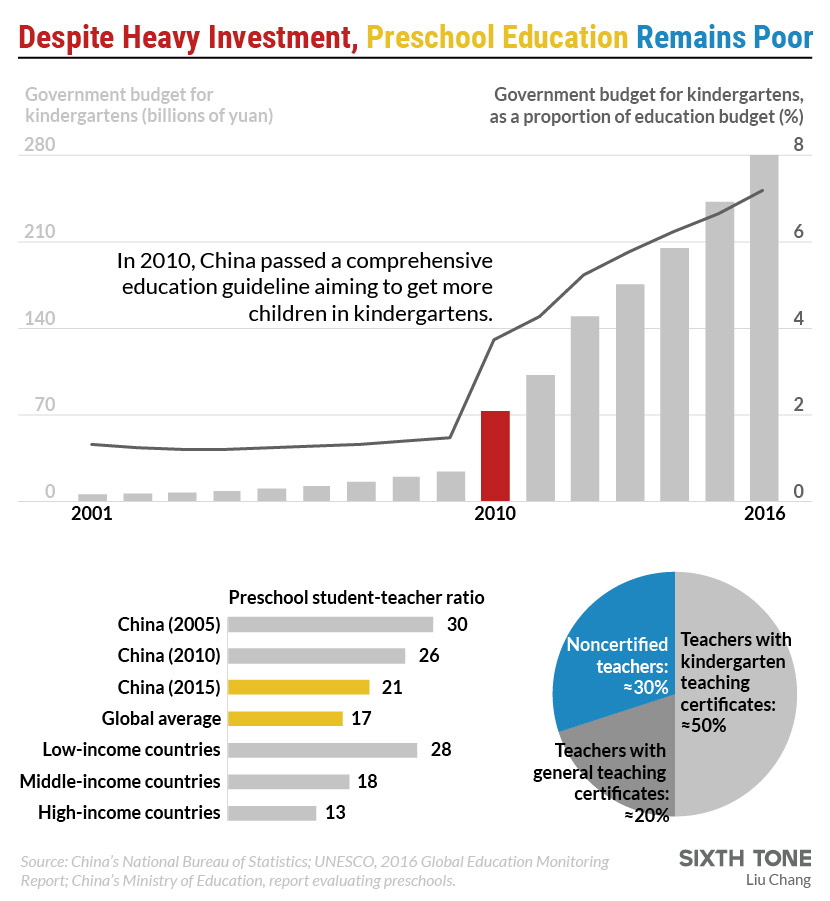 The Beijing municipal education commission also announced Friday morning that it would conduct a citywide inspection of kindergartens.
Though several news reports relating to the recent Beijing case have been deleted from Chinese media, the public response has been immense. Weibo users left more than 30,000 comments under a live blog about the case produced by The Paper. A video post from Party-affiliated newspaper People's Daily — showing journalists interviewing an employee of the district education commission on the street — was shared over 440,000 times.
Many comments urged parents to take cases to court. "If it's true, parents who need a lawyer, stand up!" wrote Annie Yi, a Taiwanese celebrity who has a 1-year-old daughter with mainland actor Qin Hao, on her Weibo account yesterday, offering to help parents find attorneys. "Child abusers can't escape! Sue!"
Editor: Qian Jinghua.
(Header image: Wu Huiyuan/Sixth Tone)