For a show based around angels, Victoria's Secret's China debut was remarkably graceless.
By the time the catwalk show closed on Monday night, five models and one pop star had failed to gain entry to China, and one top local model had fallen flat on her face.
Every year, American lingerie brand Victoria's Secret (VS) puts on an eponymous extravaganza. Dozens of models, decked out in angel wings, show off the company's latest underwear lines, while one of pop music's biggest names showcases their latest release.
This week, Shanghai became the first Chinese city to host the show. It should have been an easy win for both the city and VS; the latter has been working to win over China's lingerie buyers in a bid to secure a piece of the domestic women's garment market, expected to be worth 963 billion yuan ($145 billion) by 2021. Instead, Monday's event was splashed unceremoniously across international newspapers for political, not sartorial, reasons.
Over the weekend, media reported that four European models had not obtained visas for the VS show. Next, headliner Katy Perry, who infamously irked the Chinese government two years ago, was barred from entering the country. Finally, VS mainstay Gigi Hadid announced on Twitter that she wouldn't be present, months after a photo of her squinting her eyes was slammed by Chinese netizens as racist. To add insult to injury, one of China's top models, Ming Xi, then found herself tumbling over on the runway — prompting her to write a long apology on Chinese microblogging site Weibo.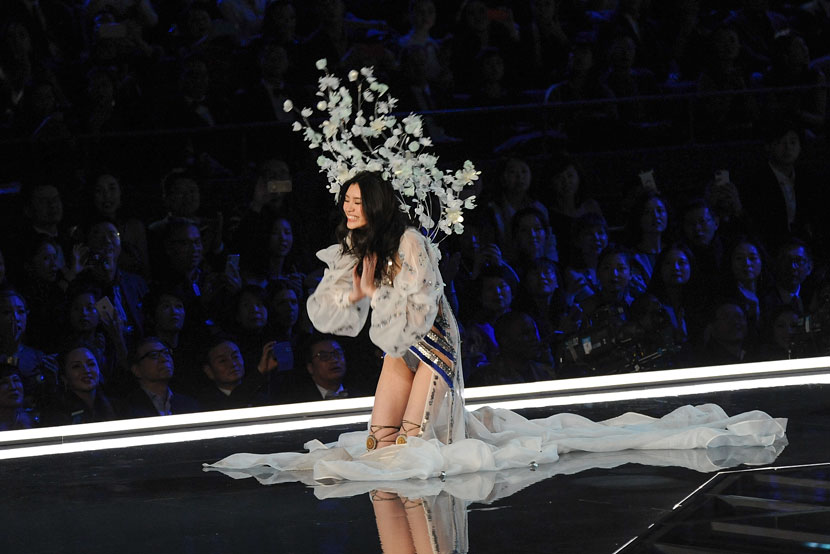 Ming Xi falls during the 2017 Victoria's Secret Fashion Show in Shanghai, Nov. 20, 2017. Hu Xuebai/VCG
Aside from a vaguely worded comment to the effect that China is allowed to patrol its own borders, the Ministry of Foreign Affairs has made no remarks about the visas, so it's hard to know if they were officially denied. Yet the models' trials are merely the latest in a string of Western celebrities — from Canadian singer Justin Bieber to American rapper Jay-Z — who have been denied access to the country. VS won't need to run a similar gauntlet in China again anytime soon; the brand takes its show to a new location each year. But the company's experience raises a broader question for international brands: If taking your event to China means being hit with a seemingly endless string of crises, should you even bother?
For overseas companies like VS that want to hold events in China, it's a genuine predicament. Having to find a new headline act — not to mention a few extra Angels — on short notice isn't heavenly: It's an event organizer's worst nightmare.
But for most companies, China is still worth the effort. Last year, it surpassed the U.S. to become the world's largest retail market. VS knows that: It has already tailored its business strategy to attract Chinese lingerie buyers. When the brand opened its first China branch in 2015, the store's signature push-up bras couldn't be found on shelves — a nod to the country's more conservative taste in underwear. VS has also been actively recruiting Chinese models; in 2009, model Liu Wen was the first Asian woman to walk in a VS show since the event's inception in the '90s. This year, eight of the 55 models were Chinese — twice as many as last year's record-setting four.
But while international companies are prepared to pull out all the stops to court the Chinese market, government officials are not interested in compromising their own positions just to accommodate more foreign events. If Chinese state media outlet Global Times is anything to go by, the government's view on this is simple: Respect our beliefs, or miss out on our money.
"China's entertainment industry is very open, but it has its own rules," an editorial lectured on Monday. "[Perry and Hadid] are lifting a stone only to drop on their own feet due to their ignorance of these issues. Payback was unavoidable. Those who are serious about developing careers in the Chinese market can draw lessons from this case and learn to abide by the rules in China."
VS has stayed silent on its embarrassing succession of snags, save for a run of perky social media posts and a brief word praising China by the show's executive producer Ed Razek. Perhaps that tells us all we need to know: To VS and fellow international brands, the money at stake means China is definitely still worth the bother, even though the unpredictable bureaucracy can get an organizer's panties in a twist.
Editor: Matthew Walsh.
(Header image: Chinese model He Sui (third from left) hugs Bella Hadid during the 2017 Victoria's Secret Fashion Show in Shanghai, Nov. 20, 2017. IC)