Shanghai parents have been left shocked after two short videos circulating on social media Wednesday showed toddlers being mistreated at a local day care center.
In one video, a female staff member pushes a little girl, causing her to fall and hit her head against a desk. In another, a child cries interminably after being forced to eat something that his parents later discovered was wasabi.
The staff involved have been fired, the center's management announced in a statement on Wednesday morning. The company also called police to investigate on Tuesday and established an emergency group to address the issue.
"We'll provide physical check-ups and psychological services as needed to children and their families to minimize the negative impact," read the statement.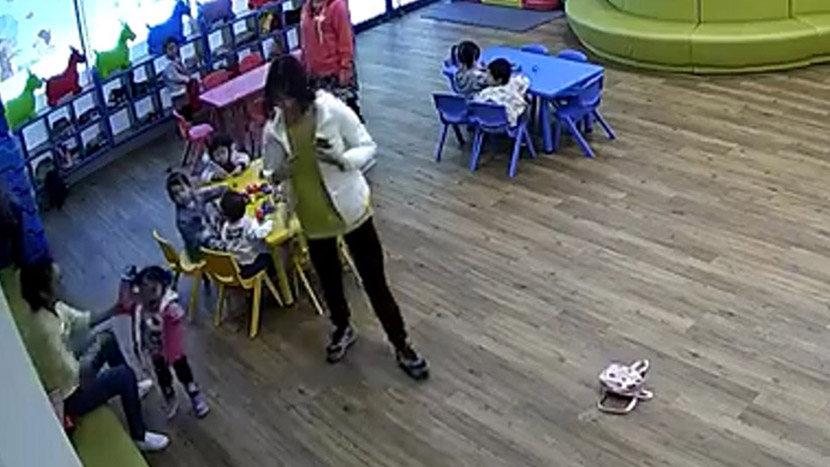 A screenshot from a surveillance video at the Ctrip day care center shows an employee pushing a little girl. From Weibo
The day care center in question is located inside the headquarters of Ctrip, the country's leading online travel agency, in the western part of Shanghai. The facility was established in partnership with the district women's federation in February 2016 to serve the company's more than 10,000 employees, as the city encourages employers to provide child care services for working moms.
Designed for children aged 18 months to 3 years — the minimum age to qualify for a place at a public kindergarten — the day care center was open from 8:30 a.m. to 6:30 p.m. every weekday, for a monthly fee of 2,580 yuan ($390). One employee told Sixth Tone's sister publication, The Paper, that staff had welcomed the facility, as many had difficulties balancing work and child care, and that there was even a long waiting list. Shanghai has a drastic shortage of child care services.
The two filmed incidents reportedly occurred on Nov. 1 and 3, but parents did not find out until this week, after which they demanded to see the surveillance footage, which was later leaked. By Wednesday, angry parents had gathered at the center to protest.
A video shared online shows that the accused teacher kneeling in apology — but the parents, unsatisfied, continue to weep and wail. According to The Paper's report, in addition to the incidents captured on video, some parents had also found bruises on their children's bodies.
Last year, an instance of child abuse in Zhejiang province, Shanghai's neighbor to the south, saw two teachers detained for 12 and 14 days, respectively, after a parent confirmed their suspicions of misconduct by concealing an audio-recording device in their child's bag.
Additional reporting: Wang Lianzhang; editor: Qian Jinghua.
(Header image: VCG)