A judge in central China's Hunan province is in danger of losing his job after a video showing him visibly drunk and passed out at court made a splash online.
On Tuesday, the people's court of Dong'an County in Yongzhou, a prefecture-level city, posted a statement to its Weibo microblog account announcing that it had asked for one of its deputy judges to be dismissed from his post for drinking during office hours.
The statement comes a day after a video appeared on social media showing the judge, Wei Kaiyang, napping at his desk while the public gallery mills about the courtroom. According to the netizen who posted the video, the scene was filmed in August, when Wei arrived at the courtroom drunk and passed out shortly after the trial began. Wei also appears in casual attire in the video, despite the fact that judges are required to wear their official robes when in court.
The video soon fell under the crosshairs of online commentators, many of whom reacted with biting sarcasm. "Good Party official and people's servant, you are so tired from all that hard work!" read one highly upvoted comment.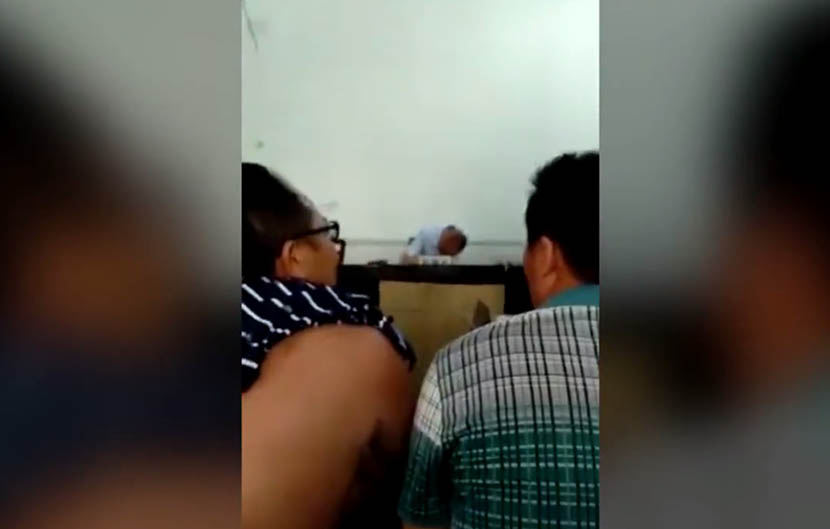 A screenshot from a video recorded in a Dong'an County courtroom shows Deputy Judge Wei Kaiyang (center) drunk at his desk. From Weibo
In Tuesday's statement, the Dong'an County court criticized Wei for "damaging the public image of judges and causing a serious impact on society," and reported that it had submitted a request to the Dong'an people's congress to have Wei expelled — though this action comes months after the infraction.
Sixth Tone contacted several offices at the Dong'an County court on Tuesday, but all of the officials who answered the phone said they were not familiar with the case and as such could not comment on it.
Last July, the High People's Court of Hunan released a notice prohibiting court officials from consuming alcohol during work hours, coinciding with a nationwide push for more professional behavior at work. The eight-point guideline explicitly states that court officials must refrain from drinking during weekday breakfasts and lunches.
Wu Aibin, an associate professor at Southwest University of Political Science and Law in the southwestern municipality of Chongqing, told Sixth Tone that Wei's case was an outlier compared with other judicial environments in China. "Most local jurisdictions have improved their performance over the past few years in terms of maintaining the authority of the people's court," Wu said.
In 2010, the Supreme People's Court released a code of conduct for judges that outlines basic disciplinary guidelines, which include no napping, smoking, dress code violations, or idle chat — in short, the same rules one might expect to find in a high school classroom.
Editor: David Paulk.
(Header image: People visit a courthouse during a legal education program held for the general public in Nanjing, Jiangsu province, Dec. 4, 2014. Liu Yifan/VCG)