If there's one thing that archaeology graduate and comic artist Li Ziyi wants people to know, it's that archaeology is not about treasure hunting or tomb raiding. In her recently published comic book, whose title translates as "The Guide to Archaeology: Entering the Pit," Li shares experiences from her four-month internship at an excavation site in central China's Henan province known for artifacts dating from the Zhou Dynasty, which began in 1046 B.C.
The book follows an adventurous fox named A San on a journey through an excavation site, introducing readers to the daily routines of a field archaeologist. The work received critical praise from experts in the field, including Wang Renxiang — an archaeologist formerly of the Chinese Academy of Social Sciences — who applauded the book for helping to make archaeology "no longer unfamiliar, boring, rigid, or mysterious."
Li graduated from Henan's Zhengzhou University in 2015 and earned a master's degree from the University of Southampton in the U.K. a year later. Ironically, however, her interest in archaeology was initially sparked by the sensational representation of the field in the Indiana Jones film franchise. Though she now has an accurate understanding of archaeologists' work, she believes dramatic tomb-raiding tales in popular culture continue to fuel misconceptions about archaeology, and that archaeologists lack opportunities to speak out against them.
As urban expansion and construction continue across China, more and more buried artifacts are being unearthed. Older archaeologists are often too occupied with field and lab work and rarely communicate with the public, Li says, but the new generation of tech- and media-savvy archaeologists and archaeology students are more vocal about their field of study. They have attempted to educate the public about what to do upon discovering an artifact, giving rise to a new subdiscipline: public — or community — archaeology, which uses the internet, television, and books to share archaeological information traditionally confined to academic circles. For example, some students have set up accounts on social media app WeChat to deliver updates on archaeological discoveries, while others have produced radio dramas detailing the history behind significant relics.
Published in July, Li's comic book is one such attempt to bring archaeology to a mainstream audience. The work is a candid diary of her experiences in the field, introducing readers to the intriguing and often-misrepresented subject. When she first began sketching the comics, she never expected her drawings — which she posted on microblogging site Weibo — to be published.
These days, in addition to applying for Ph.D. programs, Li has continued her mission to meld archaeology and pop culture by making virtual stickers based on oracle script — ancient forms of Chinese characters engraved on bones and turtle shells used in divination — or statues with clenched fists, pouting mouths, and other peculiar poses.
Li spoke to Sixth Tone about the inspiration behind "The Guide to Archaeology: Entering the Pit," as well as her efforts to debunk misconceptions about archaeology and demystify the complex field. The interview has been edited for brevity and clarity.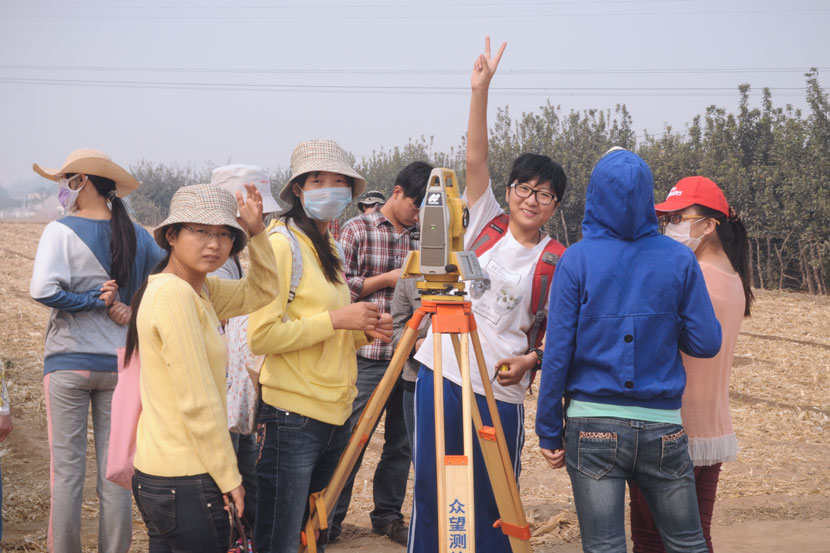 Li Ziyi (third from right) poses for a photo with her classmates at the excavation site in Xingyang, Henan province, Oct. 13, 2013. Courtesy of Li Ziyi
Sixth Tone: What led you to create the comic book?
Li Ziyi: Painting has been a way for me to relax, entertain myself, and unload my feelings since childhood. At the beginning of my internship, I drew in my spare time at the excavation site. But I soon stopped because the internship was physically demanding and time-consuming. I resumed drawing in March 2014, when I had returned to school and didn't have too many compulsory courses. I uploaded a few drawings to the official Weibo account I managed for the excavation team, and many of my classmates liked them. I continued to draw and would occasionally upload my work. I finished most drawings in the book around May 2015. We started the editing process in the spring of this year.
Sixth Tone: What do you think readers will take away from the book?
Li Ziyi: Comics can close the gap between the public and archaeology. When I was studying Egyptology in the U.K., there were some incredible works by comic artists informing the public about mummies. But not all archaeologists know how to draw comics.
When I started to draw my own comics, I had never given any thought to public archaeology. But I found that [through my art], people began to understand that archaeology does not mean robbing graves, hunting for treasure, or authenticating antiques. What's more, they passed this knowledge on to others. Public archaeology aims to inform people about what archaeology really is, not turn everyone into archaeologists. That's the goal of my comics. For example, some high school students may read my comic book because they want to study archaeology in college. Everything they know about archaeology may come from popular movies. After finishing my book, they can then decide whether archaeology suits them, since the book offers a more authentic representation.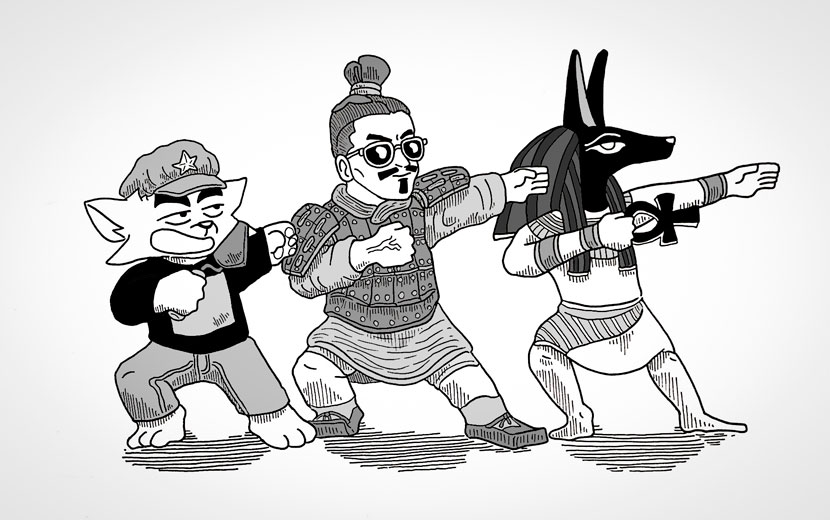 An illustration from 'The Guide to Archaeology: Entering the Pit,' published in July 2017. Courtesy of Li Ziyi
Sixth Tone: Your comic book is based on your internship at an excavation site. What did you gain from the experience?
Li Ziyi: There were several times when I thought I never wanted to do fieldwork again. When you start working at an excavation site, what you previously learned from textbooks and lectures is hardly applicable. There are so many new things to learn and so many problems to solve. One pit may contain many objects that need to be unearthed, and you have to make sure you don't slow down the whole team. Everyone is under enormous pressure. The daily routine for us back then was tough: getting up at 6 a.m., digging and sorting during the daytime, and meeting to plan work for the next day.
Archaeology is a field that develops many different skills, such as field exploration and investigation. No matter what career you choose in the future, whether it's in lab research or excavation, you must master the basic knowledge — things like typology [classification of objects into different categories] and stratigraphy [determining the age of an object based on the layer of soil in which it is found].
Sixth Tone: What have you been working on lately?
Li Ziyi: I met other young archaeology students who are devoted to helping the public better understand archaeology, and it got me thinking about what else we can do to engage people more interactively, something for use in daily life. One idea came up while I was messaging a friend on WeChat: turning oracle bone script into virtual stickers. I developed my first set of 24 stickers, and by October, the set had been downloaded over 60,000 times.
Sixth Tone: Interest in archaeology is growing in China. Dozens of universities now have their own archaeology departments, and your book mentions that there were 23 students in your class. What are the employment prospects for archaeology graduates these days?
Li Ziyi: Archaeology majors face similar challenges to most students: There are jobs, but few suitable ones. China is such a large country that there might be hundreds of sites being excavated as we speak — and they all need more people. However, not all of [these jobs] are well-paying, nor do many of them meet expectations.
A GIF displays a photo of an excavation pit in Henan province, taken on Nov. 3, 2013, and a photo with illustrations added by the artist. Courtesy of Li Ziyi
Sixth Tone: Several movie adaptations of online fiction about tomb raiding — such as the 2016 film "Time Raiders" — have raked in hundreds of millions of dollars at the Chinese box office. What more do you think the archaeology community can do to combat misconceptions about the field in popular media?
Li Ziyi: In the past, archaeologists did not make much of an effort to reach out to the public, and therefore, [the public] lacked an understanding of what archaeology really is and what archaeologists do. Today, [people] have a greater understanding of the field. However, there are still movies and books that depict archaeology as tomb raiding. There are some voices arguing that these works should be banned, as they violate China's cultural relics protection law. I think that instead of banning these kinds of media, we should make better and more authentic movies and TV shows about archaeology.
Editor: Doris Wang.
(Header image: A comic by Li Ziyi based on her experience as an archaeology student, 2015. Courtesy of Li Ziyi)