JIANGSU, East China — Machines are now so smart they can outwit their creators in a complex strategy game, or beat doctors to a cancer diagnosis. But one thing remains a mystery: the human brain itself.
Despite making leaps and bounds in artificial intelligence, scientists have yet to crack the codes inside our brains that determine everything from how we learn to how we fall in love. The puzzle has attracted attention internationally, but it's in Suzhou — a 2,500-year-old city perhaps most famous for its ancient gardens — that researchers are at the forefront of brain imaging technology that could improve scientists' understanding of how our minds work.
In a bright, clean, and spacious laboratory at Suzhou Industrial Park, 10 automated brain imaging machines work around the clock to produce high-resolution 3-D models of mouse brains. Construction on the HUST-Suzhou Institute for Brainsmatics began last year, but the lab only got its machines up and running last month. Once it's operating at full capacity, the institute will be the largest high-resolution brain mapping center in the world.
Scientists are developing the world's largest high-resolution brain mapping center in the eastern Chinese city of Suzhou. By Shi Yangkun and Liu Jingwen/Sixth Tone
Scientists at the lab — a multimillion-yuan collaboration between local authorities and the Huazhong University of Science and Technology in central China's Hubei province — hope comprehensive human brain mapping will be a reality in the not-too-distant future. "We are confident that our technology will have significant impact in future studies," Luo Qingming, the facility's lead researcher, told Sixth Tone. "There will definitely be a huge demand for brain mapping that can show both detail and the overall picture," added Luo, who has been working on the technology used at the lab since 2002.
Current brain imaging technology can show the functions of almost 200 areas of the human brain, but scientists still can't map how neurons — a type of cell in the brain that transmits information — interact with one another. This piece of the puzzle is essential for helping scientists understand mental disorders, such as autism spectrum disorder and depression, according to U.S.-based neuroscientist Josh Huang. And the potential payoff is significant: By 2020, brain diseases will account for 20 percent of the global burden of disease, according to the World Health Organization.
"The institute's systems have reached the highest-resolution level for brain-wide imaging," said Huang, who works at Cold Spring Harbor Laboratory in New York, a leading nonprofit research institute that has partnered with the Suzhou-based lab.
The Suzhou institute has already begun creating 3-D models of mouse brains that allow scientists to both see the overall organ and zoom in on individual neurons, according to Luo. The institute can map five mouse brains a day, Luo said — a marked increase in speed from the 50 days it took the institute's scientists when they first published a paper on the technology in 2010.
The researchers start by giving the mouse a chemical injection or electric shock to provoke a certain brain response like fear or excitement, so they can later track which neurons are associated with that emotion. They then take the tiny 0.5-cubic-centimeter brain out of the mouse and place it in one of the lab's machines, explained Jiang Tao, the director of the institute's brain imaging department. The organ is dissected into more than 15,000 miniscule slices, photographs of which are sent to a computer. Once all the slices are pieced together, a 3-D model of the mouse brain — in its final emotional state before death — is born.
For now, the scientists are only working with mice. They'll move on to monkey brains, Luo said, before finally tackling to their most ambitious goal: starting high-resolution human brain mapping within five years.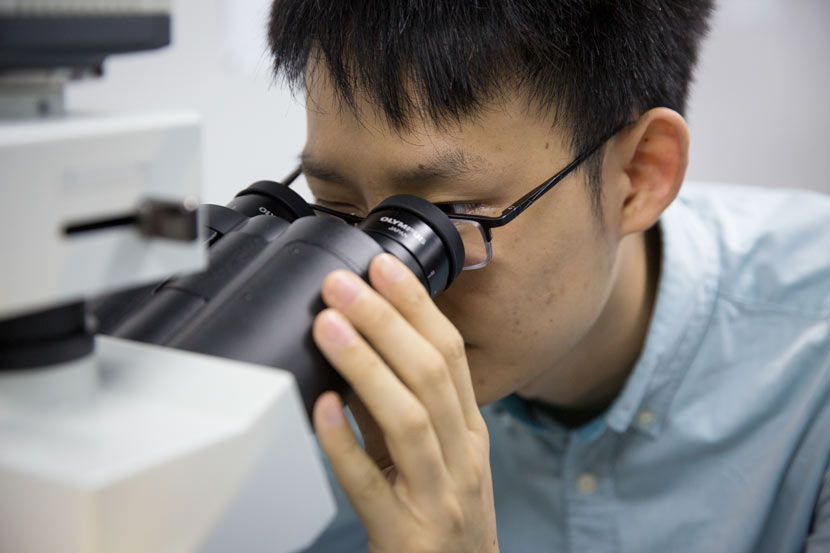 Researcher Jiang Tao looks through a microscope at his lab in Suzhou, Jiangsu province, Oct. 10, 2017. Shi Yangkun/Sixth Tone
But mapping a human brain — which is around 3,000 times larger than a mouse brain — is another thing altogether, said Li An'an, the institute's deputy director who played a key role in development of the core technology. For one, the scientists won't be able to work with live human brains; they'll have to use brains from people who donated their bodies to scientific research, said Jiang. Another challenge will be managing the massive amount of data. If the researchers succeed, Luo hopes the technology they develop could result in a standardized platform to make brain imaging more consistent and efficient in China.
The institute — which is largely funded by local authorities and has a five-year budget of 450 million yuan ($67.9 million) — is currently only operating at one-fifth capacity. In the future, the lab will have 50 automated brain imaging machines running 24 hours a day, each worth millions of yuan. Over 100 staff will be on hand to prepare samples, monitor machines, and generate data, which will be stored in a 140-square-meter computer room. The lab will produce 100 terabytes of brain image data per day — equivalent to 25,000 high-resolution blockbuster movies.
The unprecedented scale of the institute's technology could "dramatically accelerate progress" in the field, U.S.-based molecular biologist Hongkui Zeng said in an article published in scientific journal Nature in August. "Large-scale, standardized data generation in an industrial manner will change the way neuroscience is done," said Zeng, whose research organization, the Allen Institute for Brain Science in Seattle, has partnered with the Suzhou lab.
Luo compared his work to a 13-year international project that identified all the genes in human DNA. "Like the Human Genome Project, we need a large collection of samples and data to make a difference," he said.
The institute has come a long way since it began researching its current technology in 2002. Back then, there was little funding for brain mapping technology and few supporters in China, Luo recalled. Researchers sometimes had to borrow obsolete equipment from other labs. Over the next eight years, young scientists on the team came and went: The project had gone on for too long without a published paper, leaving them little chance of promotion and at risk of losing their faculty positions.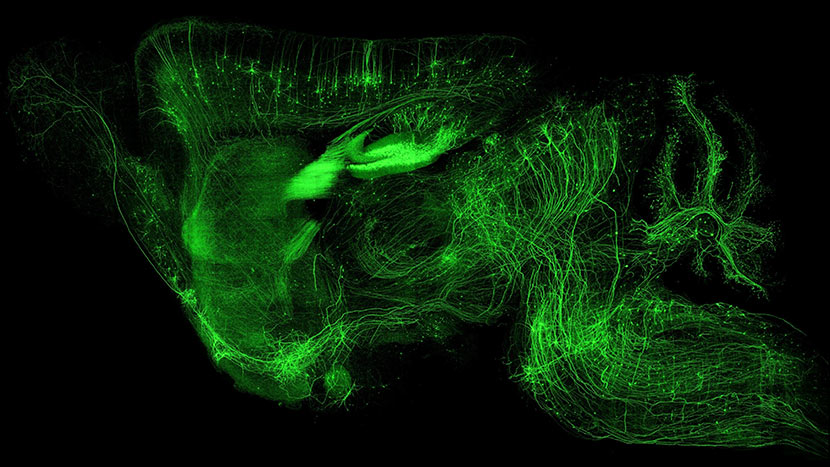 Neural circuit imaging is displayed at the HUST-Suzhou Institute for Brainsmatics in Suzhou, Jiangsu province, Oct. 10, 2017. Courtesy of the HUST-Suzhou Institute for Brainsmatics
The research process was often torturous. Jiang recalled long days spent in a dark room only large enough to fit a brain imaging machine and a chair. "I often sat still in that room for the whole day, staring at the monitor, afraid that something might go wrong with the machine or the specimen," he said. "This went on for nearly a year, during which time I scanned hundreds of mouse brains."
Since then, the center has attracted international attention and scored collaborations with leading labs around the world. According to Luo, the institute will also play an important role domestically in the government-funded China Brain Project, a multibillion-yuan initiative expected to kick off this year, with the aim of supporting brain research. The project follows similar initiatives launched by the EU and the U.S., both with similarly hefty price tags and the same goal: to decode the human brain and use the knowledge to tackle brain diseases and advance artificial intelligence.
Despite China's recent progress, it's late to the game on brain research — which could put the China Brain Project in competition with its European and North American peers for talent when it launches, according to neuroscientist Huang.
"The major disadvantage of China's brain science development is talent," Huang said. "Though China has caught up rapidly in the past decade, cultivating a pool of talent in the field takes time."
Editors: Julia Hollingsworth and Denise Hruby.
(Header image: Researchers work at the HUST-Suzhou Institute for Brainsmatics in Suzhou, Jiangsu province, Oct. 10, 2017. Shi Yangkun/Sixth Tone)