BEIJING — When a man visited her restaurant in July asking for advice, Liao Huozhu didn't think much of it.
Liao's store is one of thousands of Shaxian Delicacies, small mom-and-pop eateries whose owners hail from the eponymous county in eastern China's Fujian province. The virtually identical restaurants can be found in cities all over China and function as a chain, linked by ties with Sha County.
Two months later, the man opened his own restaurant just a few hundred meters from Liao's. Its menu is like any other Shaxian restaurant, but the new location is larger, well-lit, and staffed by neatly dressed waiters. Most importantly, it is backed by a government-affiliated company with aspirations of taking over the Shaxian name nationwide. Its message to small-time businesspeople like Liao is simple: Join us, or get out-competed.
The company, Shaxian Snacks Group, has been around for nearly a decade. In 2016, it signed a 135 million-yuan ($20 million) contract with Chuying Agro-Pastoral Group, a pork supplier, and has since opened 500 stores in Beijing, Shanghai, and other cities in China's coastal provinces. The partnership's mission, as stated in Chuying's 2016 annual report, is to "upgrade the Shaxian products into modern catering."
Known for their green Pac-Man-like logos, Shaxian restaurants sprung up across China in the 1990s, as people who borrowed money in Sha County founded restaurants in other cities to escape their debts. Today, there are around 30,000 Shaxian restaurants nationwide; for comparison, that's twice the number of McDonald's outlets in the U.S. The loose network of self-employed restauranteurs is similar to Braised Chicken With Rice and Lanzhou Beef Noodles, two other unofficial Chinese fast-food chains with thousands of outlets.
The Sha County government in 1998 established a Shaxian Delicacies Office and a Shaxian Snacks Guild in an attempt to organize the scattered businesses, but this accomplished little. Becoming a dues-paying guild member and gaining the right to use the Shaxian Snacks Guild trademark has limited appeal to restaurant owners because adding a fake decal to a glass storefront is easy and common. Of the 3,000 "Shaxian Delicacies" stores in Beijing, only around 80 are officially registered, according to Luo Guangcan, director of the guild's Beijing branch. Liao was in the guild, but she didn't renew when her three-year license expired. "It does not bring me anything," she said.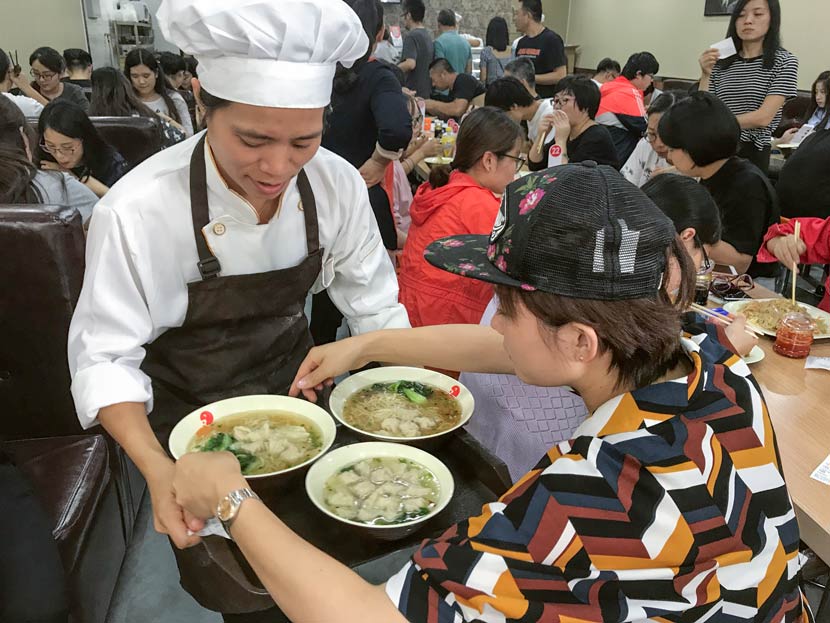 A waitress serves wontons to customers at the Shaxian Delicacies flagship restaurant in Beijing, Sep.25, 2017. Wang Yiwei/Sixth Tone
The lack of central control introduces the risk that quality problems at one restaurant will tarnish the name of all the others, as happened in 2009 when several restaurants in Fuzhou, also in Fujian province, replaced baking soda with borax, a toxic preservative and fireproofing agent.
The Shaxian government has in recent years rededicated itself to overhauling the chain's business model. In 2014, it signed a contract with Chia Tai Group, a Thai agriculture and chemical conglomerate, and proposed to redecorate 6,000 existing stores in three years, open 4,000 new stores in five years, and reach an annual net income of 50 billion yuan. But the guild's plans were thwarted when its trademark applications for "Shaxian Snacks" were repeatedly rejected.
In May 2016, after a decade of failed attempts, the State Administration for Industry and Commerce finally approved its proposed trademark, including a Pac-Man-shaped logo in red, which does not legally conflict with the green logos used by other restaurants.
The Shaxian Snack Group's ambitions are now being converted into brick-and-mortar stores, like the one that opened near Liao's restaurant. Xiong Haihua, the manager of newly opened Beijing location, said his restaurant serves as a beacon introducing customers to upgraded service. "We do not aim to profit at this point," he told Sixth Tone.
To maintain an authentic taste, the chefs at Xiong's restaurant are Shaxian locals, just as at Liao's eatery. The only difference is that they are trained at the Central Kitchen, a resource center in Fujian from which ingredients, kitchen utensils, tableware, and staff are distributed to restaurants across the country. "We are standardized and operating at a large-scale," Xiong said.
Liao's store, on the other hand, is struggling to cope with declining business. "The rent in Beijing is too high," Liao said, "and daily earnings are sometimes not enough to break even."
Shaxian Snacks Group offers independent restauranteurs like Liao an upgrade plan. "We are establishing a branch company in Beijing this year, and I am urging our members to join the chain," said Luo Guangcan, the director of the Beijing guild and the owner of Shaxian Snacks restaurant No. 011 in Beijing. Businesses are required to pay a lump sum of 30,000 yuan to join the chain; in return, they receive 10,000 yuan worth of equipment and technology, such as uniforms and payment systems.
But Liao said the company has not approached her with such an invitation. "Even if they were to, I'd have to consider if we could cover the cost [of an upgrade]," she said, adding that she isn't worried about the new location near her — partly because she believes business couldn't get much worse for her anyway, and partly because she is confident in her recipe. "Once, a Shaxian local told me the dumplings we make are the best among all of restaurants in Beijing," she said with pride. "So let them mind their own business, and I will mind mine."
"We won't force the old restaurants to join us," Xiong told Sixth Tone. "But if they don't, they will be driven out by customers looking for a better dining environment."
Editor: Kevin Schoenmakers.
(Header image: Left: Customers line up at the Shaxian Delicacies flagship restaurant in Beijing; right: customers wait to be served at Liao Huozhu's Shaxian Delicacies eatery in Beijing, Sept. 25, 2017. Wang Yiwei/Sixth Tone)