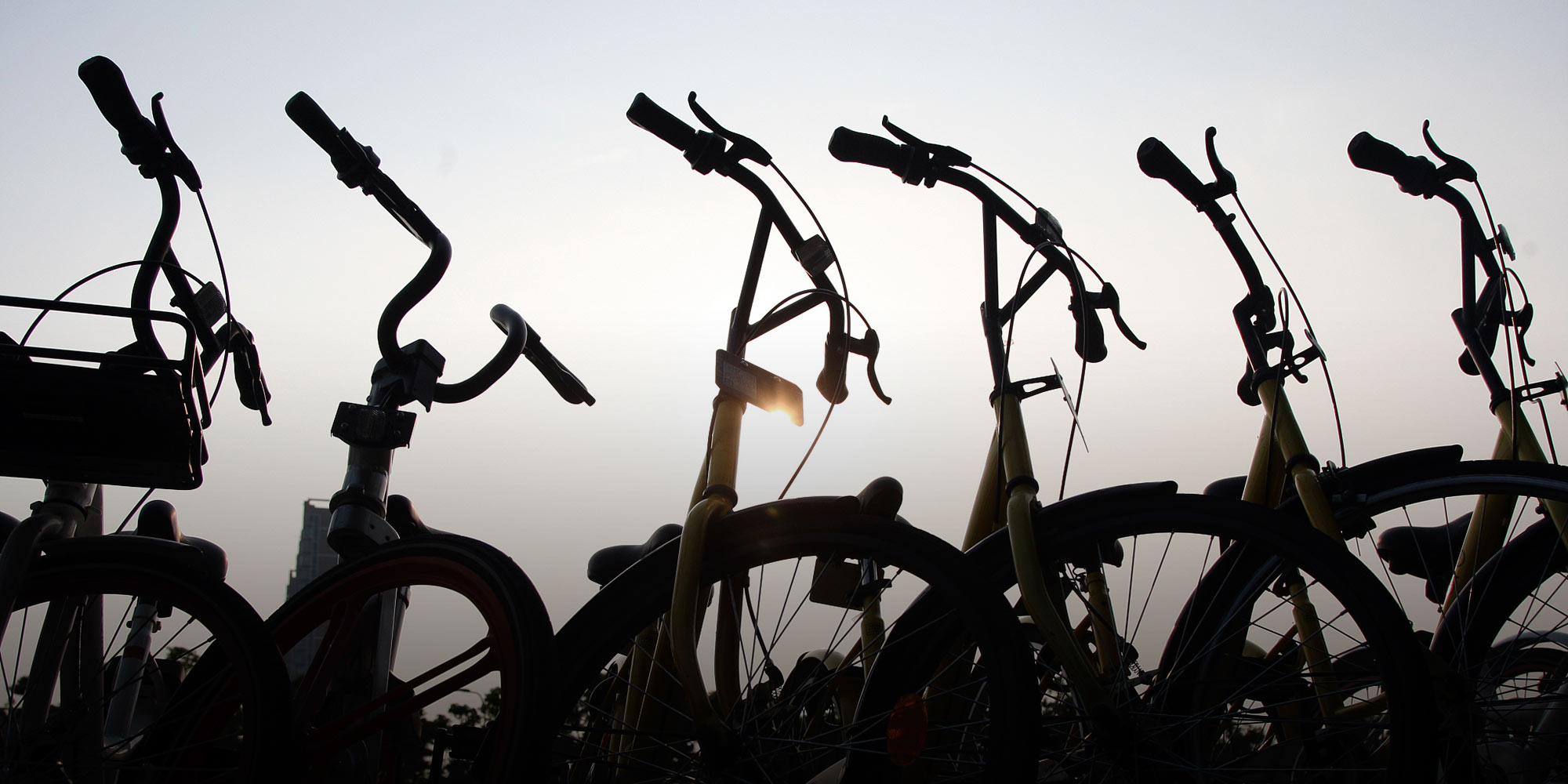 FEATURES
Bike-Share Boss Says Failure Just Bump on Road
Wukong's flop no cause for regret, says founder Lei Houyi.
CHONGQING, Southwest China — Months after his hasty retreat from China's bike-sharing industry, entrepreneur Lei Houyi still carries with him the label of failure.
Bike sharing rose to prominence in China in 2016, as companies such as Mobike and Ofo went head to head to capture market share. Lei thought about entering the industry himself after reading a news story about Ofo; he finally decided to give it a shot, starting his own bike-sharing company in the sprawling metropolis of Chongqing, his hometown.
Lei launched Wukong Bike in January. Just six months later, the company had gone out of business, making Wukong the first bike-sharing casualty in what was by then an increasingly cutthroat industry.
A recent visit to Chongqing by Sixth Tone's sister publication, The Paper, offered some insights into why the shared-bike business failed to thrive in this mountainous city of around 30 million people. Dry, hot air — with highs of over 40 degrees Celsius this summer — suffocates the city's streets and alleyways. Shared bikes are rarely seen on the steep slopes and hilly roads.
From the outset, Lei identified the challenges such physical barriers presented to the successful launch of a bike-sharing service. "Everyone thinks the topography of Chongqing is not suitable for cycling, so wouldn't it be impressive if I cycled in Chongqing?" the 25-year-old entrepreneur recalls thinking. "At least it can attract people's attention."
This was not Lei's first business gamble: The startup founder has several other, mainly financial, companies headquartered in Chongqing. Wearing a white shirt, wrinkled shorts, and his signature flip-flops, the scruffy-looking Lei could hardly sit still as he spoke to reporters from The Paper.
In 2011, Lei enrolled at Dalian University in northeastern China's Liaoning province to study mechanical engineering — only to drop out in 2012 against his parents' wishes. He then became a security guard at Peking University, auditing classes in his spare time. Lei says he regards this period as a "turning point" in his life.
Lei quickly became hooked on speeches and lectures by entrepreneurs at Peking University. He grew determined to go into entrepreneurship himself, to "stand at the forefront of the era, battling the wind and waves," he says.
After 10 months, Lei left his job at the university and traveled around the country seeking business opportunities, but his path was far from smooth. After failing in several cities, he returned to his hometown in 2015 and started an online lending company before turning his attention to the bike-sharing project.
It got off to a promising start. Wukong saw a strong response to its initial crowdfunding efforts, and Lei was promised 300,000 yuan (around $46,000) in investment, making him confident that the company had a shot at becoming a national player.
But in a flash, the potential investors changed their minds. In the end, Lei could only raise 130,000 yuan.
When Wukong first launched, the company primarily placed its yellow bikes around the Chongqing University campus. Concerned that people wouldn't be willing to ride them, Lei hung banners advertising the service. He needn't have worried: "People would ride off with the bikes as soon as we put them out," Lei says.
The area around Chongqing University boasts a large student population and flat terrain. More than 100 people registered on the bike-sharing app each day for the first two days. But this trend quickly soured when, three days after the service launched in the area, thousands of Ofo bikes — also yellow — appeared, engulfing the Wukong fleet. "It was already Ofo's world," Lei says.
To differentiate Wukong's bikes from Ofo's, Lei made his second batch of bikes red. He also planned to expand the service to Chongqing's suburbs but ultimately abandoned the idea after finding the streets devoid of riders.
What's more, the Wukong bikes were not equipped with GPS systems, making them difficult to track down if stolen. As it became harder and harder for Wukong users to find a bike amid the sea of Ofos, customers gradually reclaimed their deposits between the end of March and the beginning of April.
Lei had put nearly 3 million yuan into the business, but the bike-sharing endeavor was burning money faster than he could earn back through his financial services companies. As investors grew nervous, Lei had no choice but to return their money and helplessly watch his competitors eat away at his market share.
Finally, in April, Lei announced his decision to shut down the business. His team spent the next two months wrapping up the company's affairs — returning funds to investors and refunding deposits to all customers.
Up until that point, Chinese and foreign media had touted the rise of China's bike-sharing companies as a poster child for innovation and the sharing economy. Since mid-2016, more than 70 startups have flooded the streets of China's major cities with brightly colored bicycles. The two dominant players, Ofo and Mobike, have each raised billions of dollars from internet giants such as Alibaba and Tencent and made forays into foreign markets.
But the rapid demise of Wukong was remarkable in that it bucked the trend of success stories among shared-bike ventures.
A few days after Lei officially announced his intention to leave the industry in June, the company became one of the hottest topics of discussion on microblogging platform Weibo. Lei was bombarded with messages, leaving him surprised at the turn of events. "I thought I would be well-known one day for my successes, not for my failures," he says.
Only 10 percent of the 1,200 Wukong bikes were ever recovered. Today, only two red Wukong bicycles are left in the company's empty office — Lei handed out the others to his employees.
Former Wukong staff members who work at Lei's other companies don't appear discouraged by the company's flop. Instead, they regard it as a case study and frequently bring it up in meetings.
Lei, too, has adopted a philosophical view of Wukong's fate. "The heavens want me to take every step on the road I am meant to follow," he says, "and not a single step fewer."
A Chinese version of this article first appeared in Sixth Tone's sister publication, The Paper.
Additional reporting: Zhu Yuru, Qian Yani, and Li Ran; translator: Clemens Ruben; editors: Chen Na and Colum Murphy.
(Header image: A row of shared bikes in Hangzhou, Zhejiang province, June 8, 2017. VCG)