SHANGHAI — Before he attempted suicide in April, Chen Shuxiang had lost nearly 7 million yuan (over $1 million) through gambling — a sum that he would never have been able to pay back if it weren't for the support of his wealthy parents.
Baby-faced Chen looks more like a college student than a 28-year-old man with a young daughter. In June, Chen's mother sent him from his hometown of Fuzhou, in the eastern province of Fujian, to a private gambling addiction rehabilitation center in suburban Shanghai. "This is the only service of its kind on the mainland that I've found," Chen told Sixth Tone.
According to its founder, the center has helped more than 10,000 people over the past decade. Currently, around 30 clients attend weekly therapy or education sessions alongside four live-in residents, including Chen. The center's methods rely not only on driving home the message that gambling is a losing game, but also on promoting a healthy and disciplined lifestyle — though online commenters have accused the center of shady practices, such as selling gambling cheats.
One week into the program, Chen was quiet and sedate, speaking in a whisper. Yet he grew animated while recalling his first big win: As a university student, he raked in 200,000 yuan from betting on the 2010 FIFA World Cup. "That was my first pot of gold," Chen said proudly. "For someone who had never earned a penny and who had always relied on his parents, that was really something big."
Problem gambler Jason explains the devastating impact the habit has had on his life, as well as his difficulty seeking help. By Daniel Holmes and Tang Xiaolan/Sixth Tone
A popular joke goes, "Out of 1.3 billion Chinese, 1.2 billion are gambling." Yet while gambling seems an indelible part of the cultural psyche, it is illegal on the Chinese mainland.
The nation's criminal law states that individuals can be fined and sentenced to up to three years in jail for organizing activities that involve more than 30 gamblers, or more than three gamblers and either total wins exceeding 5,000 yuan or total bets exceeding 50,000 yuan. So-called high rollers — the law doesn't specify a sum — can also be fined up to 3,000 yuan or detained for up to 15 days, though insiders say that gamblers typically get away with fines, while detention targets organizers. In June, a Shanghai court issued jail sentences to 16 employees of Australia's Crown Resorts Ltd. for organizing gambling trips.
When the court handed down its verdict, Chen was one of four residents at Si Guoqi Gambling Addiction Rehab Center, whose eponymous founder claims to be the only person on the Chinese mainland providing professional and genuine treatment for problem gamblers.
Though compulsory rehabilitation centers for drug users and private drug addiction treatment services exist across China, in online searches for gambling addiction treatment on Google and Baidu — China's premier search engine — Si's center is the only one that comes up with an address. Flyers advertising therapy for problem gambling are a common sight in Shanghai's commercial hubs, but most are a barely concealed bid to sell classes or tools for cheating and card counting. One business card plainly states, "If you can't quit gambling, pick up some real skills to win."
Si warned that these so-called gambling addiction programs lure clients in by promising to teach them cheating tactics, then slap them with high fees. "[Learning] one skill or tool can cost you between a few thousand yuan and 300,000 yuan," he said.
With few other options for problem gamblers, Si has attracted a devoted following despite having no training or qualifications in addiction treatment.
"We learned about him from a TV program, and he's been of great help to me and my family," Chen said. Although he had only spent one week at the facility, Chen showed great respect and even deference to Si, standing up to greet him and consulting him on every decision.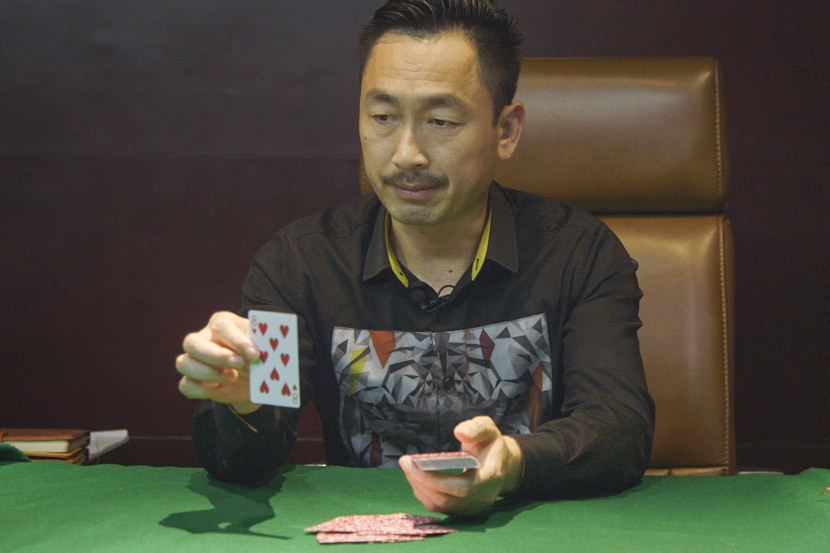 Si Guoqi demonstrates gambling cheating methods at Si Guoqi Gambling Addiction Rehab Center in Shanghai, July 1, 2017. Daniel Holmes/Sixth Tone
Si, a 44-year-old businessman from central China's Henan province, used to run a couple of hair salons in his hometown of Puyang. He said he became involved in rehab because his own wife had a gambling problem. To help her, he closed his salons and took her on a trip around the country, visiting families torn apart by gambling whom he had found through local media reports. In 2008, Si started his own treatment service in Hangzhou, the capital of eastern China's Zhejiang province, before moving the center to Beijing and then relocating it again to its third and current home in Shanghai in 2015.
The latest incarnation of Si's rehab center occupies one floor of a mostly deserted hotel in the outer Shanghai district of Jiading. The operation has grown from a husband-and-wife team to 10 staff — most of whom are former clients. "I wouldn't call them gamblers; rather, I regard them as victims of gambling," Si told Sixth Tone in his office and classroom at the center.
The center's resident therapist, Zhou Qu, said treatment takes at least 21 days to help problem gamblers develop healthy habits. "We have to reinforce these habits daily so they can become natural," he told Sixth Tone.
Zhou graduated from Shaanxi Normal University with a master's degree in psychology, but until he joined Si's center three years ago, he had been working outside the psychology field as a civil servant. Despite his lack of experience, he designed the treatment program at the center: All students rise before 7 a.m. and spend the morning reading classics like the Analects of Confucius and the Tao Te Ching. In the afternoon, they nap from noon till 2 p.m., when they join Si's class on family values and social responsibility. Sometimes they watch television documentaries on how gambling tears families apart. At 4 p.m., all staff and students participate in physical exercise. Every day, students have an hour of one-on-one therapy with Zhou.
Staff and clients play basketball during exercise time at Si Guoqi Gambling Addiction Rehab Center in Shanghai, July 1, 2017. Daniel Holmes/Sixth Tone
The students are not allowed to use cellphones or computers because according to Si, 90 percent of his clients are addicted to online betting rather than traditional games like poker and mahjong.
China does not have a dedicated law enforcement unit for gambling as it does for narcotics control, and no official data is available on the scale of gambling activities. According to British consultancy firm H2 Gambling Capital, in 2016, Chinese gamblers lost a total of $62.4 billion across the mainland, Hong Kong, and the gambling enclave of Macau — a sum second only to that of U.S. gamblers. Many Chinese gamblers travel overseas to bet big: Las Vegas received more than 200,000 Chinese visitors in 2015, and in December 2016, the city began offering direct flights to China for the first time, as well as a casino and hotel tailored to Chinese tastes.
For many families troubled by problem gambling, Si's center seems like their last and only hope. In April, the center became a legal entity, registering with the Taijiang County Civil Affairs Bureau in Guizhou province — in southwestern China, over 1,600 kilometers away from Shanghai — as a private non-enterprise institution. Yet the center is pushing to commercialize.
"Commercialized operation is essential to ensure our service is sustainable," Xing Hengyuan, the center's general manager, told Sixth Tone. "What we're doing is a charitable act, but charitable services are not necessarily free of charge."
Hailing from Zhengzhou in Henan province, Xing was surprised to be offered a management role when he visited Si's center seeking treatment in March. "I was overwhelmed by the unexpected favor from Teacher Si," Xing said.
The former insurance broker said he used to earn as much as 1 million yuan a year, but he lost more than 3 million yuan over two years in online betting. "I always believed that with my income, I could pay back the debts and win back my stakes," Xing explained. "Eventually, I found that I could never conquer my desire: When I won, I wanted to win more. When I lost, I wanted to win back what I'd lost."
Gambling tortured Xing with anxiety as it teased him with its thrill. Eventually, the 32-year-old decided to resign from his job and seek rehabilitation at Si's center. Xing believes it is impossible to quit gambling without help. "The psychological challenges for rehabilitating gambling addicts are even greater than for drug addicts," he said. Yet he himself became the center's general manager on the day he arrived, without receiving any treatment. After a casual chat, Si told him that he seemed recovered, reasonable, and well-adjusted.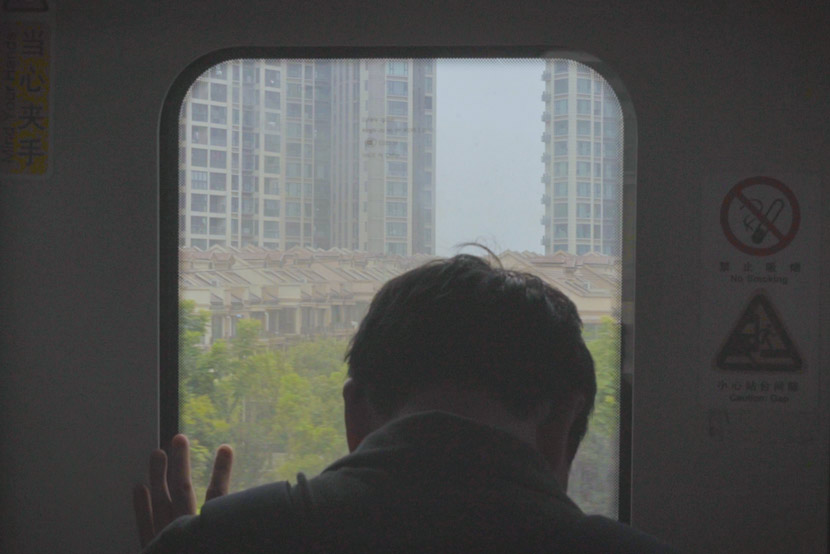 Jason takes the subway to Si Guoqi Gambling Addiction Rehab Center in Shanghai, July 1, 2017. Daniel Holmes/Sixth Tone
Now, Xing focuses on monetizing the center's services. According to Si, the center has no set pricing scheme: "All students can donate whatever they want or are capable of," he said. Chen was cagey when asked how much he paid, but another student named Jason told Sixth Tone that he paid 5,000 yuan for a seven-day course with room and board. The 36-year-old Shanghai native added that weekly follow-up consultations for up to five years incur no additional cost.
Si's center, however, has its share of critics and skeptics. In online forums on gambling addiction treatment, some commenters have denounced Si as a liar and claimed he instructed students to post positive reviews online during a treatment session. "He's selling cheating skills and tools to his students," one post said. None of the netizens replied to Sixth Tone's requests for comment. When asked directly about the claims, Si evaded the question and replied, "I have read barely any negative comments about me online."
Chen has faith in Si's methods and has committed himself to a three-month stay at the center. "No gambler is willing to open up to others because no clear-minded person can understand our behavior," he explained, "but people here can."
Editor: Qian Jinghua.
(Header image: Mahjong tiles are seen on a table at Si Guoqi Gambling Addiction Rehab Center in Shanghai, July 1, 2017. Daniel Holmes/Sixth Tone)