A magnitude-7.0 earthquake that struck southwestern China on Tuesday has killed 19 people and injured 247, with rescue efforts in progress, according to People's Daily.
The earthquake happened at 9:19 p.m. in Jiuzhaigou County, Sichuan province, and was felt as far away as the cities of Chongqing and Xi'an in neighboring provinces. More than 700 aftershocks have been registered.
The area near the epicenter is relatively sparsely populated. Authorities have estimated that some 300,000 people live within a 100-kilometer radius.
But Jiuzhaigou is a nature reserve known for its colorful lakes, giant waterfalls, and snow-capped peaks, and the summer holiday season means the area near the epicenter is more crowded than usual. According to figures released Tuesday, Jiuzhaigou received more than 38,000 tourists on Tuesday. State news agency Xinhua reported Wednesday morning that more than 30,000 tourists had been evacuated.
Another earthquake with a magnitude of 6.6 struck Wednesday morning in Jinghe County, in northwest China's Xinjiang Uyghur Autonomous Region, more than 2,200 kilometers from Jiuzhaigou. The quake caused four landslides, but no deaths have been reported.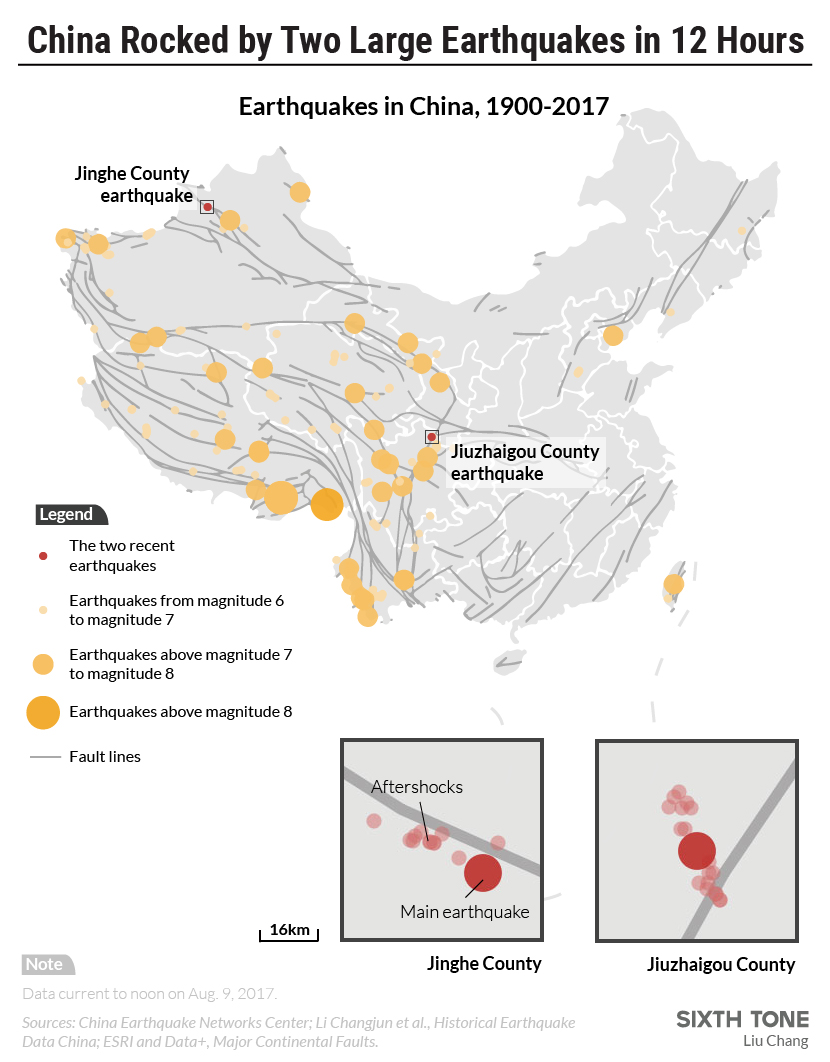 Sun Shihong, a researcher at the China Earthquake Networks Center, told China News Service, another state media agency, that although the two epicenters are located in different earthquake zones, they were both ultimately caused by friction between the Indian and Eurasian tectonic plates.
Sun added that since 2008, the frequency of earthquakes in China has been relatively high.
In Zhangzha, a tourist town located less than 20 kilometers from Tuesday's epicenter, visitors were in a sold-out theater when the earthquake hit, according to online news outlet The Cover. Thousands of people were watching a performance on the 2008 Great Wenchuan Earthquake, which killed more than 70,000 people.
This article has been updated to include new figures.
Contributions: Yin Yijun; editor: Kevin Schoenmakers.
(Header image: A view of a damaged road in Jiuzhai Valley National Park, Sichuan province, Aug. 9, 2017. Sang Ji/Xinhua)