Police in Tianjin have detained two people involved in the pyramid scheme they believe to be responsible for the death of a 23-year-old man.
The Jinghai District public security bureau confirmed in a statement to Sixth Tone that Li Wenxing, whose body was found last month, drowned after being tricked by a company that runs pyramid schemes.
In May, the pyramid schemers posed as a software company called Beijing Client Server International Inc. on job-seeking platform Boss Zhipin and offered Li a job at a decent salary, according to the statement. As an aspiring programmer fresh out of college, Li eagerly accepted. He then set off for Tianjin, where the company said he would stay for a few months before relocating back to Beijing.
Two months later, Li was found dead in a small pond. According to local police, autopsy results suggest suicide rather than homicide.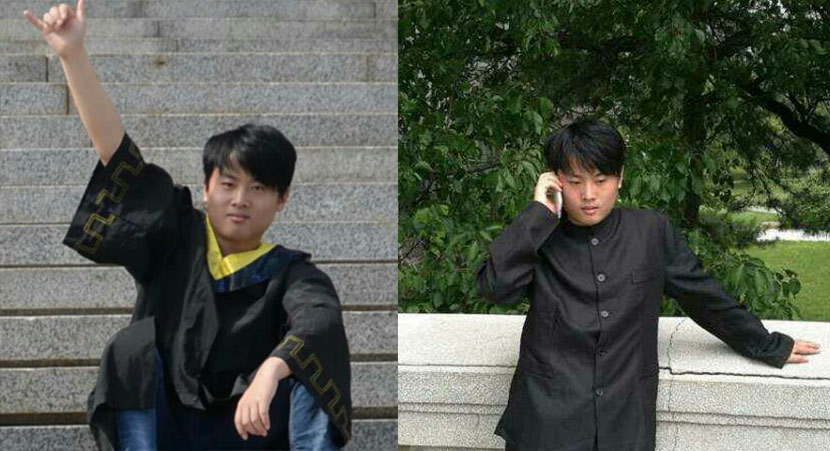 Li Wenxing poses for graduation photos at Northeastern University in Shenyang, Liaoning province, 2016. Courtesy of Li Wenyue
The two people who contacted Li posing as the Beijing software company — one of whom was later arrested — worked for a group called Diebeilei, police told Sixth Tone. As soon as Li arrived in Tianjin, he was effectively taken captive, forced to work for the pyramid scheme, and allowed only limited communication with his friends and family members.
Diebeilei, the pyramid scheme organization said to be responsible for Li's death, has a wide network across the city, according to the statement. In late June, Jinghai police arrested 32 members of the group, including some leaders, and froze more than 1 million yuan ($150,000) in their bank accounts.
However, some members remain at large. Jinghai police said they are continuing to investigate the case and hope to stamp out the organization with help from other districts.
Online, Li's death has inspired outbursts of sympathy and anger. Despite numerous attempts to root them out, pyramid schemes remain rampant in China, where mom-and-pop investors lack financial knowledge, and where regulations can't seem to keep up or find proper implementation. Upon being tricked into a pyramid scheme, victims are obliged to attend conventions and learn "skills" to bring outsiders into the fold. Their personal possessions are often confiscated, their lines of communication with the outside world severed.
Following Li Wenxing's death, his twin sister, Li Wenyue, wrote in an online post that she and her brother were born into a family of poor farmers in eastern China. But Li worked hard, excelled in school, and managed to earn a place at Northeastern University in Shenyang, one of the country's most prestigious colleges.
"I always thought the time was early and we were still young, and that you would accompany me through the rest of my life," Li Wenyue wrote. "But when all this happened so suddenly, how can I accept the reality that you're gone?"
Autopsy results show that Li was starved for days before his death, Li Wenyue added in her post. Her brother's body has been cremated and brought back to Shandong for burial.
Editor: David Paulk.
(Header image: During police questioning, people participating in a pyramid scheme use leaflets to hide their faces from media photographers in Xi'an, Shaanxi province, March 31, 2016. Zhang Jie/VCG)