Two dogs appear to have been harmed in less than a month on China Eastern Airlines flights into the central Chinese city of Wuhan, leaving the public clamoring for answers, reported Sixth Tone's sister publication, The Paper, on Monday.
Over the weekend, a 3-year-old golden retriever named Doudou died on a China Eastern cargo flight from the southern city of Shenzhen to Wuhan, the capital of Hubei province. A photo that the dog's owner posted to social media shows the wires of the cage bent and twisted around the animal's head. The airline has stated that the cause of death is still under investigation.
The ensuing indignation from net users — especially those with pets — has been compounded by the fact that this is the second case of harm coming to animals on the airline in three weeks. On May 24, another golden retriever managed to escape from his pet carrier after the plane landed, and he had cuts and bruises on his body after being recaptured. The two cases have prompted people to question whether the airline or the company charged with overseeing the pets' transport should be held responsible, and have led industry experts to appeal for clearer regulations on pet transport.
On China's commercial airlines and high-speed trains, pets are not allowed to accompany their owners in the passenger cabin. Every year, Chinese airlines transport thousands of pets as checked luggage or, if the combined weight of an animal and its enclosure exceeds 32 kilograms, as cargo on a noncommercial flight.
"I never thought that would be the last time I'd see him," Doudou's owner, a woman surnamed Zuo, wrote on her Weibo microblog. According to one of her other posts, Zuo lived in Shenzhen, in Guangdong province, and had hired a company called Dogeer to transport Doudou to Wuhan. She handed over her 35-kilogram canine companion to Dogeer employees on Saturday, the night before his two-hour flight aboard MU 2478. The plan was for her parents to claim Doudou at Wuhan Tianhe International Airport the next day.
Zuo described Doudou as "lively and frisky" the night he was picked up from her home. "I told [Dogeer] over and over that the dog can't be in a hot place," she wrote. "He doesn't deal well with heat. And there must be enough water as well."
According to the airline's tracking service, China Eastern received Doudou shortly after 9 a.m. the day of the flight, nearly two hours before the 10:51 departure. Zuo's parents were notified of the dog's death within two hours of the flight landing in Wuhan. A staff member told them the dog appeared lifeless when they opened the door to the cargo hold.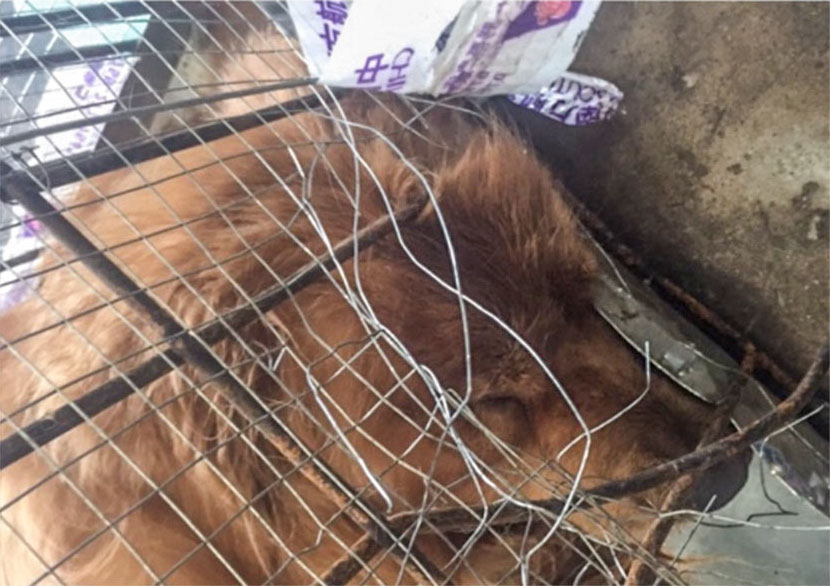 Pictured next to the bent and twisted wires of his cage, Doudou, a 3-year-old golden retriever, died on a China Eastern Airlines flight from Shenzhen to Wuhan, Hubei province, June 11, 2017. From Weibo user Moxi Baobao
The airfreight receipt Zuo's parents received from China Eastern states that the owner must "bear the responsibility" in the event of an animal's death. For her part, Zuo said she never saw this disclaimer, as any paperwork that exchanged hands when Doudou arrived at the terminal in Shenzhen was between Dogeer and China Eastern.
In the aftermath of the incident, some pet owners have questioned why Doudou was transported in a cage instead of a pet carrier designed specifically for air travel. "Regular air travel cases are too small for [Doudou]," Zuo explained on Weibo. "I was also afraid that if it broke, the dog would run away. Dogeer told me that a steel cage is sturdier, so I chose that."
A Dogeer employee told Sixth Tone that the company is dealing with the case and has attempted to contact Zuo. The employee refused to give her name or comment further. However, a manager at Dogeer surnamed Yu told The Beijing News that the company's procedures are not to blame, as the airline would not have accepted the pet if anything had been amiss. Yu added, however, that Dogeer was willing to give Zuo 5,000 yuan ($735) — 3,000 yuan more than she paid for Doudou's transport — in compensation for her loss. Zuo refused the offer.
Sixth Tone was unable to reach China Eastern for comment on Tuesday, though a company employee told The Paper that the cargo hold in which Doudou was stowed had been oxygenated and air-conditioned, and that a cat transported in the same space on the same flight was alive and well.
"It's the first time we've ever dealt with a situation like this. We have to wait for the autopsy to know the cause of death," the employee said, adding that China Eastern will also conduct an internal investigation to determine whether the airline should bear any responsibility. "But if the dog cannot adapt to this environment and does not feel comfortable, there's nothing we can do."
China Eastern's guidelines on animal transport do not give size requirements for pet carriers, nor are they explicit about how carriers should be ventilated or the animals inside supplied with water.
Pet owner Fang Chenxuan, 25, told Sixth Tone she has never considered shipping her dog as cargo. "It's too dangerous!" she said. "Many online news outlets report on dogs being found dead after flying. Chinese airlines are so irresponsible when handling pets!"
In the meantime, experts are calling for the release of further details and for continued investigation into the culpability of each party involved. An employee surnamed Jin from Youxin Pet Relocation in Shanghai told Sixth Tone that dogs have a wide range of personalities and, as such, a wide range of responses to unfamiliar environments.
"It's common for dogs to have stress-related reactions when they are separated from their owners," Jin said. "This may involve breathing problems or even an aversion to food and water."
Mary Peng, CEO and founder of the International Center for Veterinary Services in Beijing, suggested that the investigation into Doudou's death examine whether there was turbulence during the flight or problems with the mechanisms that keep the cargo hold oxygenated and air-conditioned — particularly since Sunday's weather report listed the high temperature in Shenzhen as a stifling 34 degrees Celsius (93 degrees Fahrenheit).
Peng believes that the focus of the case should extend beyond merely determining who is to blame. "In China, pet relocation is a very new industry — all of us lack knowledge and experience," Peng told Sixth Tone. "We need better operating practices and training for all of the people involved in the industry, including pet relocation companies, airlines and airline staff, and pet owners."
Contributions: Fan Yiying; editor: David Paulk.
(Header image: A happy dog sits in its carrier waiting to be loaded into the cargo hold of an airliner in Shenzhen, Guangdong province, Feb. 3, 2015. Shen Shi/IC)