Drone aficionados and manufacturers will need to register their devices with China's aviation authority next month as the government steps up regulations amid mounting safety concerns.
The Civil Aviation Administration of China will launch a real-name registration system on June 1, according to a statement released by the administration on Tuesday. The registry could make it easier for authorities to track down drone pilots who fly their devices into areas where they are not allowed, such as airports.
Under the new rules, information such as the owner's name and ID number, the drone's weight and model; and the manufacturer's contact information will be submitted to the aviation regulator for all drones weighing 250 grams or more. An earlier draft obtained by Sixth Tone's sister publication, The Paper, also included model airplanes and hot-air balloons, though the final version of the document does not. Drone hobbyists and manufacturers will be given a grace period of two months to complete their registration.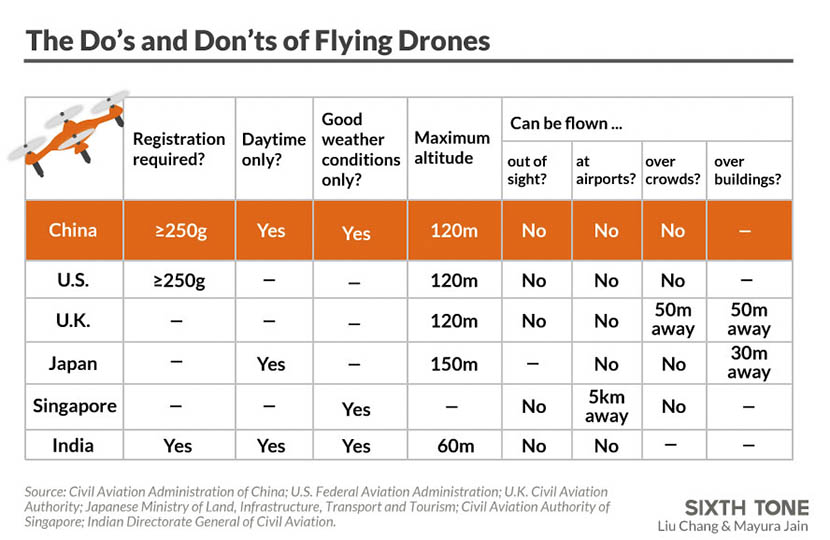 As more and more people in China embrace unmanned aerial vehicles — whether as a hobby, or to facilitate work such as surveying and filmmaking — growing security concerns and a series of incidents of drones affecting air traffic have prompted regulators to rein in the largely unrestricted industry.
The new policy follows a spate of incidents in recent months involving drone pilots causing commercial flights to be delayed or rerouted. In Chengdu, in the southwestern province of Sichuan, more than 100 flights were affected by drones flying too close to Shuangliu International Airport over a period of just 8 days in April.
The recreational drone industry shows a common pattern among new and emerging industries in China — namely, initially loose oversight that encourages experimentation to be followed only later by official regulations. For example, cities around China are currently mulling rules for shared bikes, another relatively new industry that has also raised questions of public security and safety.
"This is a typical example of technology bringing new challenges to the regulators," Wang Fan, director of public relations for DJI, the world's leading civilian drone manufacturer, told Sixth Tone. "We understand that the industry needs supervision, but I hope the regulation won't be sweeping."
The weight limit may be too strict, said Lei Jiahui, general manager of Sichuan Nifeng Feixiang Technology, a company that trains drone operators and operates drones for clients. "A drone made of a few pieces of foam can easily exceed the minimum requirement," he told Sixth Tone. For comparison, DJI's lightest product weighs 734 grams. At present, only the U.S. has the same 250-gram registration requirement as China.
Lei predicted that local authorities will roll out more detailed rules for the real-name registration system in the future. "This is just the government's first step," he said.
Editor: Kevin Schoenmakers.
(Header image: A man holds a drone as it hovers in the air, Linyi, Shandong province, Nov. 15, 2015. Fang Dehua/IC)