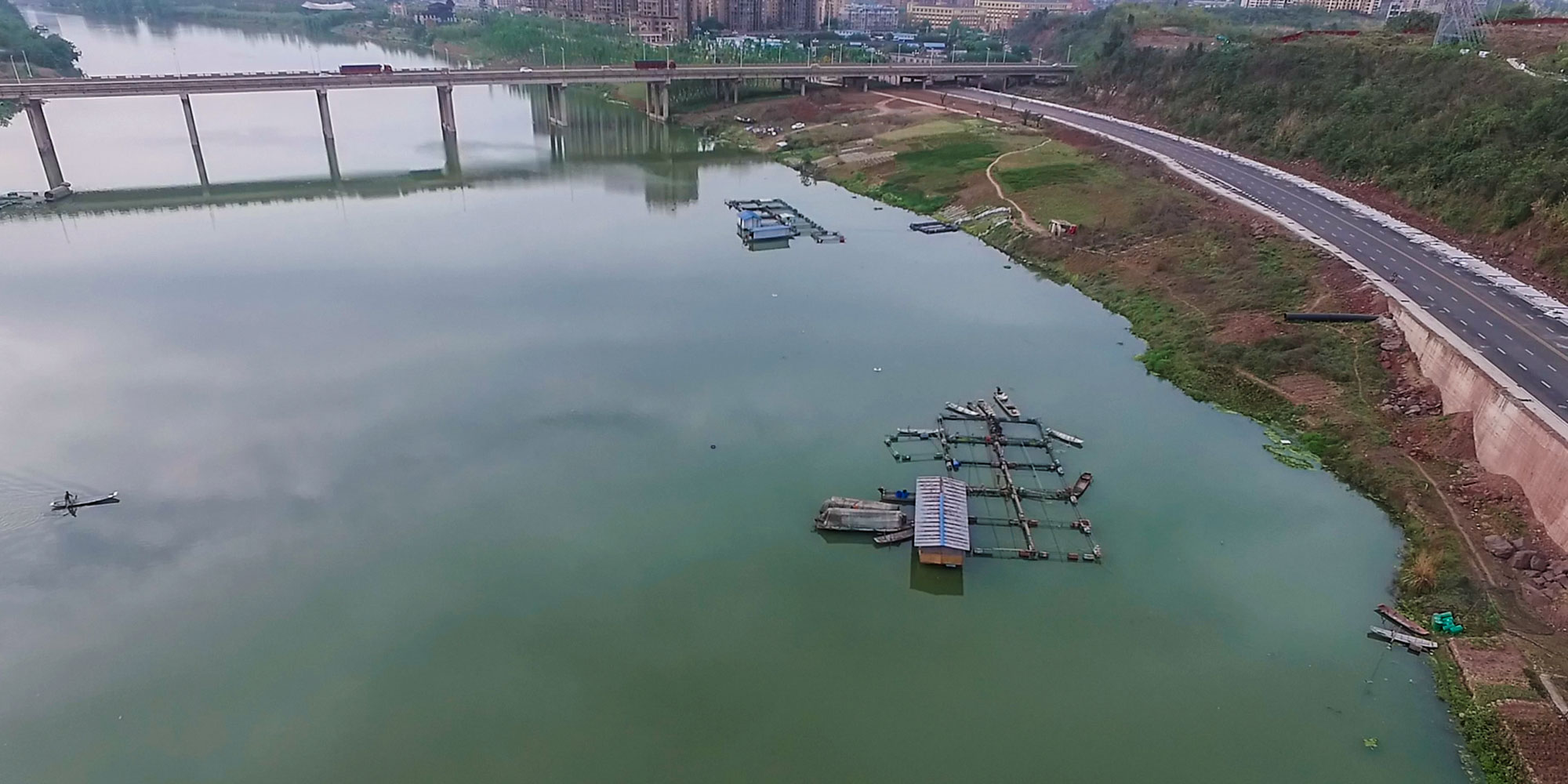 NEWS
The Tuo's Last Fish Farmers Pack Up Their Cages
Water pollution from too many fish has spelled the end of a once-thriving industry.
SICHUAN, Southwest China — It would take another two months for Liu Zhongming's fish to fully mature, but he couldn't wait until summer to sell his stock at the best price: A government ban on fish farming in the local river had sent Liu and the other fishermen scrambling.
Two notices issued in late March and early April, respectively, required fishermen on the Tuo, a tributary of the Yangtze River in southwestern China's Sichuan province, to dismantle their farms — the floating cages in which they cultivate fish — by the end of April.
Liu, 49, was worried about his 75,000 kilograms of fish, not only because they were too small to be sold, but also because some were sick. "I think it may take about a month to cure them," he said. "Time is really tight."
The two notices, issued by the government of Yanjiang District of Ziyang City, marked the end of the Tuo River's fish-farming business, which had been thriving since the 1990s. Fixed to steel pipes floating on makeshift buoys, the submerged net cages were initially encouraged by the authorities as an efficient way to produce food: They made optimal use of the river and didn't occupy any land. At the industry's peak, more than 3,000 cages dotted the river in Yanjiang.
However, as the overpopulation of fish in the river began polluting the water with excrement, feed, and other waste, policies shifted. In 2006, fish farming was prohibited on the Neijiang, a downstream section of the Tuo River. More bans followed between 2010 and 2012. Liu's section of the river, the Yanjiang, was the last holdout. But the 223 fishing families there have finally been told to pack up and move.
Liu got into the industry in early 2004, when he noticed how much money other villagers were making from fishing. Together with his family, he set up 51 fish cages and built a fully furnished 60-square-meter floating home so he could be close to his fish around the clock. The family bought fry every winter, fed them for a few months, and sold them the next summer.
But now that this cycle was cut short, Liu found himself forced to sell his fish at a loss. "For example, I bought fry at 160 yuan [$23] per kilogram, taking transportation costs into account, and sold them at just 40," he told Sixth Tone.
To compensate the fishermen for their losses, the local government paid those who met the April 26 deadline 5,000 yuan for each fish cage and 135 yuan per square meter for their shelters. Liu said he still suffered a total loss of 500,000 yuan, which he called "not huge."
Hua Mingliang, another fisherman who started farming fish just last year, complained about the government's timing in announcing the ban. "By dumping the fish, we lost about 15 yuan per kilogram," he said. "They should have announced the policy last summer, so we wouldn't have bought fry in the winter. It would have avoided everyone racking up big losses ."
Apart from his financial concerns, Hua is actually quite supportive of dismantling the cages. "We're leaving room for future generations to survive," he said. "People are aware of the significance of environmental protection, so we answered the call and dismantled the cages as we should."
Thanks to the warmer weather, Liu's 25,000 kilograms of sick fish recovered their health and even sold out, albeit at below-market price. Apart from one or two fishermen still dealing with sick fish, Liu said, all other cages had been cleared off the water.
For fish farmers like Liu, the future is uncertain, even though the government has promised its support. "I can only go to the government to see whether I can rent some land and dig a pond to raise fish," Liu said. "For villagers who have spent most of our lives fishing, it's hard to imagine making a living any other way."
Additional reporting: Xu Hui; editor: Kevin Schoenmakers.
(Header image: An aerial view of the Tuo River in Ziyang, Sichuan province, April 18, 2017. Xu Hui/Sixth Tone)