How much urine is there in an average public swimming pool? What did beer consumed in China 5,000 years ago taste like? How did pandas evolve to have two thumbs? These are but a few of the rarely asked questions tackled by scientists recognized at this year's Pineapple Science Awards last Friday.
The awards, inspired by the Ig Nobel Awards in the U.S., highlight projects that are quirky and humorous, but also scientifically sound: All entries must have been either published in an academic journal or presented at a conference. Previous winners fitting these criteria have centered around the number of licks required to finish a lollipop, an invisibility cloak for goldfish, and a device capable of detecting the source of a fart.
Organized by popular science website Guokr.com and the Zhejiang Science and Technology Museum in eastern China, the Pineapple Science Awards, now in their sixth year, fully embrace their slogan of "admiring curiosity." Chinese and ethnic Chinese researchers anywhere in the world are eligible to receive them.
"We named the prize 'pineapple,' as this nutritive fruit has a bright color and pleasing taste while being strangely shaped," Ji Shisan, founder and CEO of Guokr, told state news outlet China Daily in 2015. "So the prize is pleasing, interesting, nourishing — and a little bit strange."
The prizes recognize eccentric achievement in a variety of scientific fields such as biology, chemistry, physics, mathematics, psychology, and "invention."
This year's prize for math went to Li Xingfang and her team at the University of Alberta in Edmonton, Canada, for delivering the unsettling news that an average public swimming pool contains 75 liters of urine. The goal of the study, Li said, was — in the aftermath of eerily green swimming pools at the 2016 Rio Olympics — to highlight the health risks of urine in combination with chlorine, whose byproducts can cause eye irritation and respiratory problems.
In addition to extra panda thumbs for optimal bamboo consumption, ancient Chinese beer that looked none too appetizing, and a heartthrob medical examiner credited with popularizing forensic pathology, an award for psychology was given to Jonathan L. Chang of Duke University in the U.S., who investigated whether compulsive exercise might be the "male equivalent" of anorexia nervosa (it isn't).
Perhaps the strangest part of the ceremony occurred during the presentation of the prize for "innovation," which was awarded to Yang Yongxin, head of a controversial internet addiction treatment center in Shandong province, eastern China, that uses electroshock therapy to "cure" obsessively online teens.
Unfortunately, Yang was not present at the event to accept the award. Instead, an internet celebrity known as "Sexy Corn," dressed in a white lab coat and carrying a large, futuristic gun around his neck, posed as Yang to accept the award from a "cured patient" in a silver bodysuit who could only communicate using a Stephen Hawking-esque voice assistant.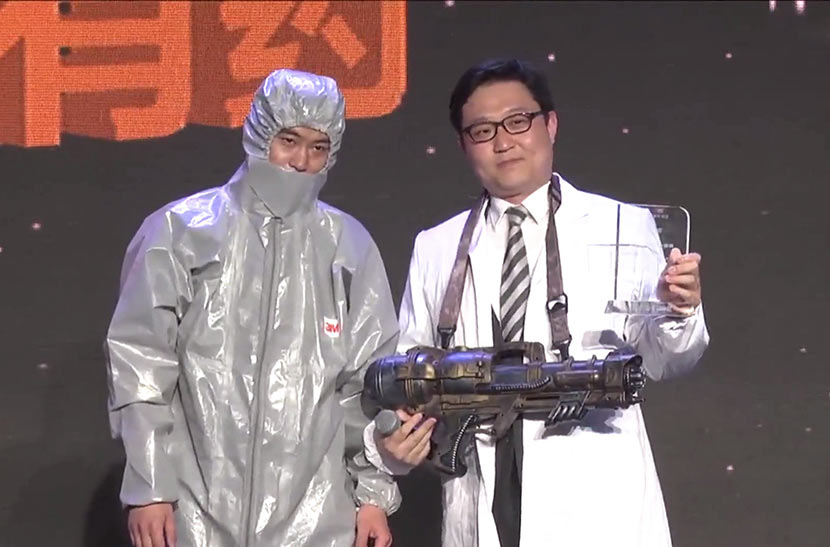 A screenshot from the Pineapple Science Awards shows internet celebrity 'Sexy Corn' (right) posing as Yang Yongxin to accept an award from a person 'cured' of his internet addiction by electroshock therapy.
According to a satirical cartoon posted on Guokr, the award was intended "to praise Yang's therapy for realizing the mass production of 'good kids' in an innovative way — solving youth education has been a hard nut to crack for some time now."
Reactions on Chinese social media to the producers' attempts at humor have been mixed. Some viewers appreciated the award show's comic approach, but others questioned the producers' taste for giving an award to someone as socially stigmatized as Yang. "Even though this is satire, it might be misinterpreted," wrote one user of microblog platform Weibo. "Evil things should be treated seriously."
Contributions: Li You; editor: Kevin Schoenmakers.
(Header image: A screenshot from the 2017 Pineapple Science Awards, broadcast on April 14, 2017.)