HEBEI, North China — As an ancient folktale goes, a fairy was on her way back to heaven when she dropped her mirror over northern China. When the mirror hit the soil, it shattered into pieces, creating some 140 lakes connected by creeks. The bodies of water are commonly called Baiyang Lake — or Baiyangdian — after the largest of the pools, and they collectively constitute the biggest freshwater lake on the North China Plain.
Baiyang Lake's dark, murky water is nowadays hardly reminiscent of a mirror that fell from the clouds. Water shortages and heavy pollution have pushed the lake to the brink of becoming an ecological dead zone. From time to time, algae bloom and dead fish can be spotted on the lake's surface. 
Recently, however, local residents feel like they've been thrust into a new, modern fairytale: In early April, the central government announced the establishment of Xiongan New Area, a landmark economic district located around the lake. 
The development is a major push to decentralize Beijing and shift certain institutions, companies, and new projects to the less densely populated lake area south of the capital. For this now-rural area, the development plans mean better resources — from education facilities, to health care, to local infrastructure. In the long run, the effort aims to develop northern China's Beijing-Tianjin-Hebei region — often abbreviated as "Jing-Jin-Ji" — into a better-coordinated economic zone.
In anticipation of the new development, real estate investors quickly flooded the market, and housing prices soared so rapidly that officials had to introduce homebuying restrictions to prevent speculation.
The announcement also led to a sudden boom in visitors to the Baiyang Lake area. During the three-day national holiday earlier this month, more than 18,000 people flocked to the lakes, up from around 5,000 during the same period last year — an increase of more than 250 percent.
However, the announcement has also turned the spotlight on the region's poor water quality and the vulnerability of the lake's ecosystem, a long-contested issue for the local government. 
Wang Hao, an academician from the Chinese Academy of Engineering and an expert on water resources, told Sixth Tone that water shortages are a central challenge for the development of Xiongan New Area, as it is "one of the most water-deficient areas in the world." 
Wang said that the development could bring significant improvements to the heavily polluted lake. The Baoding municipal government, which administers Baiyang Lake, recently announced plans to allocate 24.6 billion yuan (around $3.6 billion) to curb pollution and restore the lake's ecosystem.
It's a hefty investment, but local fish farmers like He Jinling from Nilizhuang Village know that plenty of work lies ahead. More than 10 years ago, He would frequently wake up to find that his entire fish farm had perished, a mass death that he attributes to the lack of oxygen in the water. "The cost was so high. I lost everything I had invested," he said. 
He Jinling sits in a boat on Baiyang Lake in Anxin County, Hebei province, April 8, 2017. Li You/Sixth Tone
As He recalls, the lake — whose name translates as "white ocean" — was once so polluted that it turned red. As northern China developed, rivers like the Fuhe, a main water source for the lake, flushed industrial and urban wastewater from hundreds of paper mills, printing and dyeing factories, and leather workshops along their upper reaches into Baiyang Lake. 
The Fuhe River, for example, is so polluted that it has exceeded the highest level in the national grading system for water quality that defines how surface water can be used, from human consumption to agricultural purposes. Dams along the upper reaches of the river have also led to poor water circulation, and overexploitation of groundwater along with climate change have further increased pressure on the lake.
In the past few years, the local government has tried to control pollution by raising standards for the treatment of wastewater from factories and has set up several central treatment plants. 
Liu Dahan was once the head of an eiderdown products factory located in an industrial park. After discharging wastewater into Baiyang Lake for years, factories in the area were required to install industrial wastewater treatment systems that would purify the water before discharging it. After some factories failed to comply, Liu said that a total of about 60 were shut down.
Still, according to media reports, untreated wastewater continues to get dumped into the rivers that feed into Baiyang Lake. 
Trash covers the bank of a branch of Baiyang Lake in Anxin County, Hebei province, April 4, 2017. Wu Huiyuan/Sixth Tone
Despite the Ministry of Environmental Protection's findings that the lake water has exceeded national pollution standards over the years, He's fish are surviving. When they've grown large enough, he sells them at local food markets.   
The 72-year-old said that he first started farming fish in 1992, but that it took him 15 years to figure out how best to do so in polluted water that lacks oxygen. "Oxygen supply is very important, or the fish will easily die from suffocation," He said. 
Over the years, He has found that silver carp and bighead carp have a high chance of survival, and even if they don't sell for much, these so-called filter feeders can adapt to the water and even help clean it.
Yet not long ago, the fish farmers also played their part in polluting the lake. Most farmers living around the lake raised fish in high-density cages, which make it quicker and easier to harvest the fish. Cage culture, however, led to such intense over-enrichment of the water that it caused algae to grow rapidly and led fish to die off.
In 2014, the local government banned cage culture fish farming in Baiyang Lake and, in a crackdown last year, reportedly confiscated nearly all cages. Only a handful of farmers like He still raise fish, mostly in small man-made pools separated from the lake by dikes.
And while investment in the area could help to restore the lake, the rapid development also poses a risk, said Zhang Suzhen, an environmental science professor at Shijiazhuang University who has studied the ecology of Baiyang Lake.
New industrial development, Zhang told Sixth Tone, will lead to an increase in wastewater, which would also increase the pressure on Baiyang Lake's fragile ecosystem. 
Northern China already faces shortages of water for its rapidly growing population, and unless another fairy drops a mirror, Baiyang Lake will continue to rely on costly water diversion projects to maintain its base water level. 
The far-reaching, over $80 billion South-to-North Water Diversion Project, for example, is meant to bring more than 40 billion cubic meters of water from southern to northern China to alleviate water scarcity each year. As the population continues to grow, however, this will only constitute a temporary solution, scientists have said.
Currently, around a million people live in Xiongan New Area, a number expected to climb to 2 million or 3 million within the next few years, according to an expert advisory committee under the State Council, China's cabinet.
Zhang recommends that the government focus on developing alternative technologies instead of boosting the water-intensive manufacturing industry, and that it install better irrigation systems to mitigate the impact of agriculture. 
"Baiyangdian's plight is hardly unique — for China or, for that matter, the world," wrote Henry M. Paulson in his book "Dealing With China," given that China's vital wetlands are quickly disappearing due to human activities such as urbanization and industrial development. The former U.S. Treasury secretary expects the area to benefit from the Jing-Jin-Ji megalopolis that is meant to serve as a model of sustainable development.
In fact, ecological protection comes first in the development of Xiongan, according to Li Xiaojiang, a member of the advisory committee for the coordinated development of the Beijing-Tianjin-Hebei region. Li told state news agency Xinhua that Xiongan — located in a sensitive area in terms of air and water quality — will help develop a strong natural ecological environment with Baiyang Lake at its center.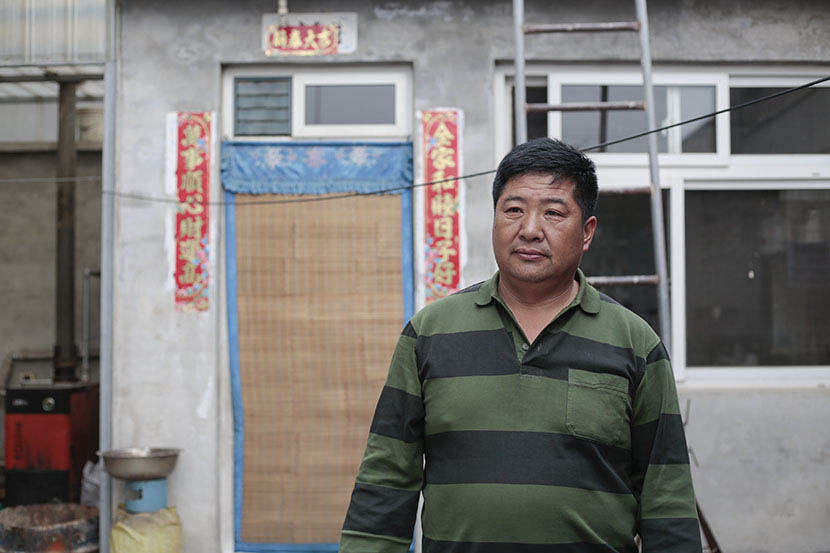 Chen Heli poses for a photo in front of his house in Anxin County, Hebei province, April 8, 2017. Li You/Sixth Tone
For generations, Chen Heli's family has lived in Quantou Village. The lake is so vital to the community that every family owns at least one boat, and most have lived off the lake's fish and crabs for decades.  
Sometimes, household waste that piles up is dumped into the lake. Chen hopes that the development of the new district will improve the environment. He said that he's unhappy about the heavy pollution and that he envies those who live near other lakes in China that are still clean. 
But he's also concerned about forced relocation, a hot topic within his community since the new development was announced. Many villagers, the 50-year-old said, fear that they will be forced to leave their small homes to make room for office buildings.
Chen is content to live off his small fish farm on the lake. He doesn't think he'd be able to adapt to life in a city, as he's illiterate and has known nothing but fish farming all his life. "The day I leave here, I will only be able to cry," he said.
Standing outside his two-story house, Chen contemplated the uncertain future that his community, his family, and the lake itself face. "Just take one more look at this place," he said. "It will be different soon." 
Editor: Denise Hruby.
(Header image: A villager cleans a mop in a branch of Baiyang Lake in Anxin County, Hebei province, April 9, 2017. Wu Huiyuan/Sixth Tone)