A new residential community has yet to turn a profit, but already it is turning away most of its applicants. To get in, you must be kid-free, under 35, and blessed with an interesting personality.
The experimental community is called WeLive: a 50 million-yuan ($7.6 million) dorm-like housing development that aims to make renting easier for university graduates and young professionals.
"We see this as a utopia in Shanghai," Chen Huanxin told Sixth Tone. "It's going to be a place where hardworking young people can realize their dreams."
Chen, 25, is one of the project's two co-founders. In 2015, he and his business partner began converting an old industrial park in Pudong District, and they expect the project to reach completion in July. Of 1,300 applicants, Chen said they've accepted about 150.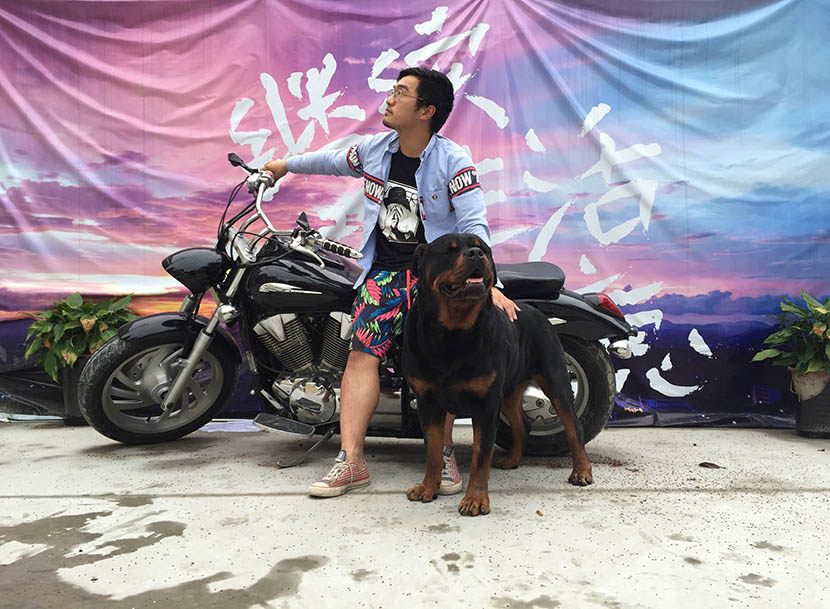 Chen Huanxin, founder of WeLive Community, poses with his dog Alpha Go in front of a poster with the slogan 'Stay Addicted to Life,' Shanghai, June 2, 2016. Courtesy of Chen Huanxin.
The two businessmen dreamed up WeLive in response to a property market that, in major cities, has priced out even China's most well-educated university graduates. Similar projects are sprouting up wherever investors see both need and opportunity. Billionaire Xiaomi co-founder Lei Jun began developing his own chain of low-cost apartments in 2014, targeting Guangzhou, Beijing, and other pricey cities, including Shanghai.
"We wanted to keep prices manageable for us and for our customers," Chen said. "And if prices go up in the industry, we will try to keep them low here for as long as possible."
Since May, Huang Jianbo, 26, has been renting out a room in WeLive's first completed building for 1,900 yuan per month. After graduating from Shanghai International Studies University, he returned home to Guangxi province before being lured back to Shanghai for work earlier this year.
"Graduates have to come here to live and work because so many companies are headquartered here in Shanghai," said 22-year-old Zhou Tianming, WeLive's head of digital marketing. "You don't move from New York City back to New Jersey."
Priced out of renting their own apartment, Shanghai's urban alums often cram into apartments packed with other tenants or move out into the suburbs, where prices are more affordable. For local graduates there's also the possibility of moving back into the family home, but for out-of-towners that's not always an option.
For Huang, this is his second time renting in Shanghai. He previously paid 800 yuan per month for a 10-square-meter room in an apartment he shared with eight others in Songjiang District. "It's more affordable to rent here, and it's closer to downtown, so that's convenient," Huang said.
At WeLive, rooms ranging in size from 13 to 33 square meters rent for 1,789 to 2,588 yuan per month. Though rent is more expensive than a room in a shared apartment, residents have private bedrooms, private bathrooms, and can enjoy the perks of what Chen hopes will become a vibrant and active community.
Yan Yuejin, director of the Shanghai E-House Real Estate Research Center, said the project's model is a stark departure from the norm. "These new projects break up the traditional apartment-sharing model and reduce costs," Yan told Sixth Tone.
To 24-year-old Lu Mei, who works at a local TV station and shares an apartment with friends, the project is less attractive. "I have my own friends, why would I live with other people?" she told Sixth Tone. Lu added that the price — though slightly cheaper than her current rent — and the services on offer don't sound appealing. "They organize events, but when I come home from work every day I'm exhausted," she said.
Chen himself lived with his parents in Shanghai's city center after graduating from Shanghai University of Finance and Economics with an e-commerce degree in 2014. "The end of 2014 was a struggle for me," he said. "I lacked direction." Like others, he faced a pressing question: What next? He decided the next step would be helping other grads answer that question for themselves, or at least giving them a room to think about it.
Chen and his co-founders immediately began working on what he called the most difficult part of the project: finding a location. The ideal site would be far away enough from the city center to be affordable, but near enough for it to be a convenient and attractive to potential residents. Chen spent three months scouting locations before settling on a former pencil production site 35 minutes by metro from People's Square, the city's center. After Chen secured funding from his family, WeLive broke ground in March 2015.
Inside one of its hollowed-out structures, workers tend to their duties alone and in silence. One is slathering something that looks like mud onto a wall, and another is sliding wood planks into a band saw, filling the air with mechanical shrieks and the smell of sawdust. The corridors are long, with light spilling in from doorways on both sides, like portholes on an abandoned cruise ship. Units here have space for little more than a tiny bathroom, a bed, and a single human body.
Zhou, the social media director, said WeLive is being designed with U.S. college dormitories in mind. "We love American culture," he said, "and so do a lot of young Chinese." He's never been to the U.S., but Chen has.
In keeping with this theme, WeLive has monitors living on the premises to enforce a code of conduct and resolve disputes, and tenants who become a problem will be asked to leave. Coordinators are already busy planning activities aimed at bringing residents out of their rooms. Chen said a gym is also on the way, and so is at least one shared cooking space. They hope all this will be attractive to their desired clientele.
Huang said he was "drawn to their concept and the potential for chemistry among the tenants." His application to the community was accepted after a brief phone interview and a review of his resume and interests.
WeLive also wants to target "slash careerists," or a class of young professionals who juggle multiple jobs or shuffle from one to the next. With this in mind, they're considering exploring alternative payment models that would ease pressure on tenants with unsteady employment, or even one day completely eliminating rent altogether.
"I made a joke with Tianming — I said we could use the internet's hive mind to figure out a way to make us rent-free," Chen said. He suggested the possibility of letting tenants run companies out of the grounds and allowing them to use returns to pay rent. For Chen, earning profit for himself isn't a priority, but he does hope to see some success.
"I've put too much energy and too many resources into this," he said. "To give up would be a waste."
(Header image: A room at the WeLive Community. Courtesy of Chen Huanxin.)