Liu Fulan spent the last stages of her life searching for a family willing to adopt her two sons. Her husband had died in 2008 from liver cancer, and Liu was terrified of how losing a second parent would impact her children's emotional and physical well-being.
When Liu's husband passed away, their youngest son had just turned 5 months old. She got by doing cleaning work at a local school in Chaling County, in central China's Hunan province, where the family lived. For a time, she even swept the streets, refusing any help from those around her. Some offered her cash; others even offered to take in and raise her sons. Through it all, Liu stood her ground. "I may have suffered more than most in my life, but these were my own children," she said. "For as long as I had it in me to do so, I would raise them myself."But things changed in August 2016, when Liu was diagnosed with late-stage liver cancer — the very same disease that had taken her husband. Whenever her sons had previously asked about their father, she had lied, telling them he had moved far away in search of work. But when she had moved on to that faraway place herself, who would be there to look after them?
Liu Fulan, who died of liver cancer, hoped to find a family to adopt her two sons after she died. By Zhou Na and Chen Xi/Sixth Tone
At the end of October, Liu sought help from the Chaling County Volunteer Foundation, a local charity working in a variety of fields, including poverty alleviation and education. All that Liu wanted was to find a healthy, happy environment for her sons, 9-year-old Qiancheng and 11-year-old Yiqi, to grow up in.
Soon after Liu appealed to the charity for help, coverage of her predicament by a newspaper from the nearby city of Zhuzhou caused an outburst of interest from prospective adoptive parents. In just three days, the foundation received hundreds of calls from families within China — and even the Chinese diaspora in North America — asking about adoption. Yet in each case, either the family could not commit to accepting both boys, or their situation did not satisfy the stringent requirements laid out by China's adoption laws.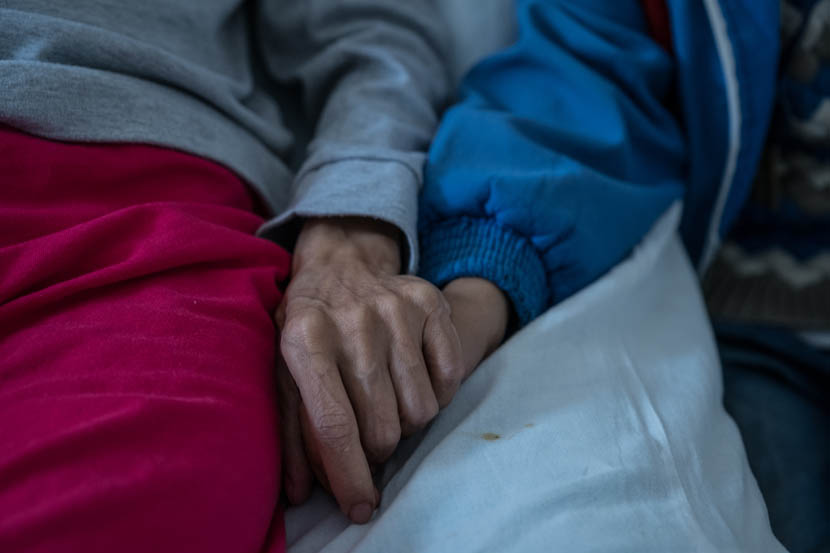 Liu Fulan holds her son's hand as she lies in bed at Chaling County People's Hospital, Hunan province, Nov. 6, 2016. Zhou Na/Sixth Tone
The Adoption Law of the People's Republic of China prescribes a host of requirements for prospective adoptive parents: They cannot have children, must be at least 30 years of age, must have demonstrable parenting ability, and cannot suffer from any medical condition that might endanger children. In most cases, families may only adopt one child, though exceptions are sometimes made if the adult and children are blood relations, if the children are orphans, or if they have disabilities.
Liu's predicament touched the hearts of hundreds of thousands around China, and donations began pouring in, ultimately totalling around 150,000 yuan (almost $22,000). But for the local government, who felt that the dead ends she was encountering reflected badly on the county's provisions for families in need, it was a source of embarrassment. On Nov. 3, Chaling County officials stepped in and demanded that Liu's elder sister and her husband, both in their 60s, take responsibility for bringing Qiancheng and Yiqi into adulthood.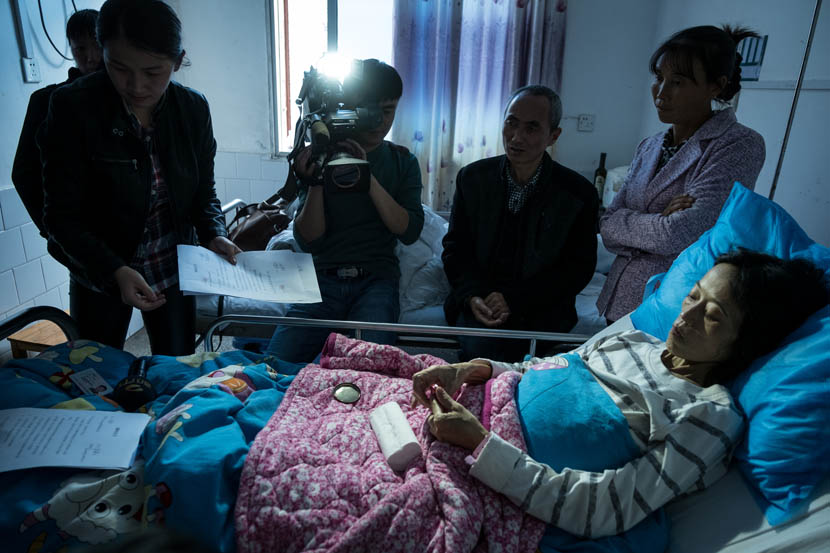 Liu Fulan is filmed signing the adoption agreement at Chaling County People's Hospital, Hunan province, Nov. 4, 2016. Zhou Na/Sixth Tone
"Our family already has two children, and we've always lived in low-rent housing — how can we take in another two children?" the boys' aunt, Liu Jianlan, said. But thrust into the spotlight of the public and under the insistence of the government, the couple had no choice but to agree, signing an agreement that required them to raise the boys until the age of 18.
Liu Fulan succumbed to her cancer on Nov. 26, 2016. In death, as in life, the well-being of her children came before everything else: She had given up on treatment for fear that it would mean Qiancheng and Yiqi would grow up with debts.
Wearing their school uniforms, Qiangcheng (left) and Yiqi look out of the window of their mother's room at Chaling County People's Hospital, Hunan province, Nov. 6, 2016. Zhou Na/Sixth Tone
As she had wished, Liu's sons have a new set of guardians, however initially hesitant and unprepared those guardians were to take up the task. But at least the boys' adoptive parents will not be entirely alone: The Chaling County Volunteer Foundation is sharing legal guardianship with them, and has helped set up an account to ensure that the 150,000 yuan in donations will ease the burden of the household's new members.
But Liu's parting hopes for her sons went beyond the material and financial. More than anything, she wished that they would be able to find happiness in doing the things they enjoy. "I hope they don't hold back in life," Liu said. "I hope they can be brave."
(Header image: Liu Fulan lies in bed as her two sons stand next to her at Chaling County People's Hospital, Hunan province, Dec. 4, 2016. Zhou Na/Sixth Tone)