The casualty tally after a landslide hit Su Village on Sept. 28 is 19 dead and eight missing. Heavy rains brought on by Typhoon Megi had ravaged the area, and around dinnertime the villagers were caught unaware as the side of a hill came crumbling down. The disaster, however, wasn't a total surprise: The village was known to be at risk, but plans to avoid danger were either badly implemented or shelved repeatedly.
The roads in nearby Beijie Town are nearly empty. Apart from a few army trucks still parked on the grounds of the local school, the rescue workers that descended upon the town a week ago have left.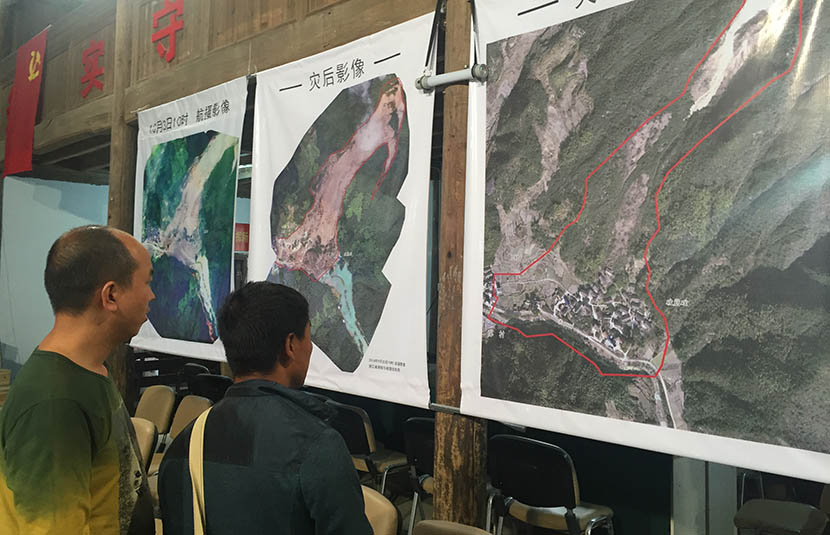 In the wake of a deadly landslide, residents look at 'before' and 'after' satellite images of Su Village, Zhejiang province, Oct. 8, 2016. Fu Danni/Sixth Tone
Though many villagers have gone to stay with family elsewhere, some still live in the temporary shelter at the local performing arts center. They have no place to go now that their houses have been destroyed, or they have been told to vacate the village on rainy days as a precautionary measure.
On Saturday the people in the shelter were folding joss paper, or fake money, in preparation for the funeral of Zhou Yahong's parents-in-law, who died in the landslide.
The couple lived alone, as Zhou, her husband, and their son worked and studied in cities elsewhere in eastern China's Zhejiang province. The family house was completely buried by the landslide, and Zhou's father-in-law, 67 and paralyzed in both legs, had nowhere to go.
One Su villager told Sixth Tone in an earlier interview that hours before the disaster, local officials had warned the villagers to move to safer ground. But Zhou said she didn't think her in-laws had received this message.
"My sister-in-law lives in a nearby village," Zhou told Sixth Tone. "She called my father-in-law at noon that day, but he didn't mention anything [about a warning]." Zhou stopped folding the silver paper and continued, "If anyone notified her or my parents-in-law, my sister-in-law would have come to help them leave."
Zhou, 45, moved to Su Village in 1996 after she married. She lived in Upper Su, the part of the village between the hill and the river dividing the village, and that is now partially buried beneath earth and rock.
A woman surnamed Bo, 30, was helping Zhou cut and fold the paper money. Her house is also located in Upper Su, but farther away from the mountain, giving her and her family enough time to escape. Their kitchen and pigsty were damaged. She, too, said that nobody had warned them ahead of time. "I was at home all day, and no one came to ask us to leave," Bo told Sixth Tone.
But the villagers knew they were living in a dangerous area. Several government initiatives have been drawn up over the years to move at least part of Su Village to safer ground.
Su Zengmin, party secretary for Su Village from 1985 to 2008, told Sixth Tone that since 2006 smaller landslides became a frequent occurrence on rainy days. They reported the issue higher-up, and in 2009 the Suichang County government announced a plan to move the primary school in the village — located in the safer Lower Su — and auction off the land so villagers living in risky areas could build new houses there.
Zhou's family was among those identified as living in an area at risk of landslides. "They told us our house was in a dangerous area and asked us to move down [to Lower Su]," Zhou said. But the family didn't have the 60,000 yuan ($9,000) required to buy a plot of land, and they stayed put.
One of the women helping Zhou fold joss paper, who declined to give her name, told Sixth Tone that her family was one of four Upper Su families who heeded the government's call and bought a piece of land. They spent 63,000 yuan in the auction, and another 45,000 yuan to build a new house.
Su calls the government's handling of the plans "inadequate," saying that their attitude was too lax, leaving it up to the villagers to decide whether or not they would comply. In addition, he said, the grounds of the school are big enough for 10 houses — hardly enough for Upper Su's 30-plus families.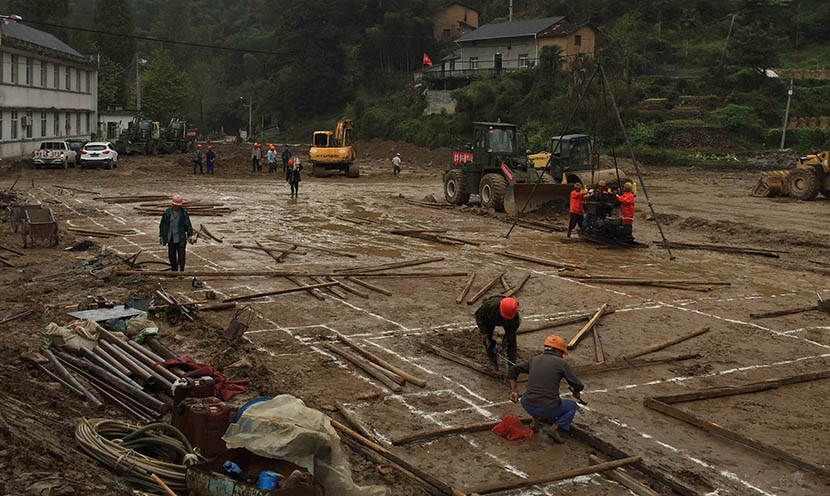 Constructions workers build on farmland near the health clinic in Su Village, Zhejiang province, Oct. 8, 2016. Around 20 new houses will be completed before the Chinese New Year in late January. Fu Danni/Sixth Tone
In 2011, the land and resources bureau of Suichang County published an official document on strengthening prevention and control of natural disasters. It said that some 300 people from four villages, including Su, were to be relocated to avoid geological incidents that would result in heavy casualties.
State news agency Xinhua reported a day after the landslide that the county government had listed Su Village as part of a relocation project three years in a row, beginning in 2013, but that the plans were never implemented. The document describing the plans was deleted from the government's website following the landslide.
To house those left homeless by the disaster, the government has started construction on a plot of land in Lower Su, opposite one of the village shops. Residents chatting near the store said they heard that more than 20 houses will be built here before the Chinese New Year — the area has already been flattened in preparation.
The land used to build new houses belongs to local villagers. Wang Yuemei, 67, said no one notified her that her farmland would be requisitioned. "They told me they will pay me for the land after the houses are finished," Wang said. "It was lucky I harvested the paddy." Wang's own house is undamaged, but still disconcertingly close to the mountain. "I'd like to be relocated as well," she told Sixth Tone.
In fact, Zhou is ready to leave the town. Her father died due to cancer last year, and her mother died in a car accident earlier this year. Now she is preparing the funeral for her parents-in-law. "My home is gone," she said. "I don't want to go back to Su Village."
With contributions from Fan Yiying.
(Header image: More than a week after the landslide, rescue work and debris removal are still underway in some parts of Su Village, Zhejiang province, Oct. 9, 2016. VCG)