The party city is hanging up its heels: A former four-star hotel in the southern city of Dongguan is set to reopen as a care facility for the elderly next month.
Dongguan, in southern China's Pearl River Delta manufacturing hub, used to be as famous for its pulsing nightlife and overflowing red-light district as for its factories. Though sex work is illegal in China and organizers face stiff penalties, state media estimated in 2014 that around 300,000 people in the city were working in the sex industry. In addition to brothels and bathhouses, more discreet forms of compensated companionship helped to support a bustling entertainment and leisure economy, drawing clientele into the city's nightclubs, spas, karaoke bars, restaurants, unauthorized casinos, and hotels.
But following a major crackdown in February 2014 that saw more than 2,000 entertainment venues raided and shut down, and a nationwide campaign against graft and corruption, the city has been forced to look to entertain more wholesome alternatives. An op-ed in China Daily placed the income from the sex trade and related businesses at close to 10 percent of the city's output, and said the anti-vice campaign would force the city to accelerate economic restructuring "to shake off its public image as 'the sex capital of China.'"
Some say that the campaign has only pushed sex work further underground, exposing sex workers to greater risks. Nonetheless, the policy has affected the tourism industry, as the availability of commercial sex was one of city's main draws.
According to the 21st Century Business Herald, a local newspaper, the number of star-rated hotels in Dongguan fell by almost a third between 2013 and 2014, from 89 to 63.
One area that entrepreneurs imagine could develop is senior care, given China's rapidly aging population. By 2050, estimates say a quarter of the nation's population will be over 65 years old.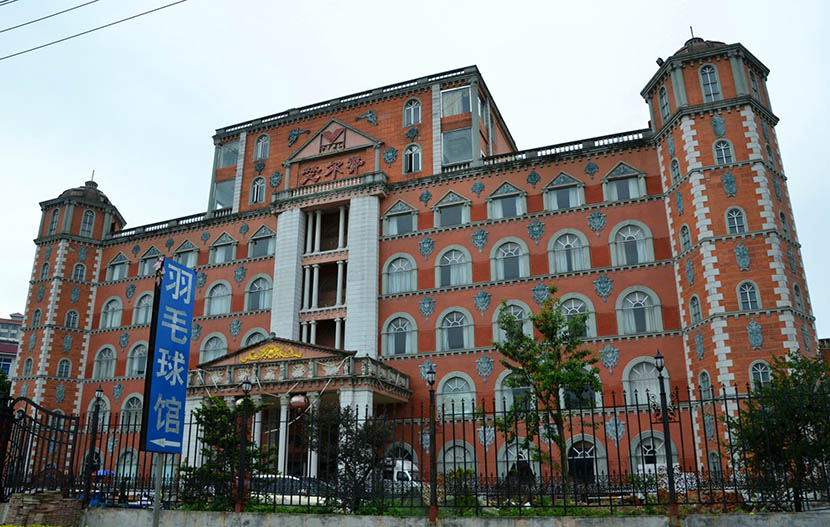 An exterior view of the Versailles Hotel in Dongguan, Guangdong Province, June 4, 2016. Dongxing/IC
So where the glitzy Versailles Hotel in Dongguan's former industrial district of Changping once advertised clubbing packages including champagne, karaoke, casinos, and fine company, now the site is being transformed into Haoxiang Kangle Nursing Home, offering elderly residents health and happiness in tranquil settings. The rooms have been refurbished with rows of single bunks replacing the round king-size beds of an earlier age, and half of the parking lot has been converted into a vegetable garden.
The site's owner, Versailles Group, had decided to close the hotel at the end of 2014, and renovations began for the nursing home conversion in 2015. Versailles Group chairman Huang Heshan said the hotel opened in 2001, but that takings had been dropping rapidly since 2014. He told Sixth Tone that the renovation cost more than 10 million yuan ($1.4 million).
But Huang stressed that his company was uniquely well-positioned to oversee such a transformation. "Our hotel has a larger area than the others, and it's located away from the noise and crowds of downtown," he said. "That's why we can transform it into a nursing home. I don't think other hotels can do what we do."
More than 50 people have already registered for the nursing home's waitlist. The facility promises professional care, around-the-clock health monitoring, nutritious seasonal food planned by dieticians, and also a touch of luxury. The cost for residents ranges from 3,000 to 6,000 yuan a month, and when construction is complete, the site will have 450 beds. The nursing home will have its own movie theater, mahjong room, painting and calligraphy room, teahouse, and even a karaoke room — though the ambience may be a little different than before.
Additional reporting by Yin Yijun.
(Header image: A woman on her mobile phone walks by the Versailles Hotel in Dongguan, Guangdong province, June 4, 2016. Dongxing/IC)