Reviews are in for a new television adaptation of a popular Chinese martial arts novel, and they're not good.
"Lu Ding Ji," or "The Deer and the Cauldron," has disappointed audiences in seemingly every way, most notably with the performance of its lead actor, Zhang Yishan. The show is so bad, in fact, that it has one of the lowest ratings on Douban, China's IMDb-like movie review website, of any series released this year at a dismal 2.7 out of 10. Many of the angry reviews lambast "Lu Ding Ji" for its derivative plot and stereotyped characters.
"Lu Ding Ji" is the latest adaptation of a martial arts novel of the same name by the legendary kung fu writer Louis Cha — better-known by his pen name, Jin Yong. It tells the story of a witty courtier, Wei Xiaobao, who became a close friend to the Kangxi Emperor during the Qing dynasty and ultimately helped him consolidate power.
Prior to the lackluster premiere of "Lu Ding Ji" earlier this month on state broadcaster China Central Television, as well as on streaming sites iQiyi and Youku, series produced on the Chinese mainland, Hong Kong, and Taiwan had seen something of a renaissance this year. Acclaimed series like "The Bad Kids" and "The Long Night" received rave reviews for their innovative methods and fresh themes, in turn raising viewers' expectations for domestic productions.
According to viewers' online comments, perhaps the greatest flaw of "Lu Ding Ji" is its 28-year-old male lead, Zhang, who previously had a strong reputation as an actor. But his latest efforts are being panned as "farcical and exaggerated," as though he's determined to make his character, Wei, seem comical rather than clever.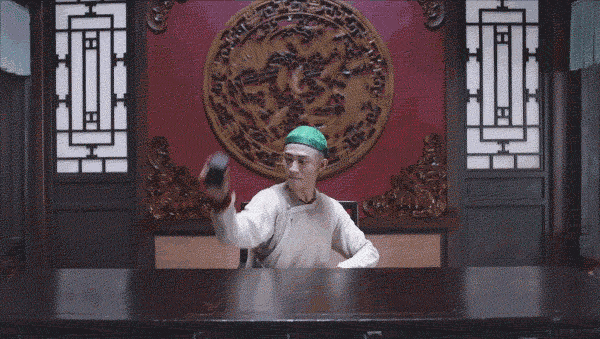 A GIF from the 2020 TV adaptation of "The Deer and the Cauldron." From Douban
Zhang made his screen debut as a child actor in 2003, then earned plaudits for lively performances in the 2007 classic family drama "Home With Kids" and crime thriller "Yu Zui" in 2016. Before the premiere of "Lu Ding Ji," many of Zhang's fans had hoped he would bring his natural charm and charisma, as well as his 17 years of experience in the industry, to the lead role.
The series' widely noted acting issues appear to stem from poor writing. According to Zeng Yuli, a commentator for Sixth Tone's sister publication The Paper, the series' script "destroyed" all of the appeal of the beloved martial arts novel.
"The original fiction is both a comedy and a tragedy, making readers feel the chill of history and the decay of a bygone era," Zeng wrote in a recent commentary. "The series seems to eliminate the 'deep' side of the story, and we only see Wei Xiaobao gaining power, money, and women — just like a farce."
Ma Jin, the director of "Lu Ding Ji," has acknowledged that, while the first few episodes were indeed "messy," no one actor is entirely to blame.
"Some people say 'Lu Ding Ji' is a tragedy, some say it's a comedy, and some say it's a serious drama," Ma told The Beijing News. "I just think of it as a farce based on a very abstract version of Wei's life and experiences."
A viewer of the series surnamed Sun in the northeastern Jilin province told Sixth Tone that he thinks the director "misunderstood" the original novel when adapting it for television.
"The author (Louis Cha) once said his book is historical fiction, that it's about realism — but the director thinks it's a farce. The drama would surely be led astray with such a reckless interpretation," said the 46-year-old, who described the overly simplified plot as "another failure."
Chi Shunjie, a film critic with over 133,000 followers on video-streaming site Bilibili, told Sixth Tone that Zhang may have been miscast for the role of Wei, and suggested the excessive use of camera filters and special effects have also contributed to the series' poor reception.
"Zhang is being criticized because he's not the right fit," Chi said. "Previous adaptations of the novel received good feedback because those characters were authentically presented."
Editor: Bibek Bhandari.
(Header image: A screenshot from the 2020 TV adaptation of "The Deer and the Cauldron." From Douban)