The cold packs keeping deliveries of perishable items fresh may be contributing to environmental pollution.
State broadcaster China Central Television reported Thursday on the mounting problem of cold packs, whose disposability raises concerns about their long-term sustainability. Commonly included with food deliveries, cold packs are plastic packets filled with nonhazardous chemicals such as sodium polyacrylate and hydroxyethyl cellulose, and are a low-cost alternative to cold chain logistics.
However, the items tend to be included with any delivery that must be kept cold, accumulating in homes and businesses and causing massive waste, according to CCTV. That many waste-processing facilities are unwilling to recycle them only exacerbates the problem — though there are no available figures on the number of cold packs distributed or disposed of annually in China.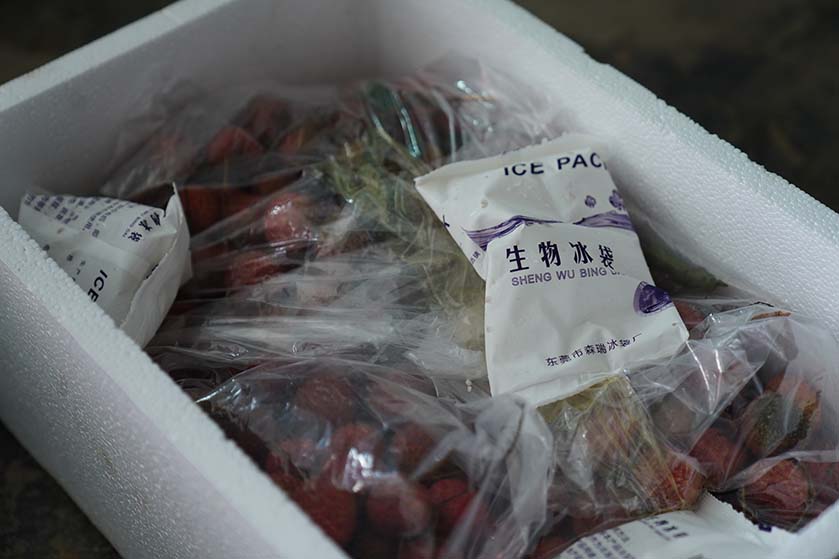 Cold packs are included in a plastic foam box of strawberries in Dongguan, Guangdong province, June 18, 2020. People Visual
Liu Quan, deputy director of the Beijing Association for Energy Conservation and Comprehensive Resource Utilization, told Sixth Tone that cold packs are difficult to recycle because of the high costs this would entail, as the plastic packets and the chemicals inside them need to be processed separately.
"From an environmental protection perspective, reusing is always better than disposing," Liu said. "Companies have a responsibility to consider possible solutions — to find other means to keep the food fresh or make such products reusable." Fresh produce is one of the fastest-growing areas of China's e-commerce sector, suggesting that the use of cold packs will only increase.
Jiang Yang, a lecturer at Dalian Polytechnic University in northeastern China who has studied cold packs in the domestic logistics industry, told Sixth Tone that the items, together with cushioning materials, are the most common cost-cutting measures in China's fresh food-delivery industry, especially for fruits and vegetables. However, she added that an absence of regulation on the use of cold packs makes it difficult to address the environmental problems they create.
Meanwhile, consumers are left confused. While some who receive cold packs with their deliveries aren't aware of the environmental stakes, others are but don't know how to properly dispose of the items.
"I still keep a bunch of cold packs at home," read one comment under CCTV's report on microblogging platform Weibo. "I have no idea what to do with them — they take up space if I keep them in my home, but they contribute to pollution if I throw them away."
Editor: Bibek Bhandari.
(Header image: A worker packs cold packs into a box of scallion pancakes in Xi'an, Shaanxi province, July 23, 2020. People Visual)