When China crashed and burned out of the FIBA Basketball World Cup last September, much of the blame fell squarely on the sinewy shoulders of the team's tallest star.
That player, 7-foot-1 center Zhou Qi, has largely stayed out of the limelight ever since. But in a livestream event Saturday, Zhou publicly confronted his errors that contributed to the team's failure, as well as the barrage of online criticism that followed and continues intermittently to this day.
In the interview, hosted by sports forum Hupu, the 24-year-old said the debacle and his role in it initially made him uncomfortable, though with the help of his family, he now views it as a character-building experience.
"I really did make some pretty basic mistakes," said Zhou, who played 19 games in the NBA as a Houston Rocket and has several Asian championships under his belt. "Personally, I can understand the voices of criticism. I really shouldn't have made those errors."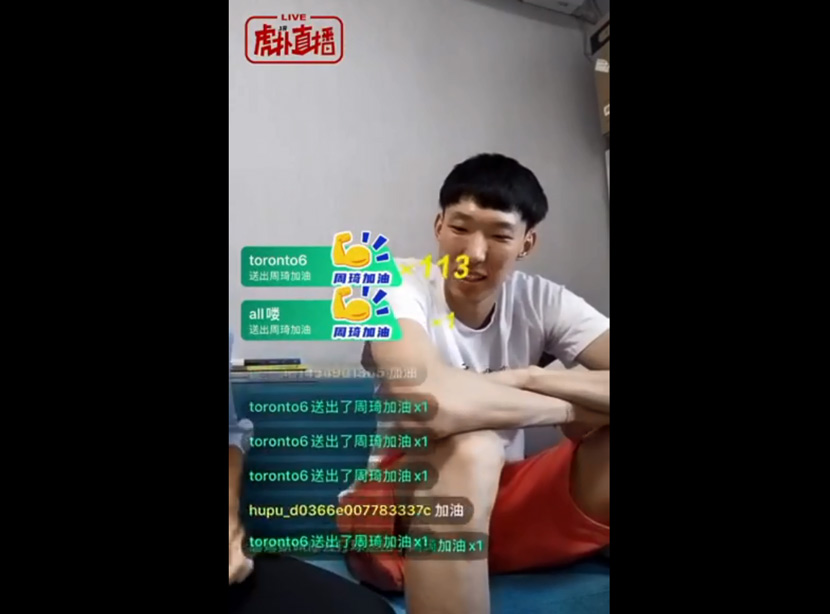 Chinese basketball star Zhou Qi speaks during a livestream event on sports forum Hupu, June 13, 2020. From @虎扑篮球 on Weibo
Chief among the errors he was referring to came in the last minute of China's group stage match against Poland. At a minute and a half left in regulation, China was five points ahead and eyeing a win, but Poland clawed back to within striking distance. Then with 7.2 seconds left and China up a point, Zhou made an errant inbound pass that was intercepted by a Polish guard, who raced down the court and was fouled on his way to the basket, giving his team a chance to take the lead. He made one of two free throws, tying the game, and Poland clutched the victory in overtime.
Two days later, a demoralized Team China lost its next game against Venezuela and were eliminated from title contention. The tournament hosts ultimately finished 24th out of 32 teams — a poor showing in the eyes of millions of local fans who had been excited to see their fellow countrymen excel at home on an international stage. The disappointing finish also reduced China's chances of qualifying for the 2020 Tokyo Olympics, which in March were postponed to 2021 because of the COVID-19 pandemic.
Zhou's costly error became one of the most talked-about moments of Team China's FIBA World Cup campaign — "smashing the dreams of many" and turning him into an "enemy of the people," in the words of the state-run China News Service. Memes of Zhou's blunder were widely shared on Chinese social media, and a hashtag translating to "Zhou Qi misses a pass" has been viewed nearly 1.4 billion times on microblogging site Weibo.
A post on Zhou's personal Weibo page from three days before the game against Poland has received over 190,000 mostly critical comments, with many users labelling him a national traitor or secretly Polish.
"Just retire, Zhou Qi, you're trash," read a typical comment under Zhou's post, receiving over 43,000 likes.
Zhou's perceived lack of commitment to basketball has also been relentlessly scrutinized, with critics taking him to task over a 2015 photo of him eating jianbing — a delicious if not particularly healthy savory pancake — as well as his perpetually skinny, unmuscled frame.
Since the FIBA World Cup, Zhou has kept a low profile, occasionally even refusing post-game interviews, according to China News Service. But fans with elephantine memories have not forgotten Zhou's mistakes, heckling him during games and showering his sporadic social media posts with abuse.
To the delight of online trolls, Zhou admitted during Saturday's interview that he is a fan of the hit song "Lover" by teen idol Cai Xukun. Last year, many basketball fans on Hupu were incensed when Cai — a fresh-faced, "unmasculine," and occasionally artificially hyped celebrity — appeared in an official NBA China promo video.
Like many sports worldwide, China's professional basketball league was interrupted by the COVID-19 outbreak. After four months' hiatus, the Chinese Basketball Association announced that the season had received the green light to resume on June 20, although many teams' non-Chinese players are outside the country, unable to return while an entry ban for most foreign nationals remains in effect.
The remainder of the league will be played out over two weeks in separate upper- and lower-bracket groups in the coastal cities of Qingdao and Dongguan, respectively.
Despite the unconventional circumstances, Zhou is hoping to win a title for his team, the Xinjiang Flying Tigers, who are currently ranked second in the league. In the long term, however, he has said he hopes to play in the NBA again some day.
Editor: David Paulk.
(Header image: Center Zhou Qi rises up for a jump shot during a Chinese Basketball Association game in Urumqi, Xinjiang Uyghur Autonomous Region, Jan. 21, 2020. People Visual)