Helmet prices in China have skyrocketed this month after a government road safety campaign encouraging their use was widely misinterpreted by media outlets and the public.
In an official notice May 21, the Ministry of Public Security said riders of e-bikes and scooters were encouraged — not legally obliged, as many assumed — to wear helmets beginning June 1. The policy further suggested that an existing regulation requiring motorcyclists to wear helmets would be more strictly enforced from this date.
Regarding the ensuing surge in helmet prices, the ministry said it was "paying very close attention" to the issue and would crack down on companies and individuals found to be breaking the law.
The price fluctuations actually began after an April 21 notice from the ministry announced a "One Helmet, One Belt" initiative. The traffic safety campaign — whose name is a play on China's trillion-dollar "One Belt, One Road" intercontinental infrastructure project — aimed to encourage all motorbike, e-bike, and bicycle riders to wear helmets, as well as encourage all automobile passengers to use seat belts.
The April notice stated that traffic police would "check for and correct" riders caught without helmets in order to "promote safe habits." Though the notice did not give a date, domestic media widely reported that these checks would begin on June 1.
The campaign was widely misunderstood to mean that all scooter and e-bike riders — including the millions of blue-collar workers in China's billion-dollar courier and food-delivery sectors — would need to wear helmets by June 1 or face fines. However, only the eastern Jiangsu province ended up issuing a local regulation on May 15 about fining helmetless e-bike drivers after July 1.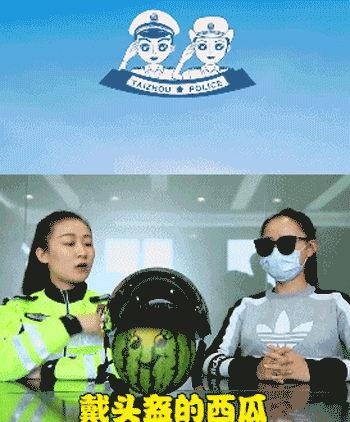 A GIF shows two traffic police officers demonstrating how helmets protect drivers from injury. From the Douyin account of the Taizhou police
Given that only 30% of drivers of the over 250 million registered e-bikes in China wear helmets, the April notice resulted in a sudden surge in demand for helmets, far beyond what factories were capable of meeting. Guojin Securities, a domestic brokerage firm, estimated that China faces a shortage of 200 million helmets, and that a new compulsory-use policy might transform the humble accessory into a market worth 10 billion yuan ($1.4 billion) annually.
In Zhengzhou, capital of the central Henan province, a truckload of helmets worth 150,000 yuan was sold in five minutes, according to domestic media, and businesses involved in helmet production, including raw materials, saw their stock prices soar.
To opportunists, the policy proposal presented an opportunity to make a quick buck. Over 3,500 new helmet-related businesses were registered in the month between the two notices, even as other merchants warned that these companies' products did not meet industry standards. Yiwu, a manufacturing hub in the eastern Zhejiang province, saw 12 scam cases involving helmets over the span of two days last week, and one businessman was tricked into paying 300,000 yuan for 1,800 helmets designed for construction workers rather than motorists.
Netizens were soon reporting that helmets had doubled, even tripled in price, in many cases overnight. On May 18, a user on microblogging platform Weibo — where a hashtag translating to "helmets increase in price" has been viewed over 470 million times — shared screenshots showing that a pink helmet she'd bought for 33 yuan on e-commerce platform Taobao had been marked up to 278 yuan.
Another Weibo user complained that her mother had spent three days looking for a specific helmet — a "cute" pink helmet like one she'd seen on a Taiwanese teen drama — only to find that its price had suddenly shot up. "As she was just about to pay for it, she saw that the price had risen from 35 to 120 yuan," said the user. "She's been screaming for the past 10 minutes."

Screenshots show vendors selling helmets on social platform WeChat. From @凤凰财经 on Weibo
If the public security ministry's May 21 announcement was aimed at cooling the market by setting the record straight about the reported compliance deadline, it appears to have failed. Many netizens have expressed anger at being given so little time to comply with what they perceived as an order, and many noted that a helmet requirement would disproportionately affect lower-class citizens, who are more likely to own e-bikes than cars.
"In order to transform our cities into 'civilized cities,' electric bikes need to be registered, they should not seat extra people, and everyone (operating them) needs to wear a helmet," a Weibo user commented under a post about helmet use. "To be honest, this is basically a squeeze on common folks."
Other users complained that before enforcing helmet use, the reckless driving habits of e-bike operators — many of whom are undeterred by red lights — should be targeted for rectification.
Domestic media have likened the rush to snatch up and resell helmets to the same phenomenon regarding face masks earlier this year. Many businesses that dove into that sector produced fake or substandard masks — or else sold them at extortionate prices, as in the case of one drug store that infamously priced a pack of 10 masks at 850 yuan.
Even with the policy confusion now cleared up, businesses are still trying to capitalize on the campaign to boost sales. When Sixth Tone asked a Taobao store if bike helmets would be required from June 1, the vendor responded swiftly:
"Dear, because 'One Helmet, One Belt' is being implemented across the country, people nationwide are buying helmets."
Editor: David Paulk.
(Header image: People on e-bikes and scooters wait at an intersection in Hangzhou, Zhejiang province, May 18, 2020. Chen Zhongqiu/People Visual)