An animation company in Shanghai is diversifying its business and seeking new opportunities to cope with the effects of the COVID-19 pandemic.
Yu Xin, the founder and CEO of Shanghai Left Pocket Animation Studio, said the company is focusing on smaller projects while its other major projects are on hold until the outbreak situation stabilizes. While its staff was working remotely during the peak of the COVID-19 crisis in February, the company produced animations targeting children stuck indoors with their parents, including a 40-episode series on nature that's now being aired on video-streaming site Youku.
"We have produced lots of short videos and educational content," Yu said. "Considering the rising demand for child-friendly content, short videos, and online education, I think this is a business opportunity. … This (pandemic) is a crisis, but maybe it will also be a chance to turn things around and find diversified options for our future business."
Compared with other sectors, China's entertainment industry is recovering at a slower pace amid the ongoing outbreak, as its work often requires long-term planning and collaboration. Authorities in Shanghai have introduced various measures to support local businesses financially and prevent them from going bankrupt.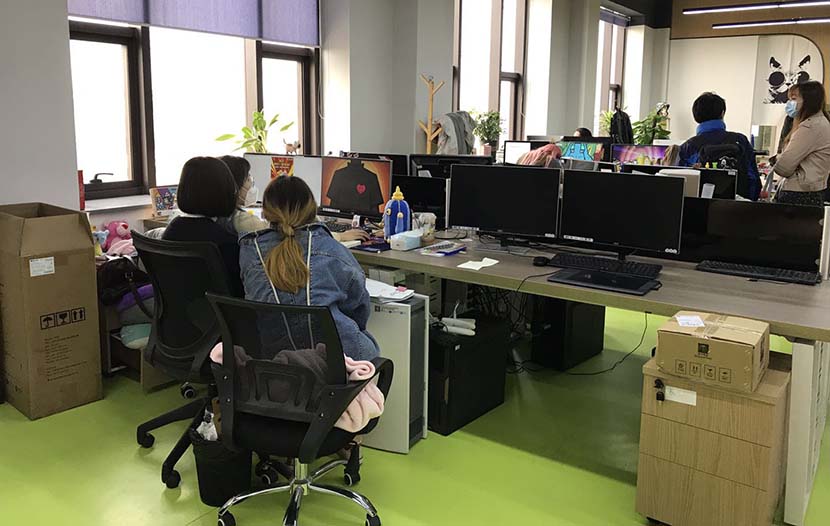 Staff members work at Left Pocket Animation Studio in Shanghai, March 31, 2020. Courtesy of the company
Yu said her studio has also received funds from the city government, which has "helped to resolve the pressure on our cash flow," according to Yu.
Founded in 2012, Left Pocket Animation Studio employs around 100 people. The studio produces original animated content and other products for preschoolers, young children, and teenagers in the Chinese and overseas markets.
Yu said the animation studio's mid- or long-term projects, which usually take a year or two to complete, have been affected by the weekslong shutdown of businesses. She added that television and animation festivals for the first half of 2020 have also been put on hold or canceled due to the pandemic.
"This delays the releases, cooperations, and negotiations for many of our series," she said. "Many potential business opportunities have been put on hold. And distributors are also trying to bail themselves out and redo their annual planning, so their decisions are also being delayed."
The company is also seeking ways to broaden its business portfolio. Yu said Left Pocket is working with a tech company to manufacture face masks for children and is proactively trying to minimize the studio's losses.
"You can't anticipate what will happen in the next stage. Maybe it will soon become better; maybe the situation will continue for a while," she said. "So we're thinking more about what we can do now, and how we can try to break through."
Editor: Bibek Bhandari.
(Header image: A man works at the office of Shanghai Left Pocket Animation Studio in Shanghai, March 31, 2020. Courtesy of the company)