Update: In a notice dated Sept. 12, Huazhong University of Science and Technology said that Xu, the deceased student's academic adviser, had "failed to provide adequate help with the difficulties that arose during the student's course of study, and had not been actively concerned about the fluctuations in his thoughts." The school further said Xu would be suspended from advising new students for two years, and that Shi — the other professor implicated by the student — would be formally reprimanded.
A computer science student at an elite university in the central Chinese city of Wuhan killed himself the same day he posted a note online accusing his two faculty advisers of bullying and negligence, domestic media reported Wednesday.
Huazhong University of Science and Technology, the university in Hubei province where the student had been enrolled in a computer science master's program since 2016, confirmed the death to Sixth Tone on Wednesday.
"The school feels sorry for what happened and is working with the police to investigate the issue, while also assisting the family as they deal with the aftermath," a spokeswoman from the university's publicity office told Sixth Tone by phone. She declined to give her name or comment further.
The deceased, identified in media reports as Chen Zemin from the university's School of Computer Science and Technology, took his own life Monday. A lengthy personal statement purportedly written by Chen and posted Monday morning on social networking site Qzone had blamed two professors for years of alleged bullying and negligence, preventing Chen from finding a job and causing him to defer his graduation. According to a leaked photo of Chen's student certificate, he would have turned 27 in December.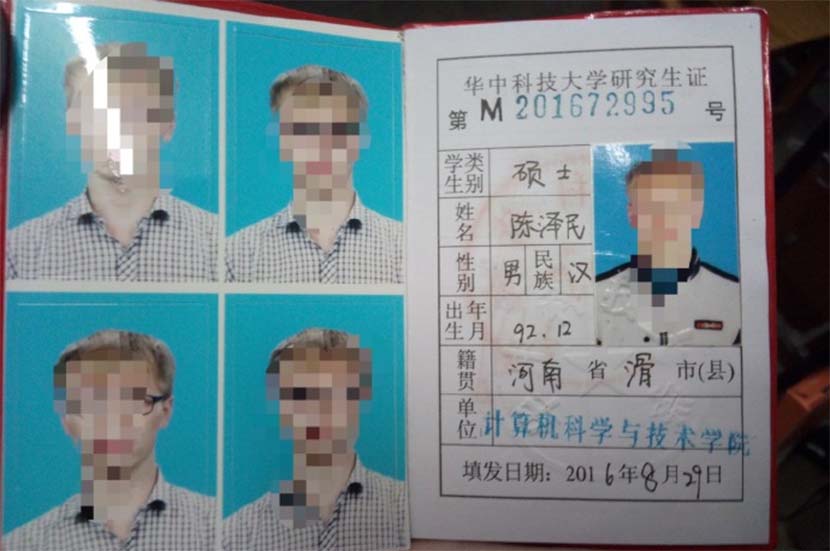 Chen Zemin's student certificate. @直播大事件- on Weibo
In the letter, Chen wrote that Xu Haiyin, an assistant professor, had not fulfilled his responsibilities as a faculty adviser, and had instead assigned Chen to be managed by Shi Ke, another professor within the school of computer science and an expert on the internet of things. Chen said Shi began picking on him after he explained he couldn't come to the professor's lab regularly because of work assignments Xu had arranged with his friend's company — where Chen claimed he earned just 300 yuan ($42) per month.
Cases of faculty exploiting the students they supervise — treating them as secretaries or personal errand-runners — have occasionally made headlines in China. In such situations, the looming threats of deferred graduations, failing scores, and torpedoed careers leave many victims reluctant to speak out, feeling as though they have no recourse.
"I was stuck in an awkward situation working at a different pace than the other lab fellows," read the letter. In his first semester, Chen said, he had the highest grades among the three students in his lab on the university's graduate entrance exam — but Shi had awarded him just 4,000 yuan in scholarship money for the semester, the least of the group.
Sixth Tone's repeated phone calls to Xu's and Shi's offices at the school of computer science went unanswered on Wednesday and Thursday.
Zhou Benhua, Xu's high school classmate and the CEO of Beijing Integ-Forever Co. Ltd., told Sixth Tone that Chen had worked at the company for about nine months beginning in September 2016, where he had learned C programming language from scratch.
"He would come one or two days a week, but then he gradually stopped showing up," Zhou said, adding that Chen's work was "at a rudimentary level" and had not lived up to his expectations. "He didn't contribute anything, so we were basically just subsidizing part of his living expenses," said Zhou, referring to Chen's salary.
When job-hunting season came in September 2017, Chen was still working on his final thesis, but his efforts to consult with Xu, the faculty adviser, were repeatedly rebuffed, according to the letter. Filled with anxiety and despair, Chen said he turned to Shi for help pinning down his research ideas so he could then focus on securing a job after graduation. Chen transferred to Shi's lab, only to be berated by the professor, supposedly for not fully committing to his thesis. With no career prospects in sight, Chen opted to defer his graduation until the following year.
Chen's parents and sister met with administrators from the computer science school on Tuesday, according to a report by The Paper, Sixth Tone's sister publication. Chen's body was sent to a funeral home the same day, the report said.
The case of Chen's suicide became a trending topic on microblogging platform Weibo, with a related hashtag accumulating 160 million views by Wednesday afternoon. 
In China, the Beijing Suicide Research and Prevention Center can be reached for free at 800-810-1117 or 010-82951332. In the United States, the National Suicide Prevention Lifeline can be reached for free at 1-800-273-8255. A fuller list of prevention services by country can be found here.

Editor: David Paulk.
(Header image: An exterior view of the campus of Huazhong University of Science and Technology in Wuhan, Hubei province, June 2019. IC)