A dispute between airplane passengers and an off-duty flight attendant has triggered questions over regulations pertaining to air travelers with mental health conditions.
The controversy surfaced on social media over the weekend after a passenger named Li Yaling posted a video on microblogging platform Weibo in which she complained that several travelers were questioned by police after a woman claiming to be a "flight supervisor" reported them for not switching off their phones while the plane was taxiing ahead of takeoff. Li, who was also on the flight, said police detained the passengers on the June 12 Air China flight from Chengdu to Beijing for seven hours after landing.
In a statement Monday, Air China said that the self-described flight supervisor, surnamed Niu, was an employee on medical leave who was flying on a personal trip that day, and confirmed that three passengers had been held by police. An Air China representative told The Beijing News a day earlier that Niu had left her position as a flight attendant after being diagnosed with a mental health condition and reassigned to a different role within the company. Li had said in a separate post Monday that she was told in a private conversation with the airline that the former flight attendant had been diagnosed as bipolar.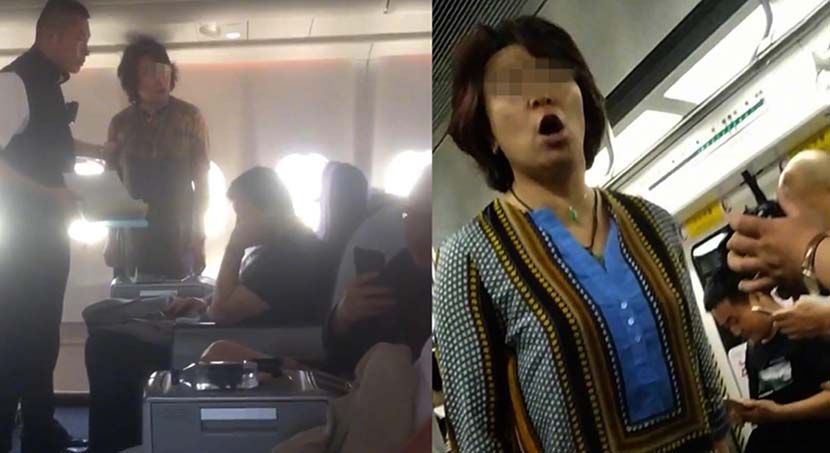 Left: Niu, middle, standing in the cabin of the Air China plane, July 12, 2019; right: Niu purportedly shouting in a Beijing subway car. @李亚玲 on Weibo
Following Air China's statement, many netizens expressed concern over the rights and regulations concerning air passengers with mental illnesses, with a hashtag on the subject viewed over 190 million times by Tuesday evening. While some were quick to point out that Niu is a repeat offender — a video clip circulating online purportedly shows her shouting in a Beijing subway car after failing to secure a seat — others noted past instances of discrimination against people with mental health or developmental conditions, including a 2008 incident in which Air China removed an autistic child and his grandmother from a commercial flight.
In response to the public's concerns, a customer service representative from Air China told Sixth Tone's sister publication, The Paper, on Monday that passengers with disabilities are required to disclose this information to the airline in advance, adding that each flight can provide only limited assistance to passengers with special needs. The airline's website states that passengers with mental disorders must be accompanied by another passenger aged 18 or older.
Fan Chen, a lawyer with Beijing Jingshi Law Firm, said in Monday's report by The Paper that despite such rules, there is no law requiring passengers to disclose their mental health conditions to airlines before flights. According to China's Civil Aviation Administration, carriers may deny boarding to passengers who are mentally ill or whose health conditions could endanger themselves or other passengers.
Editor: Bibek Bhandari.
(Header image: Security guards stand near an Air China aircraft on the tarmac of Shanghai Pudong International Airport, March 20, 2007. Aly Song/Reuters/VCG)