"Vision-recovering" products are still being misleadingly advertised and sold online in China after several central government ministries issued a notice to ban such disingenuous wares a week ago, Sixth Tone's sister publication, The Paper, reported Wednesday. 
The notice on further regulating and supervising myopia correction in young people — jointly issued by the Ministry of Education and five other national-level departments last Wednesday — bans merchants from using wording such as "rehabilitation," "recovery," and "myopia cure" to mislead nearsighted children and their parents. The notice further forbids businesses from invoking traditional Chinese medicine (TCM) — a revered if not always scientifically sound cultural heritage — to deceive potential consumers.
Given the current medical technology, the notice said, myopia cannot be cured. Wang Min, deputy director of the AIER Eye Hospital in Shanghai, told The Paper that while true myopia isn't curable, it can be corrected with glasses, contact lenses, or surgery.
On Wednesday, Sixth Tone's search on Chinese e-commerce platform Taobao returned countless products promoted with phrases like "myopia recovery," "vision rehabilitation," and "TCM eyesight recovery."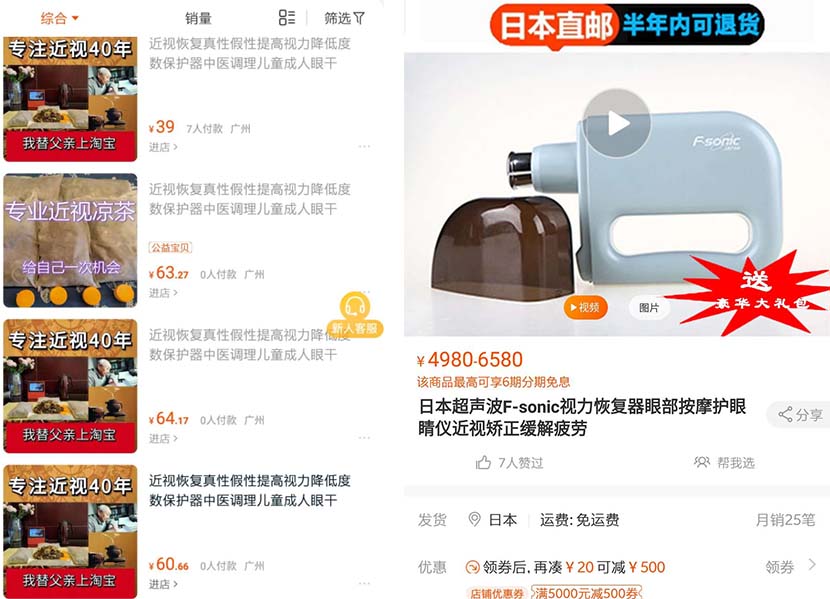 Screenshots from Taobao show two 'vision-recovering' products for sale on the e-commerce platform: an herbal tea (left) and an 'ultrasound myopia recovering device' (right).
One product among the search results — the F-Sonic Ultrasound Myopia Recovery Device — was priced from 4,600 to 6,580 yuan ($685-$980). On the product's information page, the merchant described the device as a "brand-new machine mailed directly from Japan" and said that purchases are refundable within the first six months, minus a 30 percent depreciation fee. Secondhand products shipped domestically do not qualify for returns or refunds, the merchant added.
After one customer wrote in a review that the F-Sonic device had actually made their child's eyesight worse after just two months of use, however, the merchant responded by saying that while the device has no harmful side effects, it's also not 100 percent effective and should not be overly relied upon.
Another product Sixth Tone found Wednesday on Taobao — a tea advertised as containing over 20 TCM ingredients, sold by a shop called Shangguan Baicaotang — claimed that children's poor eyesight could be "completely reversed" by drinking the tea over a long period of time. The shop owner said on the product detail page that they had over 40 years of experience in "eye protection" and claimed customers would be able to "see the effects," as it were, after just a couple of months. The shop was no longer searchable by time of publication.
Around 40 percent of primary schoolers and 70 percent of high schoolers and college students in China are nearsighted. In August, several government bodies introduced a guideline to bring the nation's myopia problem under control, urging parents and teachers to let kids spend more time outdoors and restrict screen time. In February, the eastern province of Zhejiang issued a draft regulation forbidding teachers from assigning homework on education apps in a bid to protect students' eyesight and prevent childhood myopia.
Editor: David Paulk.
(Header image: Promotional images for 'vision-recovering' devices found on Chinese e-commerce site Taobao.)