SHANGHAI — Wandering from booth to booth, visitors to Design Shanghai 2019 peruse a bewildering array of novelty goods: rock band-themed cherub statues, birdcages fitted with robo-canaries, and all manner of swine-shaped paraphernalia properly befitting the Year of the Pig.
Just six short years into its existence, the annual exhibition already claims for itself the title of "Asia's leading international design event." Since Wednesday, over 400 high-end design brands from 32 nations have been congregating under the vaulted ceilings and neoclassical columns of the Shanghai Exhibition Center to socialize, network, and flaunt their latest wares. On its first day, the exhibition took in over 14,000 visitors.
China's design industry has grown explosively over the past decade, says Tan Zhuo — China general manager for the exhibition's U.K.-based organizer, Media 10 — in a conversation with Sixth Tone at Design Shanghai's press event. When the exhibition first launched in 2014, only two Chinese brands were included; now there are 93, many of which have won international acclaim.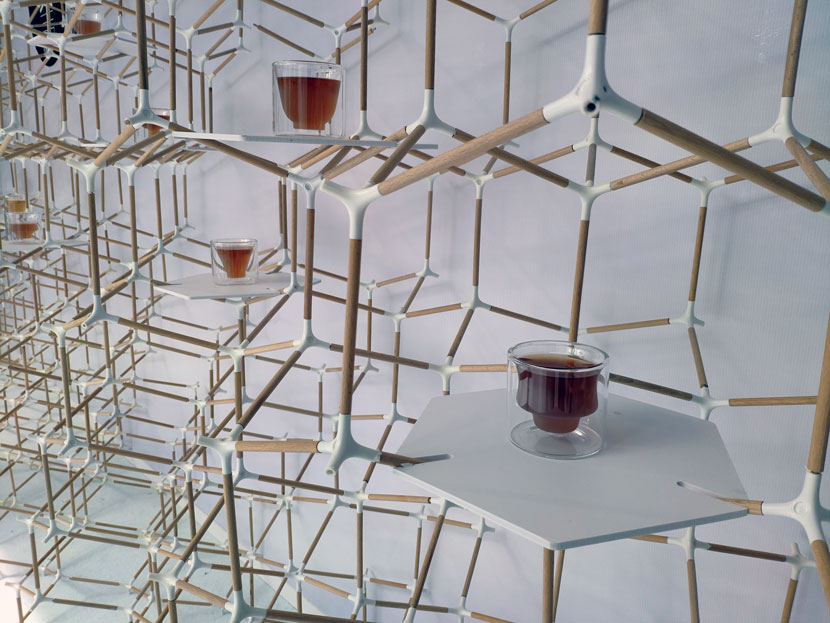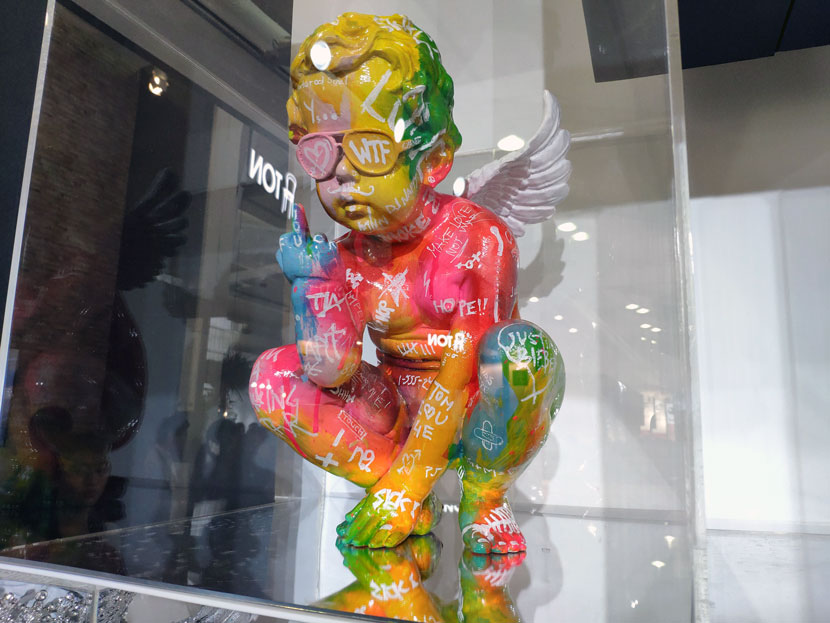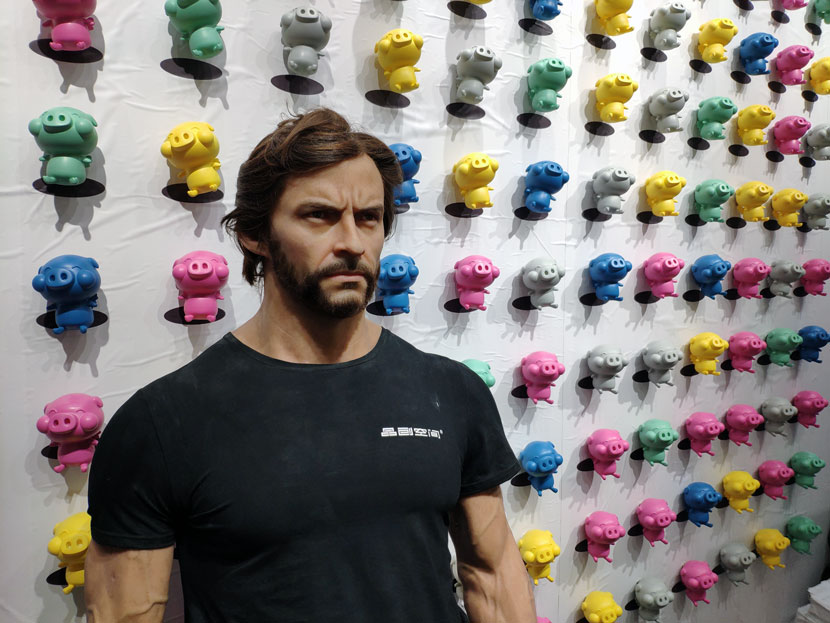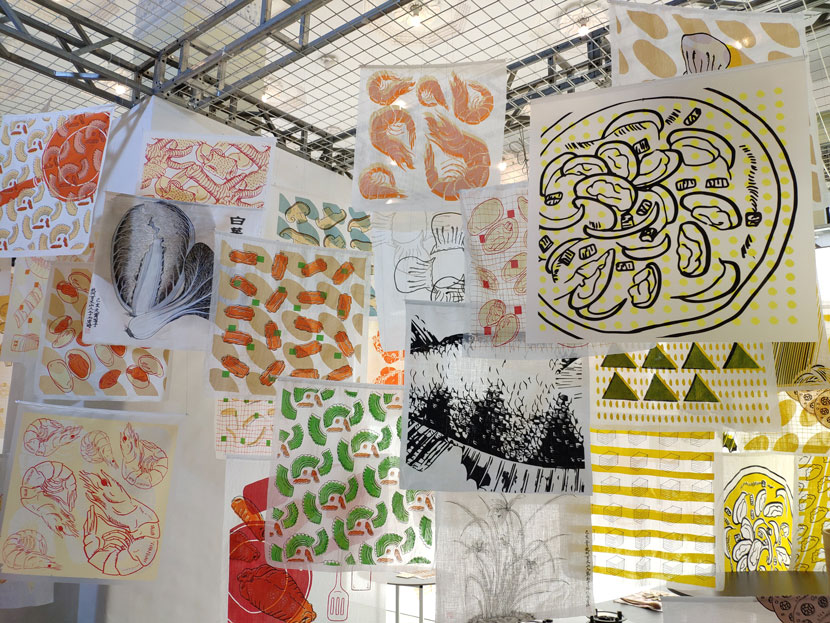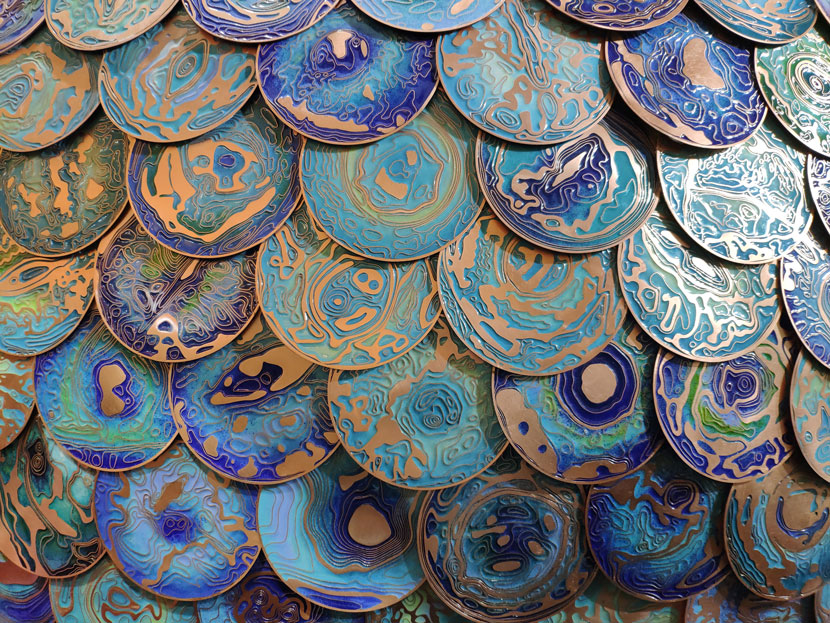 The country is increasingly making its own innovations in the industry, driven by greater exposure to international trends among mainland designers and by changing aesthetic preferences. "The young generation … wants minimalistic design, Scandinavian style," Tan says. "[Their taste] is not like their parents' at all."
After passing through security and a face-scanning ticket check, visitors enter a large tent in the exhibition center's inner courtyard. Crowds gather, phones out, around an art installation by Italian automaker Lamborghini: rows of small metallic spheres suspended by wire, rising and falling periodically. Further along are sellers hawking rugs, antiques, and futuristic tea cups, with a faux-tropical display from French water brand Perrier nearby.
At the entrance to the main building sits a U.K.-made Apollo 13 replica with plush seating inside, just like the one at star chef Gordon Ramsey's London restaurant. Design connoisseurs can be spotted from a mile away — including an Italian man in his 50s with a trimmed beard and long, slicked-back gray hair, dressed in a turquoise suit and brogues. Customers well-broken-in by the IKEA experience can be seen testing sofas and furniture.
In the contemporary design hall stands the booth for Bela Design, an 8-year-old domestic brand offering sleek, wood-cased gadgets and doodads like power banks, Bluetooth speakers, and fridge magnets bearing written Chinese characters.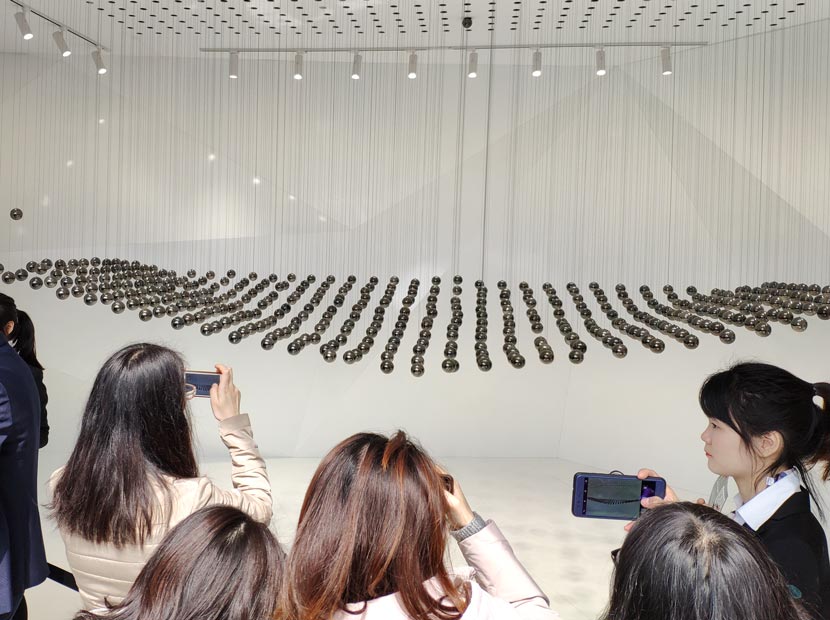 Visitors take photos of an art installation from luxury automaker Lamborghini during the annual Design Shanghai exhibition, March 6, 2019. Kenrick Davis/Sixth Tone
Zhang Fei, design director and founder of the company, tells Sixth Tone that the exhibition helps industry insiders from both China and abroad: International media have an opportunity to cover fast-growing Chinese brands, while domestic companies are exposed to global trends in the industry.
But Zhang and Tan, the general manager, also note the difficulties that this embrace of globalization brings. Domestic brands now face international competition from world-class rivals, putting designers in China's still-burgeoning industry at a relative disadvantage compared with well-established foreign production chains.
Local brands must also face a long-standing issue within China: piracy. "This problem is very big — we've all experienced this," says Zhang. "Our company has been copied indiscriminately."
"In the past, everyone [in China] was copying foreign brands; now, they are copying China's own original brands," says Tan. "The creative industry in China could be very strong if we managed to solve this issue. I've seen many, many people with amazing ideas who, for a multitude of reasons, are just unable to continue."
Despite the challenges, Zhang remains optimistic. "I think we shouldn't worry about [piracy] — China's copyright protection is gradually aligning with international norms" he says. "There are still lots of channels through which you can protect yourself in China."
"The greatest capability of a design brand is to continually develop new products," Zhang adds. "Intellectual property infringement and copycats will always follow behind."
Editor: Layne Flower.
(Header image: Visitors attend the Design Shanghai exhibition, Shanghai, March 6, 2019. Kenrick Davis/Sixth Tone)