SHANGHAI — Lunar New Year is here, and families and friends across the country are getting together to celebrate the festival. But Lin Wei — a pseudonym — can't remember the last time he spent the holidays with his family. Indeed, the 86-year-old hasn't enjoyed a festival at home in decades.
Until December, Lin was an inmate at a prison in an eastern suburb of Shanghai. He had been sent there more than 30 years ago, after being convicted of forced prostitution. Due to a court request designed to protect the elderly Lin's identity, Sixth Tone cannot reveal certain details of his case or his current living situation.
Lin originally had a life sentence, but was released early on good behavior. In some ways, his freedom has proven harder than life behind bars. Lin lost touch with his family and friends during his time in jail, and all of his immediate family have since died. His former family home in Minhang, the district of suburban Shanghai where he grew up, was left abandoned and later demolished. Lin has no source of income. He also has no ID card, as he was jailed before they were rolled out nationwide. This severely limits his access to state welfare payments and health care. And to compound all this, he also has early-stage Alzheimer's disease, which affects his short-term memory and often leaves him disoriented or incoherent.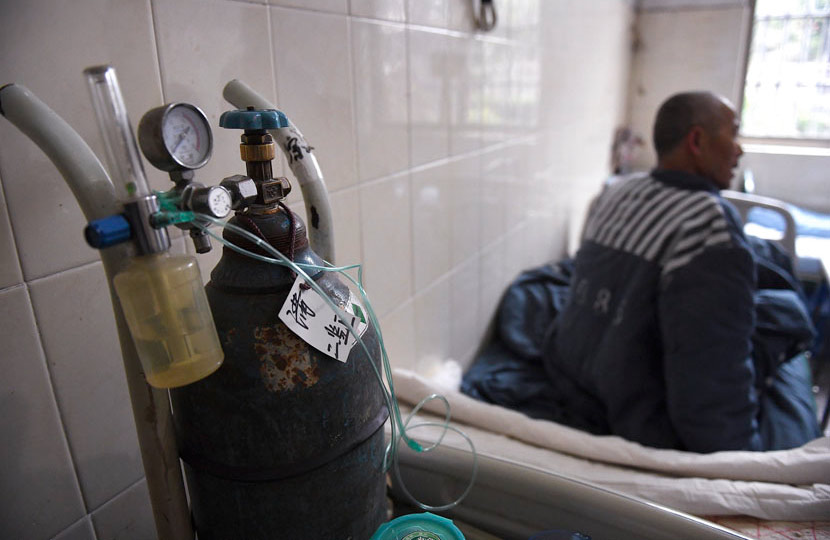 A prisoner receives medical treatment at a prison in Hefei, Anhui province, Dec. 1, 2017. Jiang Yu/IC
Lin's experiences since his release have prompted questions over the way China rehabilitates its ex-convicts. Knowing that he faced homelessness and destitution, the local government arranged for Lin to live out his days in a privately run nursing home in Minhang — an uncommon solution in China, where newly released prisoners are generally left to reintegrate into society on their own. When local media got wind that a former pimp was being rehoused at the taxpayer's expense, the story sparked a heated social-media discussion on whether Lin deserves care.
Lin is unaware that his case has caused such a furor. When Sixth Tone visits him at the nursing home's New Year dinner in late January, he is sitting in a room with hundreds of other seniors, enjoying a hearty meal of steamed fish, sweet-and-sour pork ribs, and glutinous rice. In a strong Shanghainese accent, he tries to express his festive feelings to his peers. None of them know Lin's history as a prisoner.
Later, back in his private room — equipped with a single bed, a TV, a table, and a closet — Lin becomes somewhat agitated. At times, he seems to struggle to understand how much his hometown has changed during his time on the inside. Three decades ago, Minhang was a semi-rural scattering of villages and towns; today, it is a sprawling residential district with clusters of high-rise apartments. Nonetheless, Lin refers to Minhang as a "village." At another point, he grumbles about the "fortune" of 121 yuan ($18) he was owed in prison, but which hasn't been returned. And when he's not quietly listening to the radio, he gets worked up thinking about a hometown that no longer exists. "I can't sleep properly here," he says, over and over. "I want to go home."
Leading up to Lin's release, prison staff spoke with government authorities in Minhang, the district where Lin was last registered as a resident. Eventually, funding was secured from both the township government and Lin's former village government to cover the 5,000 yuan monthly cost of accommodation in the nursing home, as well as his medical and living costs. In December, Shanghai-based media outlet Kankan News ran the story under the headline "The Release of Shanghai's Oldest Prisoner," complete with video footage of Lin — his face obscured — receiving care from prison wardens and an inmate. In the clip, Yu Zheng, a township government official in Shanghai's Minhang District, says: "Ex-convicts are also part of our society. Those who are extremely poor, or elderly and alone, deserve humanitarian assistance from the government." The township government declined Sixth Tone's interview request.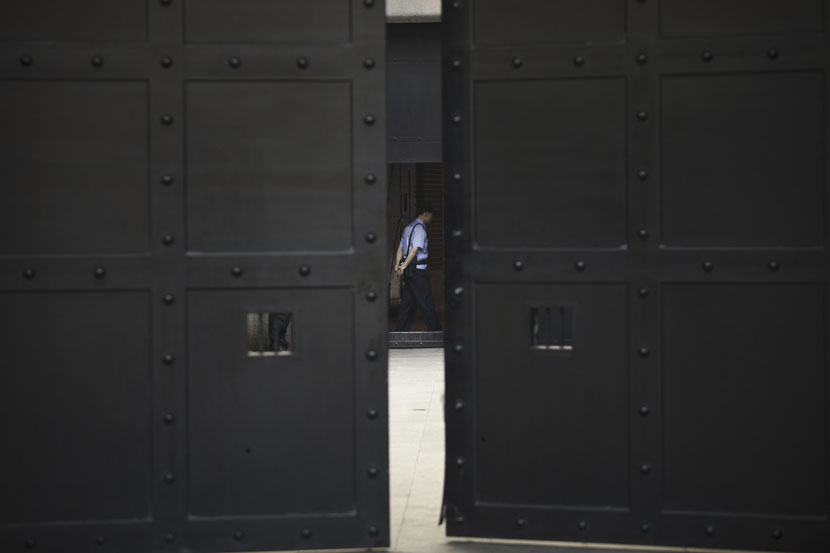 The outside of a prison in Shanghai, July 8, 2013. Zhou Pinglang for Sixth Tone
Despite the video's feel-good factor, public opinion was sharply divided on Lin's treatment. On the microblogging site Weibo, news of Lin's release has been viewed over 95 million times. Some netizens comment that he has served his time and should now be allowed to live out his life in peace and comfort: "It's not up to us to say what punishment he should get; the law of the land determines that," reads one popular comment. "Now he's out, we must consider what he needs to survive, especially given that he is old and sick."
But others disagree, arguing that if the women Lin once exploited are still alive, they may be suffering from their experiences of being forced into sex work. Still others balk at the notion that the state would dole out free food, shelter, and assistance to a former jailbird, but not to law-abiding elderly folks. "In my rural hometown, honest, hardworking farmers worked their whole lives in the fields. Now they're old, alone, and vulnerable. I wonder if the government has ever thought about helping them into nursing homes?" writes one.
Sixth Tone contacted Lin's former prison for comment, but our request was declined. A source at the prison told Sixth Tone privately that the online reaction to Lin's release had prompted the authorities to reconsider the way similar cases are handled in future.
Lin's case is unconventional. In China, most ex-convicts are left to fend for themselves after being released from prison. Since 2003, the Ministry of Justice has maintained a nationwide network of around 2,800 community correction centers that oversee the rehabilitation of former criminals. Although they don't provide the kind of full-time care that Lin now enjoys, correction centers may sometimes give ex-felons access to temporary shelter, job training, social workers, and psychological counseling.
The effect of correction centers on recidivism rates in China remains unknown, partly because the government keeps no official statistics on how many former prisoners re-offend after their release. Isolated studies, however, support the argument that helping prisoners reintegrate into society prevents them from committing further crimes. In a 2016 seminar on crime prevention and community corrective measures, Hu Guozhong, the head of Shanghai's Wujiaochang Prison, said that among 1,100 ex-inmates studied between 2011 and 2014, less than 1 percent re-offended if they secured a job after their release, while more than 12 percent of unemployed ex-convicts re-offended. The findings are broadly in line with international studies showing that access to employment helps reduce recidivism.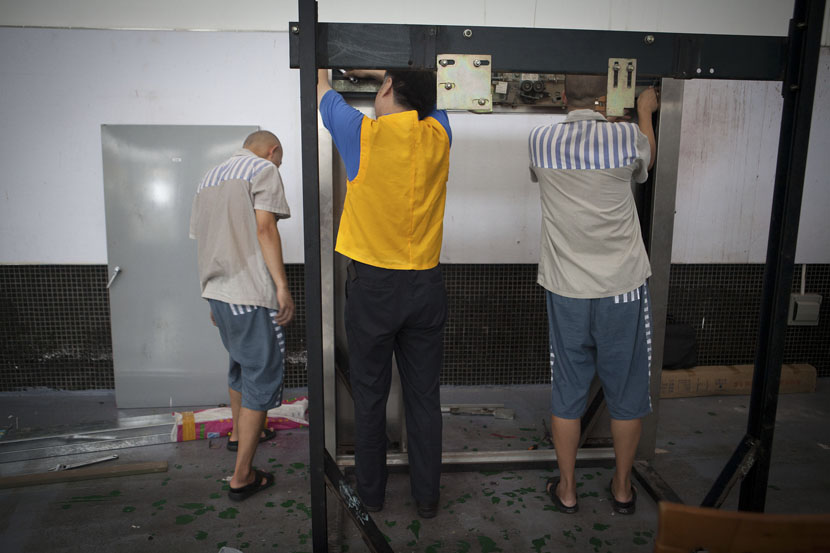 Prisoners train for elevator service at a prison in Shenzhen, Guangdong province, Aug. 4, 2014. Huo Jianbin/VCG
Wang Ling, a social worker who has worked with a district-level community correction center in the eastern city of Hangzhou for five years, says that China's former prisoners are particularly vulnerable to social stigma. "Their families frequently refuse to accept them back into the fold. They deem them a shame on the family," she explains. "That can give ex-convicts deep-seated feelings of self-hate. Some actually end up thinking prison life was better for them, so they re-offend."
Wang remembers her time helping a former prisoner called Jin, who was released from jail in Qinghai province — a remote region of northwestern China — three years ago, after serving a sentence of more than 20 years. "He was 63 when he got out and spent days wandering the streets and sleeping rough in underpasses or out on the grasslands," Wang says, adding that Jin, like Lin, had no ID card, no job, no home, and no pension, due to not having spent enough time in the workforce. When he finally returned to his hometown of Hangzhou, he found the city unrecognizable. When he arrived at his family's former home, he discovered they had left without informing him of their new address.
Eventually, Wang helped Jin secure temporary accommodation. Finding him a job to support himself, however, was much harder. "Most ex-convicts are in poor health [due to years living in cramped conditions], don't have the right labor skills, and are shunned by those around them," says Wang. "So the way back for most of them is very difficult, especially for those who are older and physically weaker." Jin eventually found a job as a sanitation worker at a local health clinic, Wang says.
Diao Yihong, the director of the nursing home where Lin now resides, understands the social stigma against ex-convicts. So, on the day Lin arrived, Diao assigned him to a one-person room. All the other seniors in the home have a roommate. "Other families might object if we put their relatives in with him," says Diao, whose years of speaking to hard-of-hearing elderly residents have given her a louder-than-usual voice.
While Diao says that she understands the views of netizens who claim that Lin receives special treatment, in her eyes he's just an old, melancholy man with nothing left in the world. "When [Lin] arrived, he only had a radio, two bowls, and was wearing extremely worn-out clothes," she recalls. "You can't help but feel sorry for someone like that." Staff at the nursing home donated money to buy Lin two sets of winter clothes, Diao says, adding that Lin treasured them so much, he wouldn't even let other staff members take them away to wash them.
"He hasn't had anything that belongs to him in such a long time, so the new clothes are extremely important to him," says Diao. "After all those years in prison, he's turned out to be a good-tempered and polite person. He follows all our rules very well."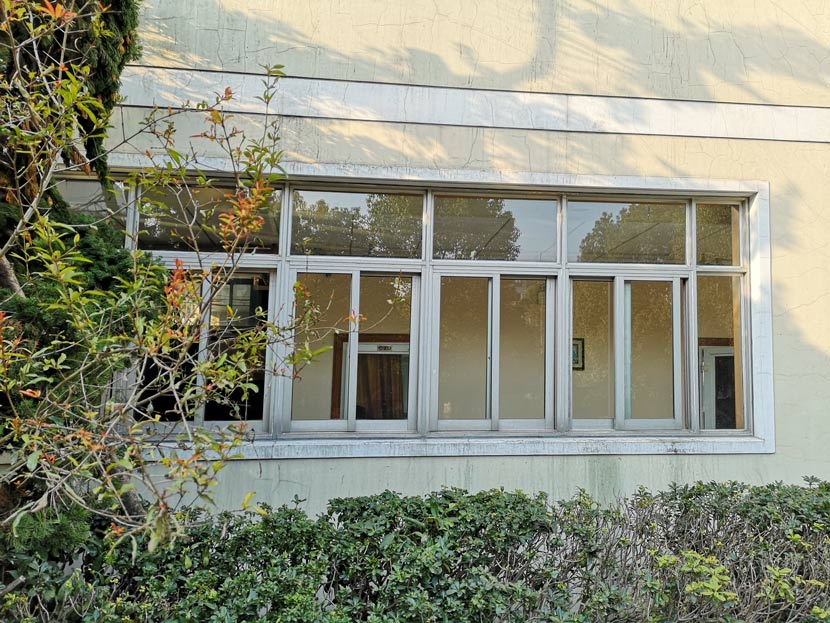 The outside of a nursing home in suburban Shanghai, Jan. 21, 2019. Ni Dandan/Sixth Tone
The nursing home covers nearly 10,000 square meters, but Lin rarely ventures outside his own room, saying he's grown accustomed to life in a confined space. In the first few days after arriving, Lin wolfed down his meals. "The food here is much better than prison — I've even put on some weight," he smiles.
Lin is still waiting to acquire an ID card, though the procedures are underway. His Alzheimer's disease doesn't affect him much, but occasionally flares up. In mid-January, Lin received a visit from a former neighbor in Minhang who had read about his release in the news. Lin was overjoyed, insisting that the visitor was actually his niece.
On other occasions, too, Lin appears to believe that his family are alive and waiting for him. "Can you help me make a phone call home?" he often asks the nursing staff. Diao is always saddened to hear such questions, and her coworkers never tell Lin the truth. Instead, they distract him with more trivial things — a nice meal waiting for him in the dining room, or a friendly neighbor who'd like to take a walk together on the lawn. "We don't care much about his history," Diao says. "What we care about is his life now — if he's happy and healthy."
Editor: Matthew Walsh.
(Header image: An elderly woman naps in the sunshine at a nursing home in suburban Shanghai, Jan. 21, 2019. Ni Dandan/Sixth Tone)