Every year on the morning of Dec. 13, the shrill cry of air raid sirens pierces the cold winter air above the eastern city of Nanjing. Down below, the city's residents stop whatever they're doing to observe a moment of silence for those who died during the Nanjing Massacre, a roughly six-week slaughter carried out by Japanese soldiers after occupying the city this day in 1937.
The wailing sirens — traditionally a warning of imminent attack — are meant as a reminder of the suffering and bloodshed that took place all those years ago. Growing up in Nanjing, I remember my whole school abruptly falling silent once the sirens howled. Teachers stopped talking mid-lecture, and the whole class stood up and waited quietly for the haunting sounds to fade.
We were never overtly taught to hate the Japanese in school, but we were also never allowed to forget the magnitude of the atrocities they committed. Both my primary school graduation ceremony and the ceremony to mark my graduation from the Young Pioneers were held at the Nanjing Massacre Memorial Hall, which itself is built atop a mass grave. When well-known director Zhang Yimou began filming his Nanjing Massacre epic "The Flowers of War," he held auditions for extras at my high school. And I still remember my math teacher remarking one year, as the sirens tapered, that she didn't care for Japanese.
It was hardly a stunning admission. Anti-Japanese sentiment persists nationwide, but it can be particularly potent in Nanjing, where the massacre is such a fundamental part of the city's — and its residents' — identities. It's only natural, then, that impressionable young students pick up on and seek to mimic these feelings.
This can make for a conflicted childhood. Japanese pop culture, anime, and manga were just as popular in my class as anywhere else in the world. My first backpack had a Sailor Moon picture on it, and I remember loving Doraemon and Pokémon growing up. Yet, none of that stopped me from arguing with my friends, because I thought they were too obsessed with Japanese culture. I had a classmate who referred to Japanese as xiao riben, a derogatory term equivalent to the English "Jap." And when I chose Japanese as my language elective in high school, I remember doing so less out of a passion for the country, and more out of a patriotic belief that it was important to know the language of your enemies.
What we all shared was a belief that it was our duty as Nanjingers to tell our city's story. Last year, the Nanjing Massacre Memorial Hall published a speech given by a Nanjing high school student preparing to study abroad in the U.S. Speaking for his fellow Nanjingers, he says, "We have a responsibility to be ambassadors for peace and to share the collective memory of what happened here with our peers around the world."
Sometimes, I wonder if we put too much emphasis on the second half of that sentence. Internationally, the massacre tends to be the one thing people know about my hometown. The events of 1937 continue to define the city — and, by extension, those of us who grew up there.
In 2014, when I was studying abroad in South Korea, I met an old Korean woman who, upon learning where I was from, proceeded to share stories of how her own family had suffered during the Japanese occupation of the Korean Peninsula. Another time, one of my Korean professors made a point of consoling me on my family's tragic past. "I'm very sorry about what happened to your grandparents," he said. I appreciated the gesture, but I wasn't sure how to respond to either of them. My grandparents weren't from Nanjing; they hadn't even lived there. My parents moved there decades after the war.
Nor was it any easier to talk about my hometown with the Japanese students I met in Korea. I could barely conceal my shock and annoyance when one of them asked me if my hometown was famous for anything. How was I supposed to respond?
It's a shame, really. Nanjing should be known for more than just tragedy. One of China's most ancient and influential cities, it is known as one of China's four great ancient capitals. Over 1,500 years ago, the poet Xie Tiao described Nanjing as "[a place] of both emperors and kings." Mao Zedong, writing in the wake of the fall of Nanjing to People's Liberation Army forces, called its beauty "unsurpassed." Yet, it seems as though Nanjing is defined by the massacre alone.
Perhaps because of my time spent abroad — including a month as a student in Japan — I no longer hold on to the anger I once felt toward Japanese. That's not to say what happened doesn't matter: Rather, my understanding of what it means has shifted.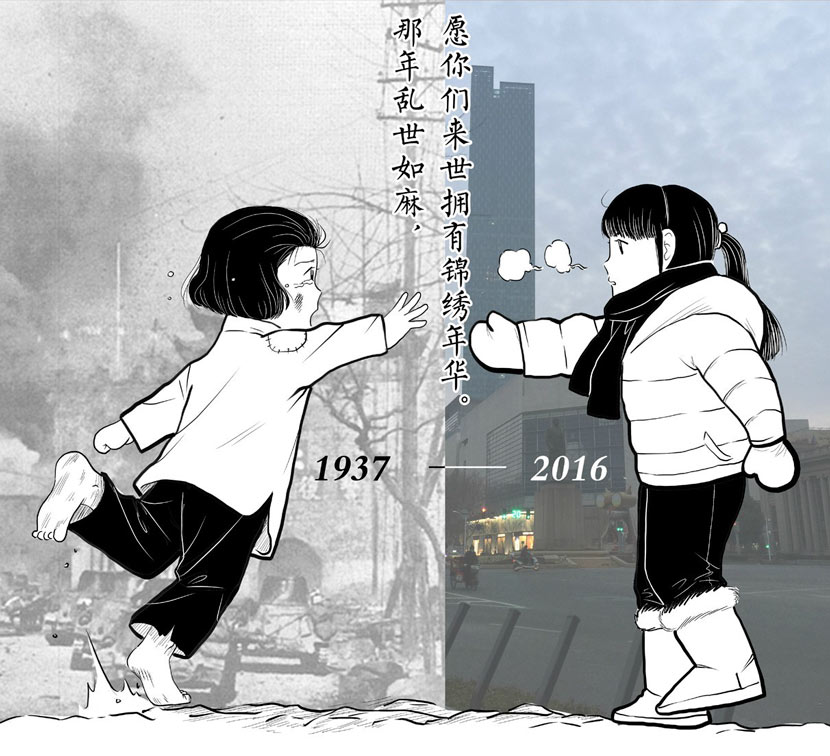 A comic shows a barefoot girl from 1937 reaching out to a girl her age in 2016. The comic was later altered to read 2017 when it went viral last year. Courtesy of Zhu Yan/ChanshiguanComic
Last year, as China commemorated the 80th anniversary of the massacre, a comic on the massacre's legacy from the year before went viral online. In it, a barefoot girl from 1937 in worn-out clothes runs from the city's chaos. As she does so, she reaches out to a girl her age in 2017. The text reads, "Those were turbulent times. May future generations enjoy happier ones." The first time I saw it, I could feel myself tearing up. Not just because of that little girl's tragedy, but also because it reminded me of how lucky I am to have grown up in a time of peace.
And peace means making peace. In 2016, the Chinese new media outfit Jiemian released a short documentary on the lives of a few members of Nanjing's small Japanese expat community. Their stories were full of ups and downs: battles with ingrained stereotypes mixed with moments of uncommon kindness and hospitality. One of the interviewees was a woman who had moved to Nanjing to teach Japanese and eventually got married to a local man. When his family found out about their engagement, they did everything in their power to convince him to break it off. The woman was worried, up until her fiancé's grandmother — who, as a young girl, had witnessed the massacre firsthand — approved the match. "After that, I figured there wouldn't be a problem," the woman says, "because she saw all the terrible things Japanese did back then."
It's been years since I've visited the Nanjing Massacre Memorial Hall, but the statues lining its walls remain etched in my memory. One of the most striking depictions is of a hand reaching up through the earth. It's a monument to the suffering of those buried there — some of whom were buried alive — but it's also a symbol of the human will to survive. If Nanjing has a legacy, let it be that.
Editor: Kilian O'Donnell.
(Header image: Students attend a memorial ceremony for victims of the Nanjing Massacre in Nanjing, Jiangsu province, Dec. 13, 2018. Du Yang/CNS/VCG)