Costa Rica's World Cup hopes currently rest on the shoulders of a cheery father from southern China's Guangdong province who doesn't speak a word of Spanish.
Cracking his knuckles, 31-year-old Deng Shiping waits for the game to begin. He may be a former national champion, but victory is by no means guaranteed — anything can happen in the World Cup.
China didn't qualify for the FIFA World Cup currently underway in Russia, but it's quietly holding a virtual equivalent in Beijing. The Esports World Cup, organized by tech giant Tencent and run with the blessing of the World Cup's organizing body, FIFA, sees a mix of professional and amateur esports teams from all over China battle it out in the soccer video game "FIFA Online" — both PC and mobile versions. The teams of three to five players are randomly assigned World Cup nations, each programmed with roughly the same strengths and weaknesses as the real-world squads. The tournament follows the same structure as the World Cup, with matches even taking place on roughly the same schedule. There's a lot to play for: The winning team will take home 250,000 yuan (nearly $38,000).
One minute into the first half of his game last Saturday, Deng breaks through a line of Brazilian defenders to score a goal. Two minutes later, he scores again. Another eight minutes, and the game is over. Costa Rica has beaten Brazil 2-0, but there are another two 10-minute rounds between the rivals still to come. Deng stands up, shakes his opponent's hand, and leaves the studio's black stage, controller in hand.
Two weeks in, the virtual soccer tournament is already seeing surprising results: In a complete reversal of the real-world outcome, Panama has beaten England and is now at the top of its group. And unlike in the global sporting event, the Esports World Cup's 130-plus competitors are a motley crew of gamers drawn from a mix of sources — some the winners of university contests and even in-store tournaments, others professional gamers belonging to established esports teams.
As for Deng, he's played the PC version of "FIFA Online" professionally for three years and is currently a member of the internationally recognized esports club Team WE. On a typical day, he'll practice at home for a couple hours, working on aspects of his game such as corners and free kicks. Deng will also watch livestreams of other esports matches — including those of South Korean players who are among the best in the world — for tactical inspiration, as well as video recordings of his own games to see where he can improve. His teammates and coach live in other parts of the country, so they discuss strategies over social networking app WeChat.
Breaking the stereotype of the unfit gamer, Deng — who goes by the name "Kitchen Knife" online — also plays real soccer on weekday evenings and has won various amateur tournament trophies. He says his real-life experience has helped him play the video game version better.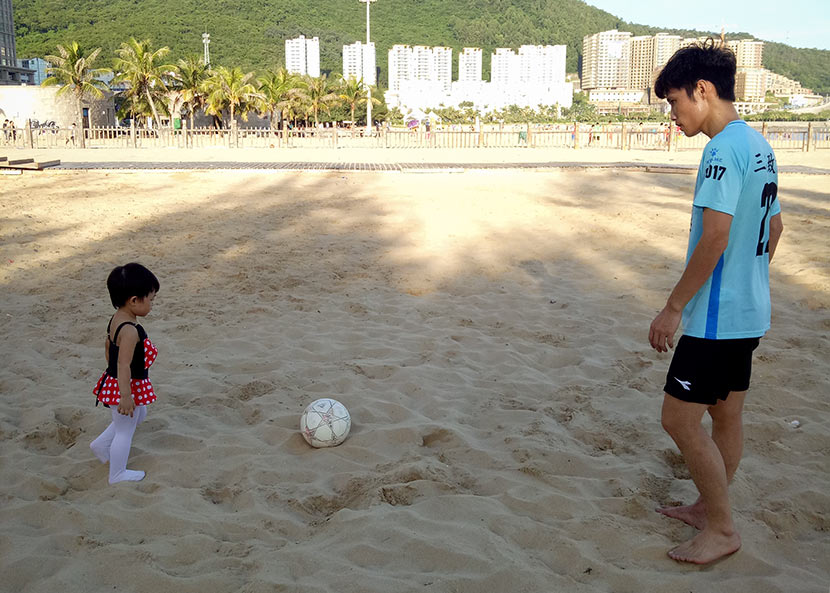 Deng Shiping kicks a ball around with his daughter in Zhabo Town, Guangdong province, Aug. 26, 2017. Courtesy of Deng Shiping
With the real Cristiano Ronaldo alive and kicking in Russia, one might wonder why viewers would opt to watch a computer-generated avatar of the Portuguese superstar. But between Sunday and Tuesday alone, livestreams of the esports tournament broadcast on 19 online platforms attracted over 8 million viewers, a spokesman from "FIFA Online" tells Sixth Tone. These numbers may come as no surprise given the franchise's large fan base: "FIFA Online 3," predecessor to the recently released fourth installment of the game, has over 35 million registered users in China, the spokesman says.
Esports is serious business in China: The country's esports market was worth $105.6 million in 2017, bolstered by an estimated 125 to 200 million domestic players and spectators. Financial powerhouse Shanghai has stated its aim to become the "esports capital" of the world through investment in esports infrastructure such as stadiums and industrial parks. Sports teams like English Premier League soccer club Manchester City and American baseball team the New York Yankees support their own esports clubs, which maintain men's — and the occasional women's — teams that vie for video game tournament prizes and lucrative commercial partnerships. Manchester City, for example, has its own China-based "FIFA Online" esports team currently competing in Beijing's Esports World Cup.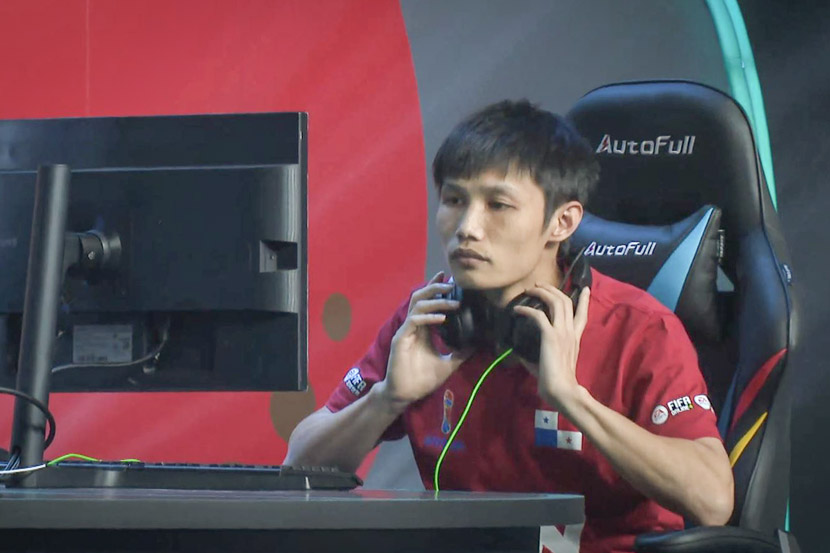 Deng Shiping prepares for his first game as Costa Rica in the Esports World Cup in Beijing, June 23, 2018. Courtesy of Deng Shiping
Despite the flurry of recent investment, the field of soccer esports is far less popular than other esports games such as "League of Legends" and "Dota 2" — and certainly less popular than real soccer. But Deng argues that it has its own charm. The action in soccer video games moves faster than the real thing, with players constantly shifting from attack to defense just like in a basketball game, which gives audiences plenty of opportunities to cheer at exciting moments.
Zhang Hongming, a keen follower of the Esports World Cup, is inclined to agree. The 23-year-old recent graduate in international trade from Jinan, the capital of eastern China's Shandong province, tells Sixth Tone he enjoys watching because he's a "FIFA Online" player himself: He recently came in third in a national "FIFA Online" university competition. He wants to learn from the best, including his favorite FIFA players Deng; the captain of Manchester City's China esports team, Zhang Jun; and a number of comedic livestreamers who banter as they play the game.
But becoming a champion like Deng takes years. He first got into virtual soccer games when he was 9 years old. After earning a sports degree in Guangzhou, the sprawling capital of Guangdong, Deng returned to his home city to work as a police clerk, competing in online and local gaming contests in his spare time. When his daughter was born in 2015, he decided to quit his day job and become a full-time "FIFA Online" player. He found that he could earn about the same salary as in his more traditional, poorly paid previous post, but working in esports gave him more time to spend with his daughter.
Deng receives a monthly stipend of several thousand yuan through his team, in addition to a share of the prizes from competitions. For instance, after coming out top of China's professional "FIFA Online" league last year with his former club, Enjoy Media United (EMU), Deng took home a tenth of the team's total 400,000 yuan in prize money. He then went on to play for China in the "FIFA Online" Asia cup last July, which was won by esports behemoth South Korea.
Deng may now be an idol to younger gamers, but the road hasn't always been smooth. When he first made the transition to professional esports in 2015, his parents were concerned, thinking he "wasn't doing proper work" and might just be addicted to playing games. Things have improved as they've come to better understand esports — and now they even see it as a legitimate job.
No matter how much he practices, working in the newly emerging esports world still has its challenges. "There's definitely pressure. We still need to make a living, right? But the salary we esports professionals get isn't yet enough to live comfortably," he says, adding that there's also no clear retirement path for esports players. "A hobby doesn't put dinner on the table. But as long as I can make a living while pursuing my passion, then I'm very happy to do so."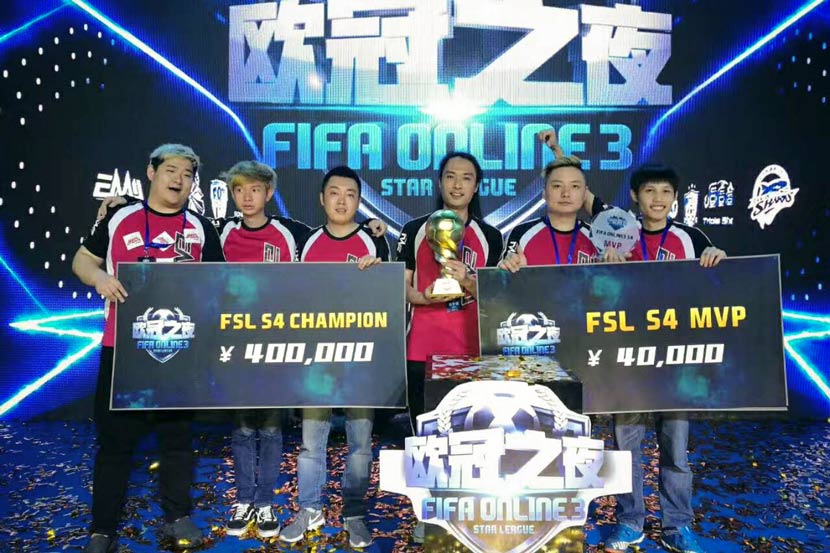 Deng Shiping (far right) poses for a photo with his former team, Enjoy Media United (EMU), after winning China's professional 'FIFA Online' league in Beijing, June 2016. Courtesy of Deng Shiping
Deng is preparing for his next match against Switzerland on Sunday. But he's still many games away from potentially competing in the Esports World Cup final, which will take place on the evening of July 15, just hours before the FIFA World Cup final kicks off in Moscow. With the relatively weak Costa Rica as his team — plus a loss and a draw in the bag — Team WE's prospects don't look good. Instead, Deng's money is on Germany, which is still doing well in the gaming tournament despite being ousted from the real cup after a shocking loss against South Korea on Wednesday.
Perhaps that's reason enough for disappointed Germany fans to tune in to the virtual cup instead.
Editor: Julia Hollingsworth.
(Header image: An esports commentator dressed in Argentina's national soccer kit plays a demo game of 'FIFA Online 4' at the Esports World Cup's opening event in Beijing, June 14, 2018. Courtesy of FIFA Online)