A Beijing court ruled Monday that a train operator should cancel all designated smoking areas on its trains after a passenger sued the company over secondhand smoke, The Beijing News reported.
The case marks China's first lawsuit over smoking in public areas, and a victory for the country's anti-smoking activists, which face a strong tobacco lobby.
On June 9, 2017, a college student surnamed Li took a regular-speed train from Beijing to Tianjin, a nearby city. She noticed the smell of cigarettes wafting through her carriage from passengers and staff who were smoking in a designated area, which are allowed on non-high-speed trains.
Li decided to sue China Railway Harbin Group, the state-owned company which operates the train, arguing that smoking on all trains should be banned as the negative impact of secondhand smoke has become common knowledge.
During the trial in December, Harbin Railway argued that having no smoking areas on regular-speed and long-distance trains would be inhumane to passengers who smoke. The company also said Li couldn't prove that her health had suffered and had arrived to her destination on time.
When announcing its verdict, the Beijing Railway Transport Court said that smoking negatively impacts the environment inside a train. Despite having designated smoking areas, Harbin Railway's trains have contradictory notices stating that "smoking is forbidden in any part of the train," the court said.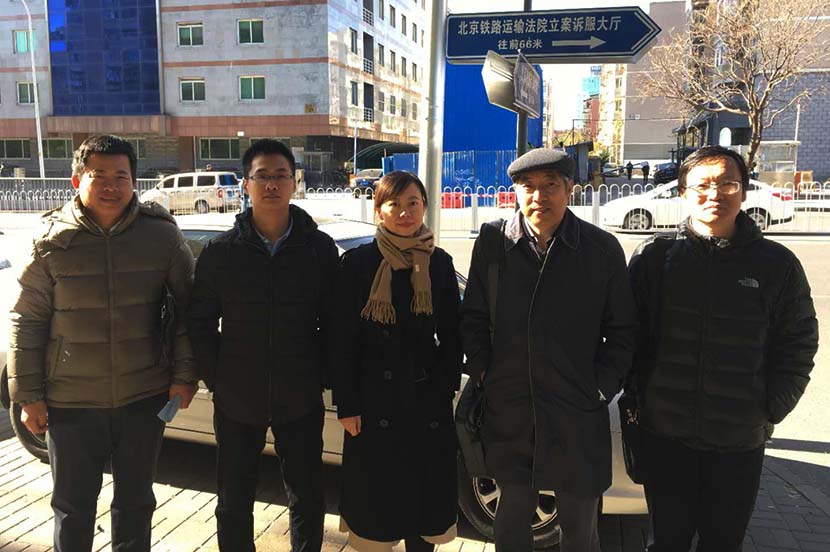 Yu Liying (middle), the plaintiff's lawyer, poses for a photo with professor Cui Xiaobo (second from right) from Capital Medical University and Yang Jie (first from right), a researcher at the Chinese Center for Disease Control and Prevention, outside the court before the trial in Beijing, December 2017. Courtesy of Yu
In addition to removing the areas, Harbin Railway was told to compensate Li with the symbolic amount of 1 yuan ($0.15) for mental damages. The verdict does not apply to other train operators.
Li's lawyer, Yu Liying, said the case could encourage more victims of secondhand smoke to defend their rights. "The significance of this case lies with the possibility that it could push forward a broad smoking ban on all normal-speed trains in the near future," Yu told Sixth Tone.
Although there is no national ban on smoking in public, it isn't allowed on buses, planes, subway trains, and high-speed trains around the country. A few Chinese cities have implemented local bans, like Beijing, Shanghai, and Tianjin, but these have not been as effective as intended.
Beijing tightened the rules on public smoking in June 2015, with individual fines of up to 200 yuan. But people have been reluctant to report violators. Restaurants, for example, are afraid of offending customers. A year after eastern Jiangsu province implemented a ban on smoking in 10 types of public places, one city, Wuxi, had yet to hand out a single fine.
The implementation of such bans is hampered by the high number of smokers in China, at 316 million people, and the size of the tobacco industry, which employs an estimated 60 million people and is responsible for 10 percent of the government's total fiscal revenue.
To curb tobacco consumption, China in 2015 hiked the sales tax from the 5 to 11 percent. Though prices increased by one-tenth on average, sales of tobacco products stayed largely the same.
Editor: Kevin Schoenmakers.

(Header image: A man smokes on a train from Shenzhen to Huaihua, Dec. 13, 2014. Huo Jianbin/VCG)