A new blockchain product from a major Chinese internet company has sent users into a frenzy for digital "black diamonds."
The app, dubbed "Planet," cannot yet be downloaded on Apple's iOS App Store; instead, users must be invited to join. When Sixth Tone registered on Monday by providing a name, government ID, and mobile phone number, the interface displayed a message saying: "You are the 939,933rd inhabitant on the Planet base."
Developed by Hangzhou-headquartered tech giant NetEase, Planet has been in the beta testing stage since Feb. 9, according to NetEase's own news portal. As a platform built around the digital organization and exchange of information, NetEase said, Planet will give "residents," as it calls its users, a secure, decentralized means of managing and realizing the value of their personal data, thanks to its blockchain encryption technology.
"Every second, users are generating useful behaviors — such as credit data and browsing history, as well as shopping, entertainment, and travel," Gu Feiyong, a project manager at Planet, told NetEase. "These behaviors are all crucial as personal data assets."
In the future, the company hopes to introduce "Planet Enterprises" providing a wide range of services that the app's residents will be able to purchase using the black diamond digital currency they accumulate.
While NetEase said that such decentralized value-exchange services will be a major step toward the "commercialization of personal information," the company has not hinted at how user data may be monetized in the future.
NetEase also hasn't announced when the app will be available for anyone to download. "Planet is still in the planning and exploration stages, so it's facing some uncertainties," Fang Wei, a NetEase spokesman, told Sixth Tone. For now, Planet will continue to build up its infrastructure while allowing users to join and "mine" for black diamonds.
"The number of black diamonds is finite, and production will be reduced by half every two years," reads a section on the app's "Book of Secrets" page. "Over time, [the diamonds] will become harder and harder to get — so it's more advantageous to join in the preliminary stages." To mine diamonds, users must simply wait a couple of hours for one to "grow," and then tap the screen of their device to collect it.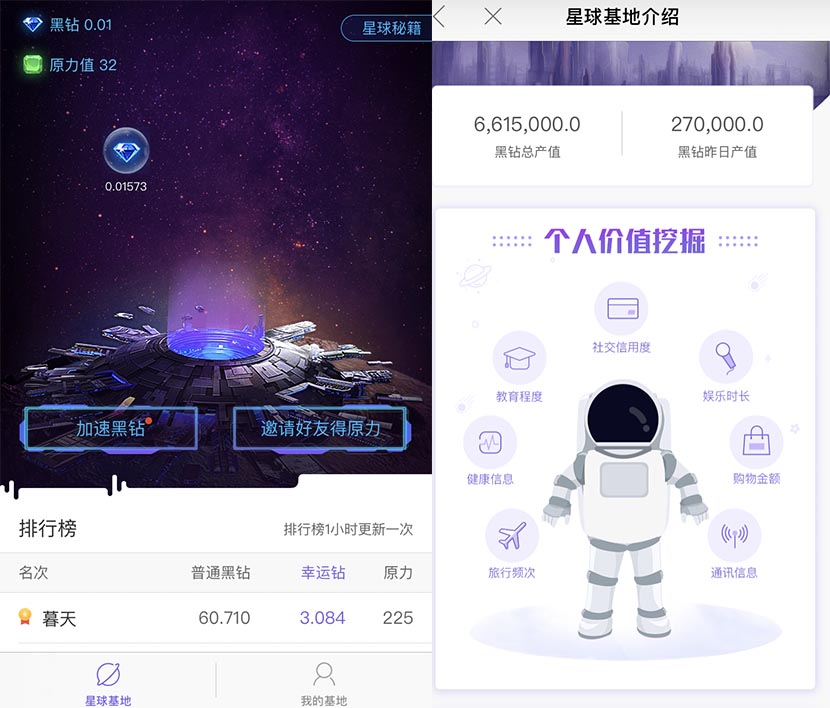 Screenshots of the Planet app's user interface — including a black diamond that is ready to be collected.
According to Planet's in-app ranking system, the most diamonds owned by a single user was around 62 at time of publication. To collect diamonds more quickly, Planet residents can invite their friends to the platform and accrue "Force" — and the higher their Force score, the more diamonds they can get.
Although Planet is still in the developmental stage, 51-year-old Zhou Lianfeng, a chemistry professor at Nanjing Polytechnic Institute, is excited to start collecting. Zhou told Sixth Tone she understands Planet to be similar to bitcoin. "This is a new system that effectively functions like a bank," she said, adding that blockchain is more appealing to many because it is "reassuring and unforgeable."
For the time being, NetEase has not assigned any monetary value to Planet's black diamonds — which is probably for the best, since doing so would constitute an initial coin offering, or ICO. In September of last year, China banned ICOs and cryptocurrency trading on the grounds that such activity "severely disrupts economic and financial order."
But with or without an official value, third parties are already determined to cash in on the black diamond bonanza. On Feb. 9 — the day of Planet's beta launch — ChinaWKB.com, a U.K.-registered cryptocurrency trading platform, announced that it would trade in black diamond futures, allowing netizens to bet on the difference between the current and future values of the digital commodity, should it last. In the first 24 hours, the site recorded a transaction volume of over 15 million yuan ($2.4 million).
The day after the market opened, NetEase responded by saying that all online trading related to black diamonds was fraudulent and "had nothing to do with NetEase Planet." The company also responded to accusations that it was taking advantage of consumer confidence to surreptitiously collect personal information by reiterating that it could not access users' blockchain data — which by definition is encrypted — even if it wanted to.
But Zhou, who owns fewer than two black diamonds, believes it's only a matter of time before the market will assign value to such products. "While there may not be any real money involved now," she said, "there must be some correlation with currency in the future."
In recent months, blockchain technology has seen an ever-widening range of applications, from collectible pets and boy bands to e-commerce and logistics. January saw the release of BlockCity, a Planet-like blockchain-enabled app for personal data management, and Western-developed secure identity platforms — including bitcoin-backed Civic and Ethereum-backed uPort — have been making strides since launching nearly a year ago.
The premise of such "decentralized apps," said Hong Hao, a researcher at Wanxiang Blockchain Labs in Shanghai, is to turn something — anything, really — into a digital chain-linked asset that users can trade. "There must be some idea of what that asset is when [the developer] promotes the product," he explained. "There has to be a story there — your personal data, for example."
As to whether digital assets qualify as sound investments, Hong said that's up to each individual to decide. "You'd have to make a judgment about whether this thing is practical," he said, "including how it realizes value in the grand scheme of the token economy."
Contributions: David Paulk and Chen Na; editor: David Paulk.
(Header image: Digital Vision Vectors/VCG)