China's first gold medal at the 2018 Winter Olympics in Pyeongchang has delighted Chinese viewers initially frustrated by a spate of refereeing controversies on the ice.
On Thursday, 23-year-old Wu Dajing won gold in the men's 500-meter short track speedskating event with a world record time of 39.584 seconds. The hashtag #WuDajing# had more than 100 million views on microblog platform Weibo by Friday.
At the post-race press conference, Wu was asked how he felt about the Chinese team having been dealt a series of contested penalties over the course of the competition. "I didn't want to give the competitors or referees any opportunities," Wu said of his mentality during the run.
The Chinese team received nine of the 50 penalties doled out in short track speedskating. Wu himself was disqualified from the men's 1,000-meter and 1,500-meter races for body contact. The Chinese team was also disqualified from the women's 3,000-meter relay final for the same reason.
"The referees were inconsistent," the team's head coach, Li Yan, said in an interview after the women's 3,000-meter relay final. With tears in her eyes, Li explained that referees should make their decisions after carefully reviewing footage of every point of contact during the event. "Every participant wants to have a clear idea of the game," she said, "but now it makes no sense to watch."
In the final for the men's 500-meter, Wu broke away from the pack to establish a clear lead from the beginning. Two South Koreans — Hwang Daeheon and Lim Hyojun — took silver and bronze.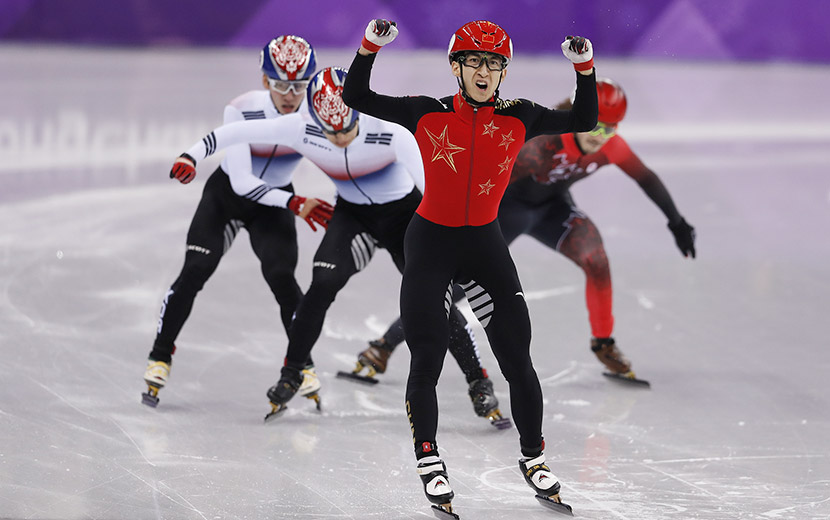 Wu Dajing celebrates winning gold in the men's 500-meter short track speedskating final during the 2018 Winter Olympics, Gangneung, South Korea, Feb. 22, 2018. Xin Li/Getty Images/VCG
Chinese viewers and commentators reacted with glee. "Dashing! First! Purely clean!" CCTV commentator Liu Xingyu cried with a trembling voice. "There is no problem at all, and there is no need to wait for results to be reviewed."
Zhou Zhe, an avid watcher of this year's games, told Sixth Tone that in the end, she felt the tension had helped push Wu further. "I think he's a superb athlete, but for such a great result, it was a product of the environment as well," she said. "The accumulated pressure of the last few days turned out to be a source of motivation."
Wu's win is the first Olympic gold medal for a Chinese male short track skater. As a rising star at Sochi four years ago, Wu won a silver medal in the men's 500-meter and a bronze in the men's 5,000-meter relay.
This year, Wu followed his solo gold with a silver medal in the men's 5,000-meter relay.
But this year's competition has also seen Chinese and Canadian competitors challenge referee decisions after some controversial calls, and viewers from both countries have called the referees biased in favor of South Korean skaters. Though referees represent the International Skating Union rather than the host country, some viewers have alleged that the referees must have been bribed.
"I find it hard to believe there wasn't a shady deal," said Zhou.
Hong Mengyao, an accountant living in Shanghai, told Sixth Tone that she felt extremely worried for Wu as she watched the 500-meter men's final because of the two South Korean skaters in the arena. "In particular, I feared collisions and then an unreasonable penalty," Hong said. "I don't think it's wrong to have strict penalties, but it made people angry to see different standards."
Another speedskating fan, 27-year-old Huang Shuhan, skipped the CCTV Spring Festival Gala to watch the Olympics with his family. He told Sixth Tone that while he felt relieved when Wu won, the perception of foul play had left a bad taste in his mouth.
"For the Winter Olympics in Beijing [in 2022], I think we need to show the bearing of a great country and offer the world a clean arena," Huang said.
Editor: Qian Jinghua.
(Header image: Wu Dajing waves the Chinese flag after winning gold in short track speedskating at the 2018 Winter Olympics, Gangneung, South Korea, Feb. 22, 2018. Wang Muqing/VCG)