On Wednesday, Chinese microblog platform Weibo released a three-minute video on the topics that sparked the most active discussion from its users in 2017. The 56 trending topics it selected reveal what captured China's attention through the year, from celebrity affairs to calls for justice.
Since its launch in 2009, Weibo has developed into not only a popular social platform, but also a barometer for public debate. According to the company's earnings report from the first quarter of 2017, by the end of March, it had 340 million monthly active users — overtaking Twitter, which is not accessible in China.
Sixth Tone looks at what was trending in the unique environment of the Chinese internet. (In China, the pound symbol encloses a hashtag from both sides.)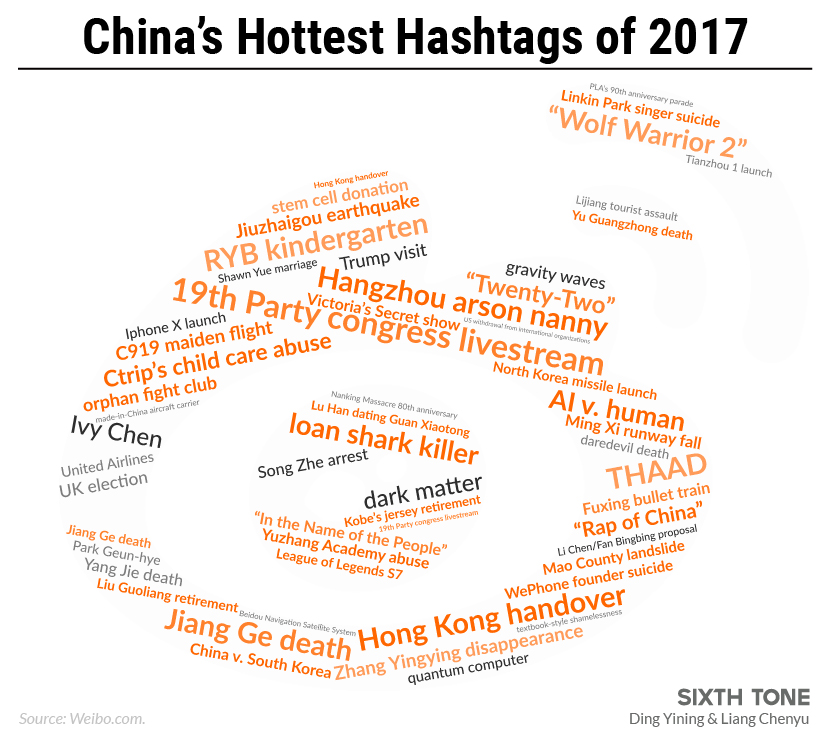 #Patriotism#
Popular patriotism has long been a fascinating feature of social media in China that produces plenty of niche subcultures, from "Little Pinkos" to "Iron Blood."
Last year saw many trending topics that celebrated China's growing strength in science, technology, and defense: the christening of China's first home-built aircraft carrier, the successful launch of unmanned spacecraft Tianzhou 1, the birth of China's first quantum computing machine, and the maiden flight of the Comac C919 passenger jet.
Livestreams of high-profile Party events such as the 19th Party Congress and the People's Liberation Army's 90th anniversary parade also drew large audiences.
"A rising superpower must have a heavy support apparatus. Thumbs up to the brave pioneers who never give up!" one Weibo user commented.
Yet others had questions. "National defense, science, and tech is great and all, but what about the practical issues of people's welfare? What about the basic stuff?" one user asked.
#Justice#
Weibo has also become a popular platform for those seeking justice, who hope that brewing up a social media storm will put authorities or individuals on notice.
On Jan. 24, a user called "I Am Linda" shared her experience of being assaulted while traveling in Lijiang, in the southwestern province of Yunnan, in November 2016.
And on Nov. 18, Zhao Yong, who holds a master's degree in architecture, told the story of how his family had suffered since his father was left in a coma after a car accident — and the driver did not pay compensation. After his post went viral, on Nov. 25 the culprit was taken into custody for 15 days.
#World#
In terms of international affairs, Weibo users trained their eyes on the disgrace of former South Korean president Park Geun-hye and other events on the peninsula, including South Korea's deployment of the THAAD missile defence system and North Korea's missile launches.
The U.S. was another source of hot debate, as Weibo users followed Trump's first China visit and the country's withdrawal from several international organizations and covenants, such as UNESCO and the Paris climate agreement.
#Celebrity#
As a more entertainment-oriented platform than some other social networks, Weibo is home to the fandoms of many celebrities.
In September, the topic of 36-year-old actress Fan Bingbing's engagement to actor Li Chen drew a staggering 530 million readers and countless congratulations. Other nuptials, however, brought tears to the eyes of fans who had long carried torches for their idols: 36-year-old Hong Kong actor Shawn Yue's marriage on Dec. 5 broke the hearts of many of his followers, who had considered him their Prince Charming for over a decade.
The retiring of NBA star Kobe Bryant's two jerseys he wore during his playing days with the Los Angeles Lakers made many fans sentimental. The topic drew 160 million readers, and many memories. "There might be a second Kobe one day, but we won't have a second youth to follow [him]," commented one.
Editor: Qian Jinghua.

(Header image: Shi Yangkun and Wu Huiyuan/Sixth Tone)