The death of a 5-year-old boy and his grandparents earlier this week was committed by the grandfather, who then killed himself, police in southwestern China announced Thursday evening.
The bodies of the elderly couple and their grandson, as well as four other grandchildren who were injured and unconscious, were discovered early Monday morning at their home in the remote village of Fadi, in Yunnan province's Zhenxiong County.
Neighbors noticed fire at the family's home and rushed over to put it out. They found the grandfather, Li Minghua, lying outside with foam at his mouth. The 64-year-old was dead by the time medical personnel arrived.
County police said in a statement Thursday that their investigation, which included an autopsy, had shown Li was responsible for the deaths and injuries, and that he had killed himself by ingesting insecticide.
The other victims were found inside the house. Li's wife, Zhang Zhifei, and one of their grandsons, age 5, had burned to death. They were found holding each other, The Paper, Sixth Tone's sister publication, reported Wednesday.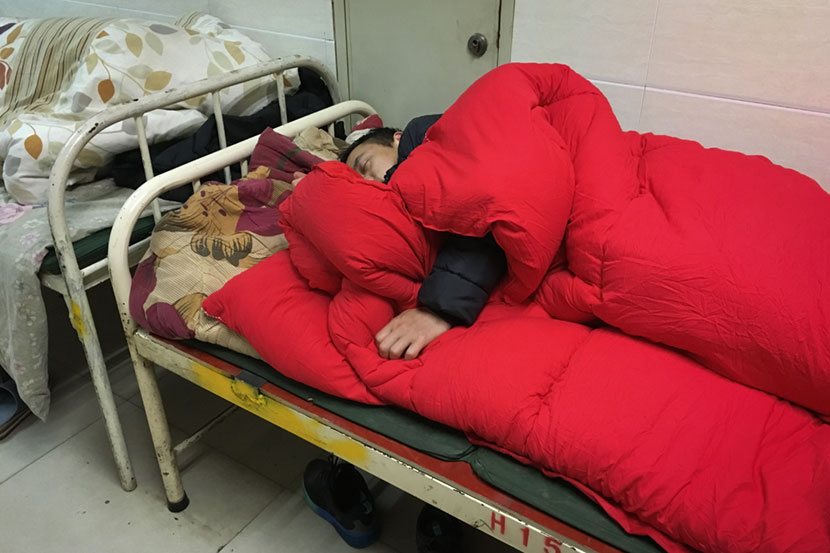 Li Gaobing, the father of two of the injured children, rests at the Zhenxiong County People's Hospital, Yunnan province, Jan. 9, 2018. Wang Xin for Sixth Tone
Of the four injured children, three remain unconscious, The Beijing News said Thursday. All four are still at a county hospital, in critical condition. They were discovered with head wounds, trembling limbs, and foam at their mouths, according to The Paper.
The village's Party secretary said earlier that whoever was responsible had likely hit the children on their heads and then set the house on fire.
All three of Li's sons and their wives live far away from home in coastal provinces, where the men work in construction. They had left five of their children, aged 5 to 10, in the care of their parents, Li and Zhang, who raised animals and grew corn. Their remote village in the mountains is a two-hour drive from the county seat.
Police told the family they heard from neighbors that Li had recently been in a confused state of mind and had been acting strangely.
Li Gaobing, father of two of the injured children, told The Beijing News on Friday that the day before the murders, he had received a call from his father, who was distressed and nonsensical.
Li Minghua, his wife Zhang, and their grandson were buried on Thursday morning.
This article has been updated with additional information.
Editor: Qian Jinghua.
(Header image: An external view of the Li family home in Zhenxiong County, Yunnan province, Jan. 9, 2018. Wang Xin for Sixth Tone)