SHANGHAI — Despite reports earlier this year that publishers are under orders to reduce their imports of foreign children's books, non-Chinese publications continue to dominate the shelves at the ongoing China Shanghai International Children's Book Fair (CCBF).
Now in its fifth year, the three-day fair presents more than 60,000 different children's books from China and abroad, tailored for ages 16 and under. Over 300 publishing houses and related businesses attended this year's CCBF, which is being held at the Shanghai World Expo Exhibition and Convention Center until Sunday.
"We got more than 100 of our original children's books translated into Chinese in 2016. This figure kept growing at a steady pace in the past few years," said Joo Jinhee, foreign copyrights manager for South Korean publishing house Woongjin Thinkbig. "We reached copyright agreements with quite a few Chinese publishers during past fairs, and we expect the trend will continue to be thriving and promising."
Joo told Sixth Tone that although some of her publishing house's Korean titles — which mostly cover history and social sciences — might not be suitable for Chinese readers due to their region-specific content, most of Woongjin's illustrated books cover subjects that present no such barriers, such as math, English, art, and natural sciences.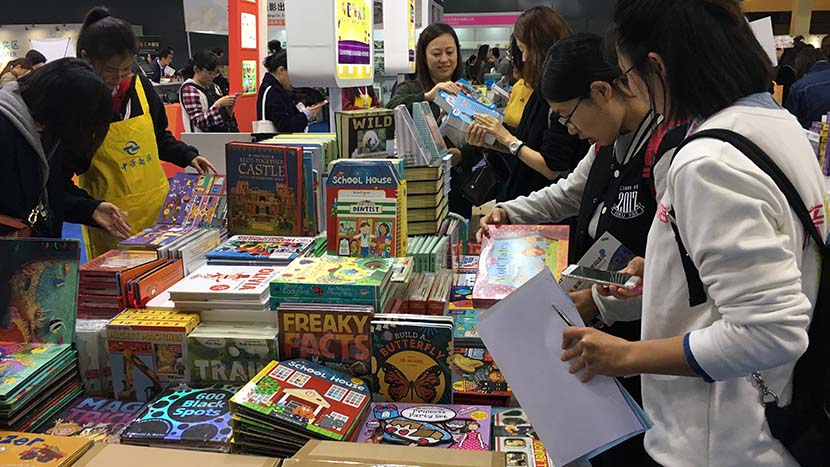 Visitors choose chilren's books during Shanghai International Children's Book Fair, Nov. 17, 2017. Ni Dandan/Sixth Tone
At the booth of Leo Paper Group, a Hong Kong-based company that connects foreign publishers with their Chinese counterparts, shelves are stacked with illustrated books in various foreign languages, including English, Spanish, and French.
Yu Zhangqing, the company's business manager, told Sixth Tone that he was aware of China's restrictions on imported children's books, though he believes this came about due to the popularity of imported books making it difficult for Chinese titles to gain traction. "Based on our experience, the imports of children's books last year more than doubled from 2015," Yu said. "The growth has been crazy, and a great proportion of this growth has come from imported books."
Home to more than 300 million children, China presents the world's largest market for such books. According to a report by state news agency Xinhua, around 40,000 children's titles of all kinds are published in China every year. However, in 2015, over 15,500 titles were imported, and only about 8,000 Chinese works were exported. Still, the nearly 2-to-1 ratio marked the best year for Chinese books in two decades — it was once 48-to-1.
At CCBF, finding an original Chinese title is still difficult, especially for illustrated works. Wang Hedong, of Greenland Creative Company in Taiwan, told Sixth Tone that given the much longer history of illustrated children's books in the West, foreign illustrators have a leg up over their Chinese peers.
"Foreign publications can better inspire young readers' imaginations and creativity with their painting skills and the logic behind their pictures," Wang said, explaining that foreign illustrations are more abstract and leave more to the imagination. "Chinese children's books, meanwhile, are better at storytelling through words."
At the fair, many parents are browsing books for their children, and few are surprised to find that most titles on offer are foreign, having been translated to Chinese or English. "I've gotten used to the fact that regardless of whether they're in Chinese or English, most of the books that my daughter reads are written or illustrated by foreign authors," said Yan Lin, the mother of a 4-year-old.
Yan told Sixth Tone that she saw how this might hamper the development of Chinese publishing houses, but said she doesn't mind. "While my daughter finds interest in these books," she reasoned, "she can pick up some simple English at the same time."
Editor: Kevin Schoenmakers.
(Header image: Children and adults read and shop at a bookstore in Chengdu, Sichuan province, Sept. 2, 2017. Lü Yi/VCG)