HENAN, Central China — In the final minutes of the game, kung fu master-turned-soccer player "Mighty Steel Leg" Sing launches into the air and, with a seemingly light kick, sends the ball flying at supersonic speed, knocking the opposing team's goalkeeper and other players back several feet into the net.
But the scene from 2001 Hong Kong comedy film "Shaolin Soccer" is nothing like what Chang Yirong and her classmates are learning in real life, says the Shaolin Tagou Wushu School student. "It's too much like science fiction," Yirong says.
The 14-year-old is one of more than 1,400 students enrolled in the newly launched soccer program at Tagou, a prestigious private martial arts school in the rolling hills near Shaolin Temple in Dengfeng, Henan province. The program, which aims to groom a new generation of soccer talents, is part of President Xi Jinping's plan to transform China into a soccer powerhouse.
So far, China's only appearance at the FIFA World Cup was in 2002, when the team failed to score a single goal. The team's lackluster performance then and in subsequent games riled Chinese soccer supporters. As a fan of the game himself, President Xi laid out a 50-point blueprint to propel Team China up the world rankings. By 2020, the country aims to build 20,000 training centers and 70,000 pitches. Also by that year, 50 million citizens — including 30 million school-age children — will play soccer regularly.
The long-term goal is for China's national team to win the FIFA World Cup. Currently, the men's team ranks 57th in the world, with its highest ranking of 37th achieved in 1998. The women's team is doing much better, currently sitting at 13th in international rankings.
Two years ago, Tagou and the Henan provincial sports bureau jointly launched a unique soccer program that incorporates elements of kung fu to help China realize its dream of soccer greatness. "We are a martial arts school; as both martial arts and soccer are sports, they share similarities in training," says Xie Gentong, the director of the soccer program. "The Chinese government also attaches great importance to soccer."
With tuition fees set at 16,000 yuan ($2,400) per year, Tagou is one of the cheaper sports schools in the area. Other specialized soccer schools, such as Evergrande Football School in southern China's Guangdong province, cost more than three times that amount.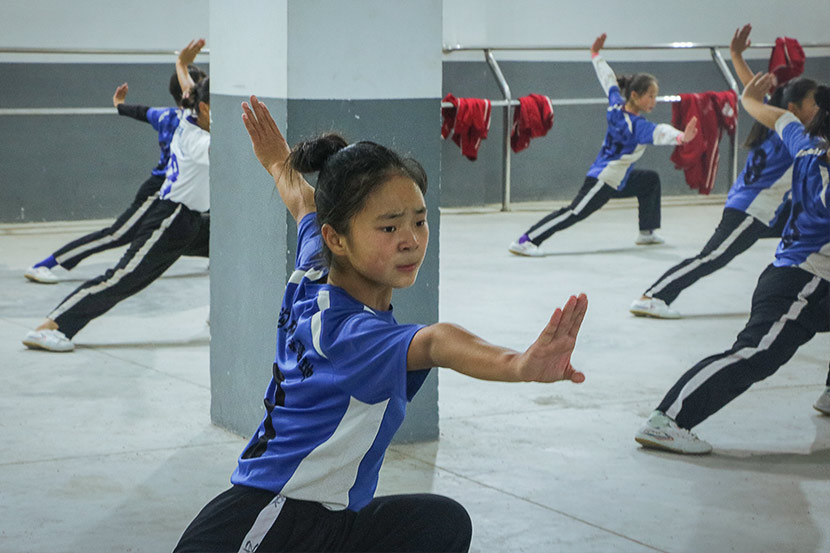 Chang Yirong, 14, participates in martial arts training at Shaolin Tagou Wushu School in Dengfeng, Henan province, Oct. 18, 2017. Yin Yijun/Sixth Tone
Tagou's trial soccer classes intrigued Yirong, who was specializing in martial arts at the time. "Running on the grassy field makes me feel in command," says the slim, tanned teenager, who is a forward on her team. "The more I learn about soccer, the more I love it."
Yirong didn't get to play on grass until May this year, when the school's new soccer field was completed. Before that, she and her teammates practiced in a brick courtyard on campus. The provincial sports bureau plans to provide 1.5 million yuan in annual funding for 2017 and 2018 to further develop the program, according to bureau official Ma Hong.
However, Xie believes there are many challenges ahead. "Our biggest problem is the lack of [professional soccer] coaches," he says. Tagou has 58 coaches in total, each in charge of around 20 students. However, most of them only have experience teaching martial arts, not soccer. Some instructors have participated in soccer coach training run by the provincial soccer association, but even with the training, they can only teach basic skills and lack the expertise to coach the school's top teams. Tagou has only six experienced soccer coaches, three of whom are from Barcelona, Spain, and have a background in training young players. They are expecting a fourth coach from Barcelona this month.
A kung fu protégé-turned-coach, Wen Lihua has witnessed the program's development from the beginning. The 30-year-old took a teaching position at the school after a brief career as a professional practitioner of sanda, a form of traditional Chinese freestyle combat.
Although not a soccer fan, Wen saw great potential in what the school was doing. "This is a shortcut to developing soccer in Henan and [all of] China," he says. He believes the kids in the program, who have already endured rigorous martial arts training, have what it takes to learn another sport: a strong physique and a tough mind.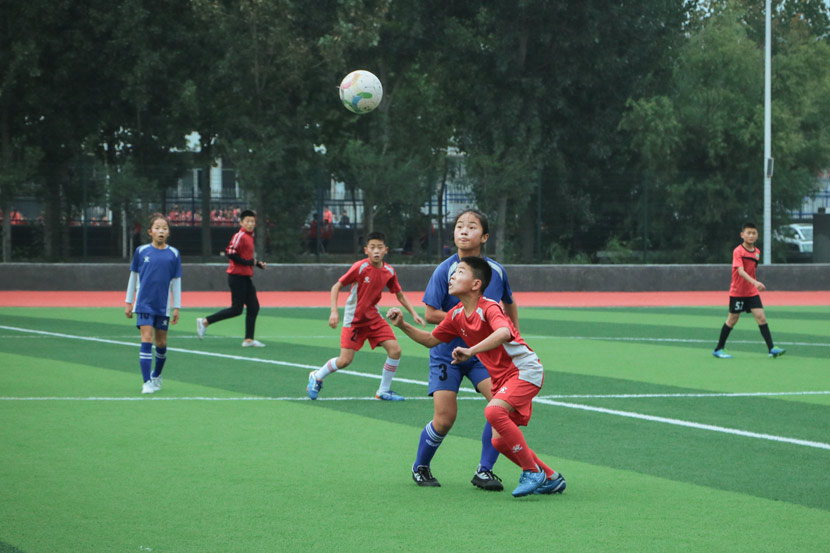 Chang Yirong (center, in blue) plays soccer at Shaolin Tagou Wushu School in Dengfeng, Henan province, Oct. 18, 2017. Yin Yijun/Sixth Tone
The soccer program currently enrolls students aged 7 to 14 and divides players into two groups. Those 10 and older are put into "key classes," which train six days a week, whereas the younger students only practice soccer twice a week.
Yirong is in the former category and plays on the school's best team. She gets up at 5:30 every morning, spends half the day in mandatory academic classes — such as languages and math — and devotes the rest of her time to rigorous kung fu and soccer training.
Tagou is run like a military school. The more than 30,000 students must ask for permission to leave campus, and the year-round curriculum means that Yirong can only visit her family — who live an hour and a half away from the school by car — once a year during the monthlong Chinese New Year break. Even on visits home, she can barely put down her soccer ball and continues to practice the skills she has picked up at school.
Though she isn't learning the gravity-defying Shaolin Kung Fu moves from the movie, Yirong says she believes kung fu can give her and her teammates an advantage. "We kung fu kids are physically stronger," she says while performing a leg-sweeping technique with ease, "and some kung fu moves are related to soccer."
In Yirong's mind, the secret to success is not kung fu or innate talent in any sport, but rather hard work. She admires Argentine athlete Lionel Messi more than Portuguese player Cristiano Ronaldo for this very reason: "Ronaldo was born with talent," Yirong says, "but Messi is different because he actually worked hard to get to where he is today."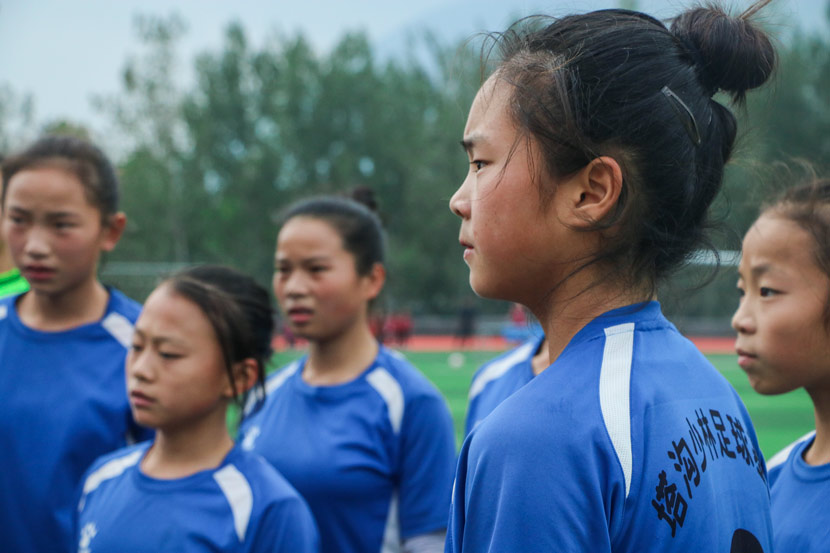 Chang Yirong (front) and her soccer teammates listen to instructions from their coach at Shaolin Tagou Wushu School in Dengfeng, Henan province, Oct. 18, 2017. Yin Yijun/Sixth Tone
Yirong dreams of becoming a star player like Messi, but her path hasn't been smooth thus far. She still remembers her first match last year: The team had been training together for only a few months when they played against a local public school and lost 0-9. "We all burst into tears as we left the field," she says. But with guidance from professional coaches and intense training in the months since, Yirong says a shutout like that will never happen again.
Not everyone involved in the program is enthusiastic about mixing kung fu and soccer. "It's better if they only play soccer all the time," says Spanish coach Mateu Muñoz Servera, the head coach of Yirong's under-14 women's team, "but I think kung fu is another tool to increase [soccer ability]. For example, they have more flexibility."
Despite skepticism about the "bold trial" — as the director of the provincial sports bureau called it — Yirong's parents are supportive of what she is doing, with some reservations. "To be honest, I don't want my daughter to suffer [from strenuous training]," says Yirong's mother, 44-year-old Chang Xueli, "but there is no use forcing her to do things she doesn't like." Chang says she recalls visiting Tagou on several occasions and finding her daughter injured, only to have Yirong assure her family that she was fine out of fear that they might withdraw her from the school.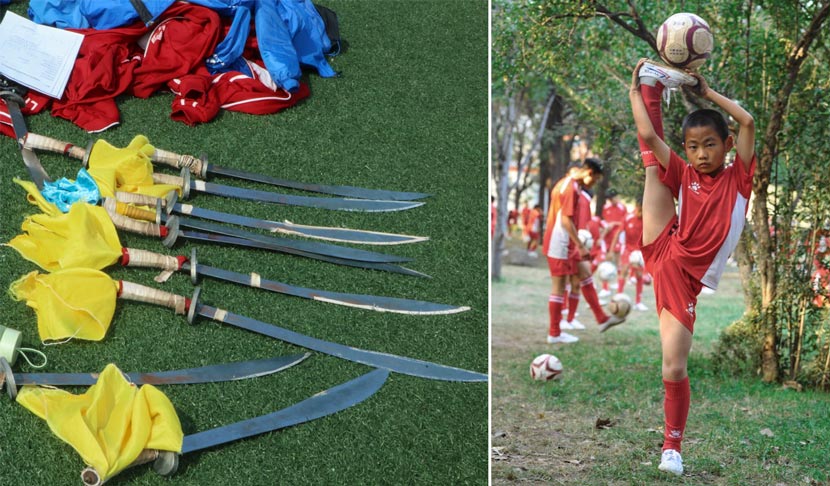 Left: Swords for martial arts training lie on the grass at Shaolin Tagou Wushu School in Dengfeng, Henan province, Oct. 19, 2017. Yin Yijun/Sixth Tone; right: a student poses for a photo at Shaolin Tagou Wushu School, Oct. 16, 2016. Courtesy of Shaolin Tagou Wushu School
Some parents of Tagou students are far less supportive of the school's soccer offerings. Coach Wen says he has encountered many families who would only ever consider enrolling their children in the martial arts program. "Soccer is just a hobby in the minds of the older generation," he says. "They think martial arts is a legitimate skill, a normal career path."
Yirong's mother also worries about her daughter's future in soccer. Compared to the 16 men's teams in the Chinese Super League, there are only eight teams in the Chinese Women's Super League. To improve Yirong's career prospects, her mother considered transferring her to Evergrande but was dissuaded by the high tuition fees, set at 55,000 yuan per year.
Despite receiving substantial funding and support from the government, the national teams are far from achieving global dominance in soccer. China's women's team is just a shadow of its 1999 self, when the team played the United States in the FIFA Women's World Cup final. In recent years, the team has seen few victories in international tournaments.
With the future of soccer in China uncertain, Chang is anxious about where her daughter will end up. "Chinese soccer is not doing well right now," she often tells Yirong.
But her daughter always responds, "As I improve, Chinese soccer will also get better."
Editor: Doris Wang.
(Header image: Students practice martial arts at Shaolin Tagou Wushu School in Dengfeng, Henan province, Oct. 19, 2017. Yin Yijun/Sixth Tone)