INNER MONGOLIA, North China — With each passing second, firefighter Ma Fengkui saw the flames engulf more and more trees, the blaze lighting up the night sky. "It was as if fire-breathing dragons were flying across the sky, like a scene out of a sci-fi movie," Ma recalled.
The weeklong effort to control the blaze — which destroyed 115 square kilometers of forest in the Inner Mongolia Autonomous Region in May — was the 17-year-old's first mission as a firefighter. As he worked to tame the fire alongside his colleagues, he was pushed to his limits, choking on smoke and fighting to ignore his hunger, thirst, and fatigue.
Although the fire was one of the biggest Ma's team had to fight this year, it was just one of 2,841 forest fires recorded in China between January and August, an almost 40 percent rise from the previous year. Li Shuming, deputy director of the National Forest Fire Prevention Headquarters, attributed the increase to extreme weather that resulted in drought, high temperatures, and lightning in the densely forested region.
The forest of the Greater Hinggan Mountains spans an area half the size of the Alps, making it the largest wooded area in China. Home to birch and larch trees, bears, tigers, lynx, and reindeer, the sparsely populated region is one of the best-preserved ecosystems in the country.
The firefighters' approach to most blazes is to put them out with extinguishers strong enough to move bricks, and to contain the spread by creating a so-called control line — a barrier of land that has been cleared, dug up, or burned out to stop the fire from advancing. For especially large fires, airplanes carrying water are used to extinguish the flames.
With water hoses and an assortment of hand tools, Ma is part of a group that clears vegetation and hazardous materials that could reignite the fire. His team often spends days clearing a site. When they run out of food, they eat ants and tree bark.
The first firefighting mission sent out to protect the area in the early 1950s comprised 450 men on horseback. Today, the Inner Mongolia Greater Hinggan Mountains forestry corps division under the People's Armed Police Force — commonly known as "forest troops" — have replaced their horses with modern fire trucks.
The division's headquarters are located in the remote city of Yakeshi, near the Russian border. The firefighters' work takes them hundreds of kilometers into the mountains, where their heroism goes unnoticed by the public.
Firefighters prepare for a drill in the Greater Hinggan Mountains near Hulunbuir, Inner Mongolia Autonomous Region, Sept. 21, 2017. Li You/Sixth Tone
When they're not fighting wildfires, the region's thousand or so forest troops stay on military bases, training, resting, and awaiting orders — even in the winter, when the risk of forest fires drops along with the temperature. Only on weekends are they given permission to leave the camp for two hours, time they usually spend shopping for groceries. Occasionally, soccer games are organized to raise their spirits.
When satellite images, patrol rangers, or fire lookouts spot flames in the mountains, the troops must spring into action in an instant. Injuries occur but aren't recorded, and it's been years since anyone has lost their life protecting the forest, local officials told Sixth Tone.
Encounters with bears roaming the area can be dangerous, but most of all, the firefighters fear getting lost. "The trees in the old-growth forest are dense," Ma said. "You can lose sight and sound of one another within just 50 or 60 meters."
In early July, lightning caused fires to break out almost instantaneously in six different areas of the forest. The troops, mostly young men like Ma, were dispatched to extinguish the flames. During the mission, 26-year-old Shao Xiaowei was sent to retrieve backup batteries for the team's walkie-talkies from a temporary supply station an hour away. "It was late at night when I started," Shao said. "I was so afraid of getting lost."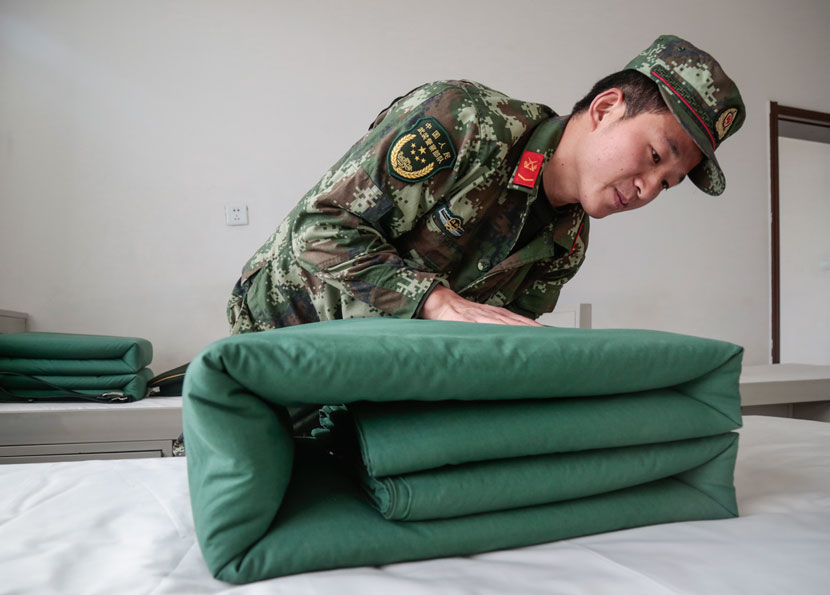 Shao Xiaowei, 26, folds his bedding at the military base where he is stationed in Yakeshi, Inner Mongolia Autonomous Region, Sept. 23, 2017. Li You/Sixth Tone
When firefighters are sent to fetch water, food, or other materials during their dayslong missions, they are typically given a two-way radio to communicate with their team. But deep in the mountains, the signal is weak. Firefighters are trained to stick to areas that are completely burned out to minimize the risk of encountering wild animals and to stand a better chance of being spotted by other firefighters. The night Shao went to retrieve batteries, he wasn't carrying a walkie-talkie. He got lost on the way, shouting into the pitch-black night for help.
Eventually, he heard the faint voices of his colleagues responding in the distance, and two hours later, he had managed to navigate his way back.
Despite the dangers, Shao said he enjoys his work as a firefighter — but he's uncertain whether he will extend his contract with the force. His parents, he said, are getting old, and his job prevents him from visiting them more than twice a year. The young man also said that by working in the remote wilderness, he has struggled to find a girlfriend.
While Shao contemplates his future as a firefighter, Ma — the only son of a family from Hohhot, the capital of Inner Mongolia — is hoping to stay on. Young men from urban centers don't typically choose this career path, but Ma had few options after failing the national college entrance exam last year. The job, he said, wasn't what he expected. "In the beginning, I was disappointed because the [firefighters] don't use guns," Ma said. But he is proud to do the job now and hopes to pursue a college degree in the military.
Despite the tough conditions firefighters face, one draw is the tight-knit community. Looking out for one another is part of the job, and part of what makes many stay until retirement — which is set at 35 for high-ranking officers like Ma and Shao's squadron leader, Meng Canfei, in an effort to give fresh blood the opportunity to rise in the ranks.
After 17 years of service, it's time for Meng to retire. A strong team spirit has always defined the forest troops, and this sense of belonging makes him reluctant to leave. He still has vivid memories of his early days on the force, when he was a rookie who followed his leader's orders without hesitation.
Back then, before they started using walkie-talkies, the firefighters carved signs into trees to leave a trail for lost troops. "[My instructor] would tell me to follow him closely," Meng recalled. "He didn't talk much and didn't have much of an education, but he was reliable — so I followed him."
Editors: Denise Hruby and Doris Wang.
(Header image: Firefighters run toward flames during a drill in the Greater Hinggan Mountains near Hulunbuir, Inner Mongolia Autonomous Region, Sept. 21, 2017. Li You/Sixth Tone)