SICHUAN, Southwest China — Compared to last year's 40,000 daily visitors, Jiuzhaigou National Park is unnaturally calm this week.
The UNESCO World Heritage site, a forested valley famous for its bright blue and green lakes, remains closed to tourists following a magnitude-7.0 earthquake that hit the area on Aug. 8, killing 25 people and injuring more than 500.
The park's closed gates put nearby businesses that depend on Jiuzhaigou's steady stream of tourists in a bind. On Monday, Sixth Tone's sister publication The Paper visited the area, and found none of the traffic jams and throngs of people that are common sights during Golden Week — the period following National Day, Oct. 1, that hundreds of millions of Chinese spend travelling.
October should have been the peak season for the restaurants, shops, and hotels near Jiuzhaigou: Nearly 210,000 people visited during last year's Golden Week, according to statistics on the park's official website. Instead, businesses are treading water.
An official at the Jiuzhaigou administration office told state news agency Xinhua Saturday that the park is currently still taking stock of what will need to be repaired. "As for when [the park] will open, we will first need to be evaluated by UNESCO and other organizations, and I predict we'll have to wait one to three years," they said.
Some of the shops and restaurants that sustained damage during the earthquake are using the downtime to rebuild or refurbish. Others find ways to cope.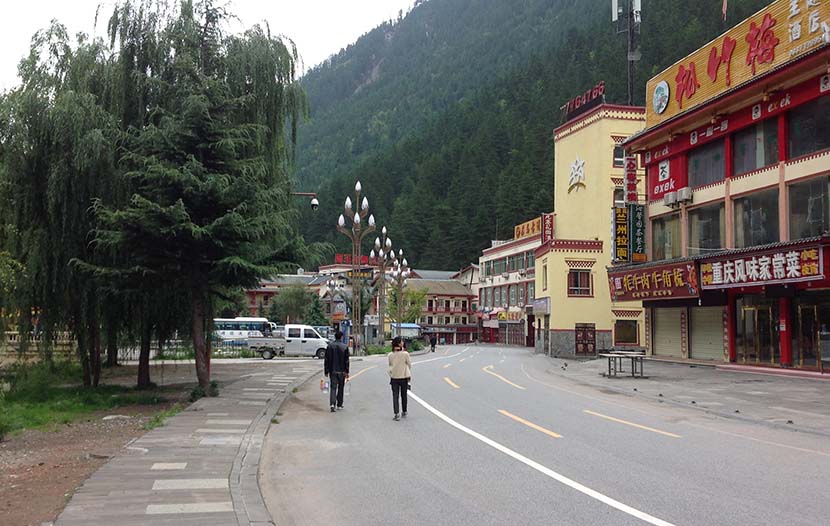 Residents walk by closed businesses outside Jiuzhaigou National Park in Sichuan province, Oct. 2, 2017. Wang Xin for Sixth Tone
Song Xiaocui, manager at Howard Johnson Tianyuan Resort Jiuzhaigou, told The Paper that the hotel's 900 rooms were all occupied last year from Oct. 2 to Oct. 6. "Moreover, it was fully booked half a month in advance," she said. The hotel has retained 83 employees to reduce layoffs among the local population, but because there are no guests, all staff will be transferred to a skiing resort elsewhere in Sichuan later this month.
Ma, the operator of a restaurant about a kilometer from the nature park's entrance, fondly remembers the usual National Day holiday bustle. "There would be a tremendous number of cars on the road, and there'd be people as far as the eye could see," he sighed, sitting at the door of Famous Chengdu Snacks, cutting garlic.
A day after the earthquake, Ma and his wife left Jiuzhaigou. Only last week did they return from their hometown Suining, also in Sichuan province, to use up their restaurant's inventory. When that's done, Ma plans to find work elsewhere, and return to Jiuzhaigou when the tourists do.
During the Golden Weeks of past years, Ma recalled, "there would be 30,000 to 40,000 people in the valley, and 20,000 more outside." Their daily sales would reach 4,000 to 5,000 yuan ($600 to $750), Ma said. It would be frantically busy, but business was good. Now, Ma's restaurant has basically no diners — fewer than 10 customers have walked through their doors in the week since they returned.
The owner of a nearby supermarket, Li Changliang, told The Paper that during peak season, customers would form long lines at the counters: "Our two cash registers couldn't keep up."
Li's supermarket sustained almost no damage during the earthquake, and he reopened the day after. But according to his rough calculations, his sales over the nearly two months he's been open since still don't amount to what he would sell in a single day during last year's Golden Week.
However, Li plans to stay. "Whether or not I'm open, I'll lose money anyway," he said. "I might as well remain open. Every sale is a sale, and it's a convenience for the local population. It's nearly Mid-Autumn Festival; they'll want to have a drink, or buy a pack of cigarettes."
A Chinese version of this article first appeared on the website of The Paper, Sixth Tone's sister publication.
Translator: Kevin Schoenmakers; editor: Kevin Schoenmakers.
(Header image: An aerial view of Jiuzhaigou National Park in Sichuan province, Sept. 30, 2017. VCG)