Health inspectors in Shenzhen, a tech hub in southern China, recently punished a local clinic for selling fake medical certificates to customers who were looking to take days off work under the pretense of an illness, local authorities said on their public account on messaging app WeChat.
Healthy patients in need of free time could pay a 20-yuan ($3) appointment fee at Chengzhi Clinic, in the city's Longgang District, and walk out with a sick note, according to the report, which was published Sept. 6 but only picked up by media on Wednesday. A photo of one of the clinic's notes showed that the "patient" was diagnosed with stomach flu and prescribed four days' rest.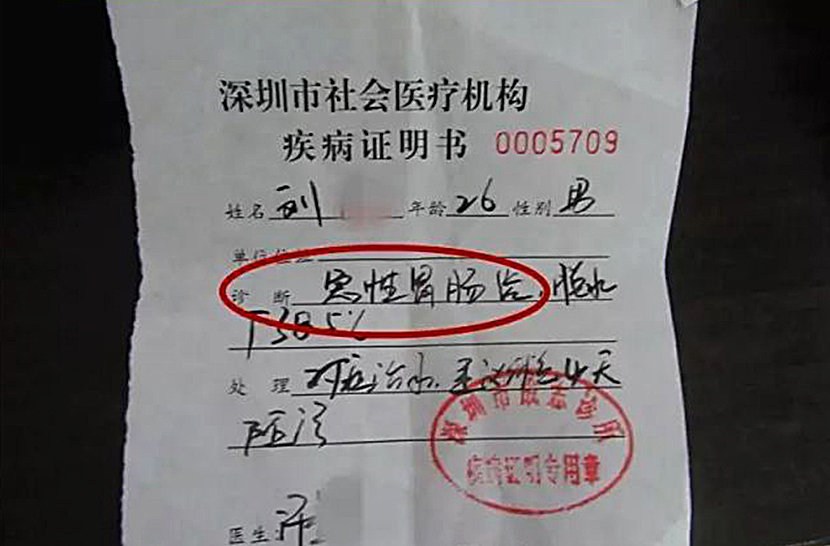 One of the fake sick notes shows a 'patient' diagnosed with gastroenteritis. From the WeChat public account of the Shenzhen Health Inspection Bureau
Although the doctor in charge denied involvement in the scheme, claiming someone else had taken his shift and signed the certificate, the clinic was fined 20,000 yuan for forging medical documents.
Apart from the government-set schedule of national holidays, many Chinese companies are stingy with annual leave, yet take attendance into consideration for year-end evaluations or deduct wages for time off. Feigning an illness circumvents such rules, spawning a lively trade in fake sick notes, both online and at brick-and-mortar clinics with questionable ethics.
Posing as a potential customer, Sixth Tone contacted a fake sick note dealer on messaging app QQ. The dealer sent samples of forged sick notes from major hospitals located in different cities of China, some including handwritten signatures from doctors employed there. "If the company doesn't check with the hospital, there will be no problem," said the dealer, who charged 90 yuan per forged note.
An employee from the client services center at Nanjing Drum Tower Hospital, which was one of the institutes the dealer had on offer, pointed out that the sample note was a flawed forgery. "The seal used in the sick note is different from what we use for medical certificates," she said, adding that, in any event, her service center would usually confirm the content of a sick note with the doctor who signed it to avoid unwittingly putting its seal on a fake. She said companies rarely call to confirm the authenticity of their employees' notes.
Zhai Hongli, executive director of the medical law and ethics center at China University of Political Science and Law in Beijing, told Sixth Tone that forged sick notes can lead to serious legal disputes. "Because a sick note is a medical document, it may be used as evidence in court," she said, though she added that fraud involving sick notes isn't as common as it used to be because many companies no longer require such notes from their employees.
In July, a man in eastern China's Anhui province took 17 months of sick leave using fake notes he had purchased online. During this extended recuperation period, he continued to receive a salary — but a local court later found him guilty of defrauding his company of 76,500 yuan.
Editor: Kevin Schoenmakers.

(Header image: Two blackboards sit outside a temp agency in Wuxi, Jiangsu province, Nov. 3, 2015. The board on the right reads, 'Selling sick notes.' Su Nong/VCG)