These days, it's common for us to evoke the cultural relics of China's rural villages in poignant terms: They are the "last in existence," the "remaining few."
The Miao people, who have resided in the villages of Qiandongnan in southwestern China's Guizhou province for countless generations, have in recent years fled in droves to cities on China's southeastern coast in the hope of finding informal work. In their pursuit of modern living, the inevitable loss of tradition is believed by many to be only a matter of time. As a result, the artisanal works that encapsulate the spirit of the Miao people have, too, been labeled as the last of their kind: the last embroidery, the last wax prints, the last brocade tapestries.
Fortunately, some villagers have returned to their hometowns to save their endangered cultural relics. Since 2010, two of my good friends, Yu Ying and Pan Hui, have made saving these relics the focus of their life's work. I joined them a year later.
We hope to turn locally produced artisanship into modern consumer goods, using the market as a means of supporting the beautiful, but vulnerable, rural lifestyle of the remaining Miao people. We didn't expect, however, that our work would also be a source of empowerment for Miao women, whose voices have long been silenced.
On arriving in the villages of Qiandongnan, Yu and Pan soon found that only male villagers were ever present at business negotiations. There was one glaring problem: Women, mainly those in their 30s and 40s, were the ones who actually did the embroidery. Despite being responsible for the vast majority of household chores and farmwork, the women in these villages had been relegated to subordinate social roles, refraining from openly expressing their opinions and not daring to eat with men at the dinner table.
Yu resolved to ensure that women would have seats at the table in any future discussions about embroidery, instead of the men who, she said, spent all day taking their pet birds for walks and drinking rice wine.
In Qiandongnan, embroidery, weaving, and wax printing used to be indispensable skills for women. They not only were seen as a measure of a woman's wisdom and good morals, but also ensured that she would look beautiful on her wedding day.
But as the lifestyles of people in more developed regions began to encroach on these remote villages, traditional artisanal works and lifestyles went into mutual decline, and blood ties were cut. Many local women began to feel that their resplendent traditional attire was tu — rustic and unsophisticated, detached from the modern Chinese pursuit of all that is international and cosmopolitan.
In the past, a culture of embroidery blossomed throughout the villages, but until recently, this culture was withering away. The first time they heard that they could sell their handmade embroidery for money, the women exclaimed: "Really? Machines these days can embroider so well; why would you want us to do it by hand?"
Yu could only patiently remind them that the reason why Miao embroidery is so valuable is because it still forms an important part of life in the villages, and because it vividly represents the unique wisdom that this ethnic group has accumulated over hundreds of years. "Each of you has your own imagination," Yu explained. "Even if the patterns look similar, works differ from one person to the next." The value of Miao embroidery lies in its preservation of humanity's most precious qualities: freedom and spontaneity.
During all of our company's training sessions, we snap portraits of the embroiderers. Every time one of them sees her picture for the first time, she gasps in awe. These portraits not only crystallize the noble spirit of the embroiderers, with all their hopes and dreams — but also reveal the immense history of the Miao people as a whole.
However, whenever a man was present during the first series of training seminars, the women would instinctively make themselves scarce. Even more shockingly, during our initial research phase, our embroiderers would prepare elaborate banquets for us, but — to our dismay — were not allowed to join us at the table. We protested: "If they can't join us, then we won't eat!"
Gradually, with much encouragement, the women eventually plucked up the courage to join us at the dinner table. But an even more memorable shift in mentality came when the embroiderers received their first pay check. At first, they nervously murmured that the money should be given directly to the men in their families. That's right: These women had never before handled money in their lives — they were financially dependent on their husbands.
"No," we insisted. "Even if you give the money to your husbands the moment you get home, we want you to be the ones to receive it now, and we want your signatures — not theirs. If you don't know how to write, you can sign with a fingerprint." Sometimes, we help the embroiderers who lack a basic education to sign by holding their hand and slowly drawing the characters in their names, stroke by stroke.
Acquiring their own source of income quickly encouraged the embroiderers to think in more independent terms. Having remained silent for many years, these women discovered, in the flurry of the embroiderer's needle and the wax knife, a means of self-expression. They began to learn how to handle financial matters and work out a budget. Later on, after the women had contributed to their household budgets for several months, the men began to view them in a different light. Many embroiderers became the pride of their village.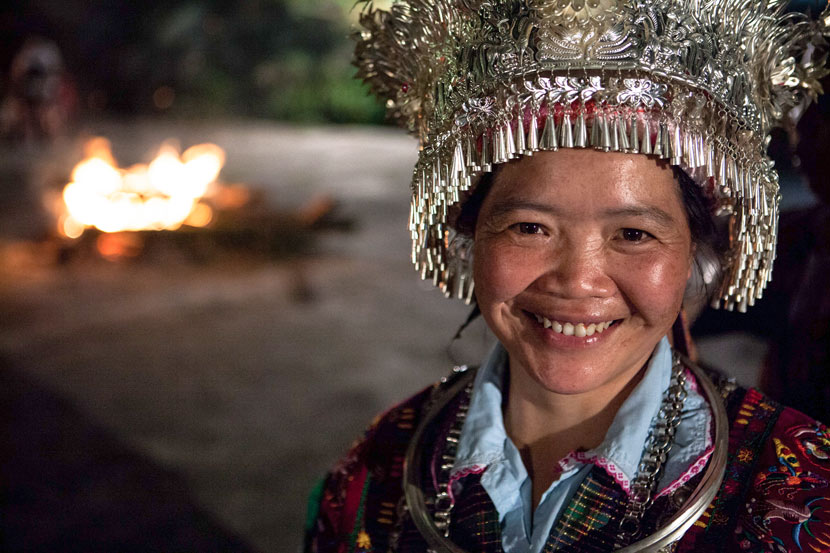 Wu Ruqun, an embroiderer from Miao ethic group poses for a photo in Paizuo Village, Danzhai County, Guizhou province, July 11, 2012. Courtesy of He Bowen
Take Wu Ruqun, for example. This 45-year-old embroiderer from Paizuo Village, was originally one of the women who at first didn't dare join us at the table. Prior to 2009, she made her living through hard labor on construction sites across southern China's Guangdong province, as she was illiterate and lacked a basic education. But now, she is a teacher to thousands of students. By participating in our project, she is imparting her precious culture to future generations of Miao people.
Embroiderers are not the only group of workers reviving China's rural economies through the sale of artisanal crafts, but they are undoubtedly the soul of our initiative. After all, these women were historically at the heart of their villages' prosperity. Until recently, they received little acknowledgement or reward for doing so.
Now, when you visit Wu's home, her husband is the one who prepares the welcome feast. Sometimes, he even asks his wife if the food is up to her high standards. It is another little sign that, slowly but surely, we can protect traditional cultures even while we advocate more modern attitudes to gender roles.
Translator: Lewis Wright; editors: Wu Haiyun and Matthew Walsh.
(Header image: Embroiderers from Miao ethic group pose for a photo in Danzhai County, Guizhou province, April 15, 2011. Courtesy of He Bowen)