Finally, an instance in which beef between geopolitical rivals isn't such a bad thing.
With the first shipment of U.S. beef in over a decade arriving in China on Wednesday, Sixth Tone's sister publication, The Paper, took a look back at the winners and losers of China's 14-year ban on American beef in the wake of the mad cow disease scare in late 2003.
That year, the U.S. was the second-largest exporter of frozen beef to mainland China after Hong Kong — whose opacity when it comes to goods coming, changing hands, and going makes it a major player in the so-called gray market — and ahead of Australia and New Zealand. After the ban went into effect, however, new bovine business partners began to emerge, including Uruguay, South Korea, Brazil, and — briefly — India.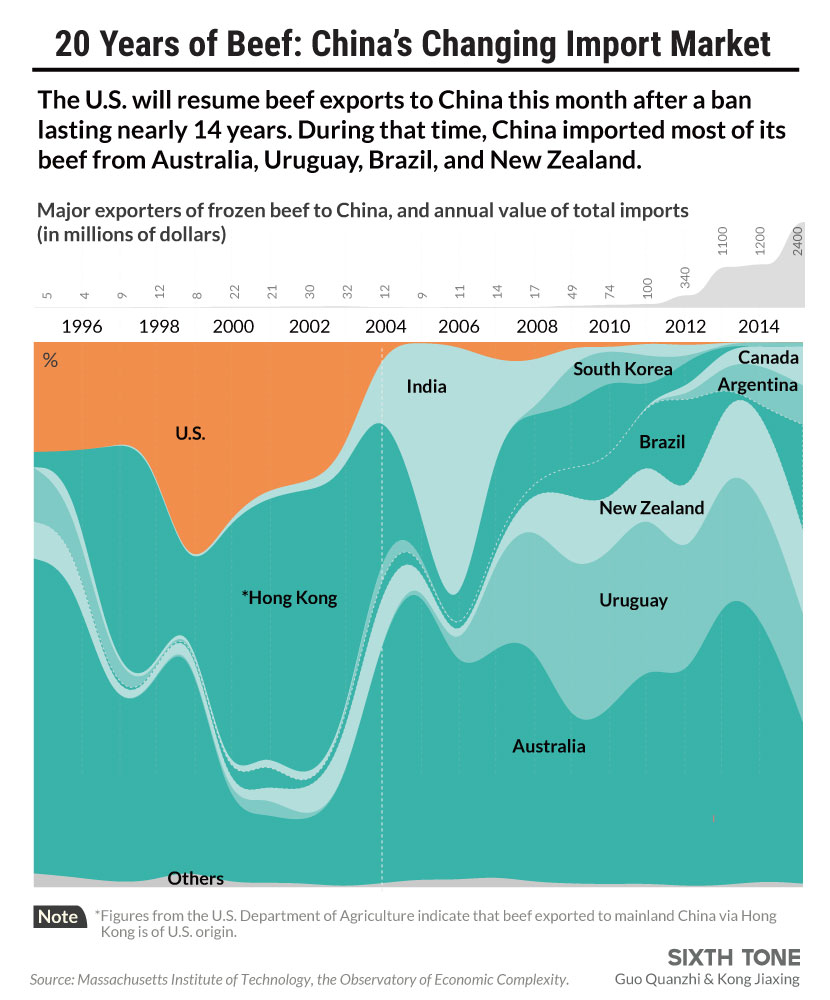 According to the U.S. Department of Agriculture (USDA), 70 percent of beef imported to China before the ban took effect came from the U.S., suggesting the vast majority of beef imported "from Hong Kong" was in fact of American origin.
In 2015, the last year for which data is available, China received 84 percent of its imported frozen beef from Australia (30 percent), Uruguay (20 percent), Brazil (19 percent), and New Zealand (15 percent). Brazil, along with Argentina and Canada (7.2 percent each), is a relative newcomer to the group, as China also banned beef imports from these three countries from 2001 to 2009.
China's deputy finance minister, Zhu Guangyao, named July 16 — 100 days after the meeting between presidents Xi Jinping and Donald Trump at the Mar-a-Lago resort in Florida — as a tentative date for resuming beef imports from the U.S. The two countries agreed in 2016 to allow U.S. beef back on the Chinese market, but trade did not resume until this year.
But Reuters reported that the first shipment of American beef left for China on June 14, two days after Washington finalized a deal to resume exports. Henry Davis, CEO of Greater Omaha Packing, the company behind the shipment, told Reuters that each box on the flight was labeled in both English and Chinese.
As part of the new deal with China, American beef producers will have to comply with a host of quality control standards. Cattle earmarked for beef export to China must be traceable to their birth farm (or if imported from Mexico or Canada, to their first place of residence in the U.S.), less than 30 months old, and free of chemicals and growth hormones.
So far, only Greater Omaha and Tyson Foods, the largest meat producer in the U.S., have been certified by the USDA to ship beef to China, and Reuters reported that according to Cargill, another major U.S. meat producer, "only a small percentage of the total current U.S. cattle supply would qualify for exports to China under the terms of the new trade agreement."
In a statement accompanying the U.S. government's June 12 announcement of resumed beef exports, U.S. Secretary of Agriculture Sonny Perdue said, "I have no doubt that as soon as the Chinese people get a taste of American beef, they'll want more of it."
Contributions: Guo Quanzhi and Liu Chang; editor: Kevin Schoenmakers.
(Header image: A man examines a package of frozen beef at a supermarket in Chengdu, Sichuan province, Nov. 20, 2015. Chen Yuxiao/VCG)